The Best of J.Crew's Cyber Monday Deals
Everything you need for a winter wardrobe refresh.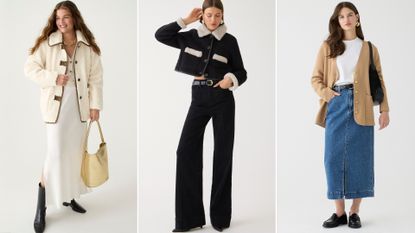 (Image credit: J.Crew)
As a shopping editor, the only thing that's been on my mind these last couple of weeks is the crazy amount of Black Friday and Cyber Monday fashion deals that are about to surface. Sure, we're technically still days away from the big cyber sales, but it's best to be prepared, right? Of all of the sales I'm preparing for, I have to admit J.Crew's sale is the one I'm most excited to shop.
"Why?", you might ask. For starters, the brand has some of my favorite sweaters and knitwear on the market right now, from a Meghan Markle-approved knitted blazer to a best-selling cashmere scarf. J.Crew also has some luxurious fall coats and jackets, plus a ton of obsession-worthy accessories. In short, I'll be shopping J.Crew to majorly update my fall and winter wardrobe.
This year, J.Crew is offering up to 50 percent off almost everything on the site for Black Friday through Cyber Monday. That's over 1,000 discounted items from sweaters and shoes to coats and jewelry. To sweeten the deal, you can currently even earn an extra 50 percent off sale items with the code SHOPEARLY. If case you don't have the time to scroll through hundreds of items (we wouldn't blame you), don't fret—we've rounded up the best J.Crew fashion finds worth adding to your cart. Happy shopping!