Exclusive: Thakoon Gives Us an Inside Look at His Brand-New Kohl's Collection
London's calling...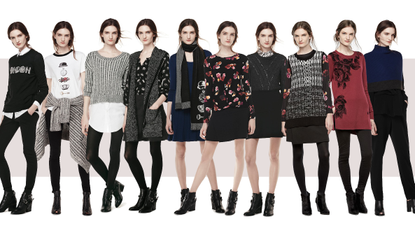 (Image credit: Design by Katja Cho)
When London calls, you answer. And the Big Smoke was definitely calling out to Thakoon Panichgul when he was asked to choose a city for his DesigNation collection for Kohl's.
The seventh designer tapped for the collab series, Panichgul was tasked with marrying his Thakoon aesthetic—feminine-meets-tomboy-mystique—with the paradoxical sophistication and playfulness of British style.
For us, that translates to classic menswear-inspired tailoring remixed with English rose prints, plaids, and checks. The essentials? Crisp blouses, chunky knits, sleek mini-skirts, and slouchy trousers, with price tags that all fall under $200.
As of today, you can shop the collection online at kohls.com (opens in new tab), and look out for the wares to hit stores on September 10.
Earlier this summer, we visited the set of the Thakoon for Kohl's lookbook shoot, and got the lowdown from Panichgul about his creative process, infatuation with London, and styling tricks for the pieces. The latter of we can exclusively reveal in the clips below.
Marie Claire: So, why London of all destinations?
Thakoon Panichgul: "It's one of my favorite places to visit because there is so much history, but also this modern sort of excitement and culture. And it's really a place that has a lot of different energy that I love. Aesthetically and stylistically, it's quite beautiful. The girls there really know how to dress in a way that is playful and feminine, but not too feminine. They have a boyish sense, a sort of tomboy quality that I really love. These are the kind of qualities I look for even when I design my own collections, so when we were first thinking of a city to go to and be inspired it was London because it was really true to Thakoon aesthetic."
MC: What about London culture strikes a chord with you most?
TP: "There is just a lot of young energy there, a lot of good artists are coming out of there, a lot of fashion–interesting, high-skewing fashion, as well as sort of weird fashion. It's nice to go around and absorb all of that."
MC: Were there any British style icons you had in mind when you were designing?
TP: "It was more the attitude in general. It's really just like taking a rose print, but then mixing it with plaid, which again is that feminine-masculine ideal. That was really the crux of the collection."
MC: As far as the designs go, what are the quintessentially British details you wanted to incorporate?
TP: "There's the traditional, menswear-inspired sort of tailoring, as well as the feminine printed garden rose kind of dresses. So we incorporated those two elements, and even mixing them together on a shirt. We had a pinstriped shirt with a floral pocket. Those kinds of details are inherently inspired by London."
MC: So when you're designing, you always have a certain woman in mind—does her identity change when you're thinking "mass"?
TP: "A little bit, but only the commerciality. In terms of mass, I think everything has to be really functional. Not everyone goes to runway shows or has street style photographers following them. I think people have normal lives for the most part and they need clothes that work for their lives: working, going out on the weekends, and hanging out with their family and kids. So really, it is about understanding the commercial needs of the mass market."
MC: In comparison to mass collabs you've done in the past, what's different about this collection?
TP: "This one was specifically inspired by a city, as opposed to in the past we've done them based off directly what's coming down the runway and bringing that to the masses. So it's really about taking cues from the destination."
MC: If you had to choose a favorite piece from the collection what would it be?
TP: "I love the pinstripe button down shirt with the black and white detail. For me that touches a fun commercial piece that you can wear quite a bit with skirts, pants, jeans, and shorts. It's a really a versatile piece with a signature Thakoon sensibility."
MC: If this collection had a soundtrack, what artist would be behind it?
TP: "Oasis!"
MC: Their attitude suits it perfectly. And if you had to summarize the collection in three words, what would they be?
TP: "London, spirited, and personal."
Lauren is the former beauty editor at Marie Claire. She love to while away the hours at coffee shops, hunt for vintage clothes, and bask in the rough-and-tumble beauty of NYC. She firmly believes that solitude can be a luxury if you've got the right soundtrack—that being the Rolling Stones, of course.