Exclusive: Preview Tomorrow's Oprah Featuring Our Own Ashley Falcon!
Watch a sneak peek of our very own Big Girl in a Skinny World as she helps a plus-size woman find empowerment in fashion.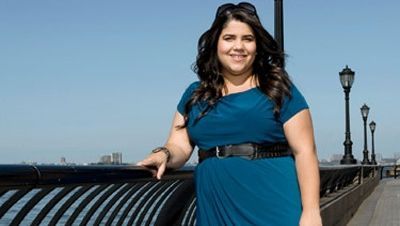 (Image credit: Greg Kessler)
[brightcove playerid='75705118001' playlist='5030511001' featured=' 628821329001']
Hey, everyone! I'm so excited to tell you about my most recent TV experience. A few weeks ago I was confirmed for — wait for it! — the final season of The Oprah Winfrey Show. Considering that "Wait 'till I'm on Oprah," was something I'd say jokingly to my friends and family, you can imagine my elation at hearing the news.
It was truly an amazing experience, and while I didn't go to the studios in Chicago and meet Oprah herself, I was able to work with Carmen, one of the two guests featured on the show - along with Dr. Laura Berman - who helps the women get in touch with their own sexuality and works with them on many issues that are holding them back in various areas of their lives. Carmen, like many women, was incredibly tough on herself and had lost sight of the person she really is — including her fashion sense! I was able to drag her into Marie Claire's fashion closet and have her try on outfit after outfit. She got a glimpse of the fashionable, empowered woman she can be, regardless of her size. I think that many women have forgotten that fashion should be empowering and you can (although it may be difficult at times) make fashion work for you, no matter what the number on the tag is.
I had an amazing experience, and I'm hoping you will tune in and share in this journey with Carmen and me! Check out the exclusive preview of the episode above, check out my gallery of tips, tricks, and ideas for plus-size fashion, and don't forget to get more info on the episode here on Oprah's site. And, of course, tune in to the show tomorrow!