Style Takes the Stage: What Coachella's Coolest Were Wearing
From Kanye West to Jenny Lewis, these Indio acts were one chic bunch.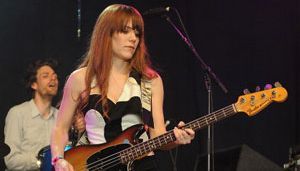 (Image credit: Getty Images)
Coachella may be an undisputed wellspring of style, but in addition to the hordes of totally turned-out music fans that descend on the desert each year, a number of the weekend's performers boast noteworthy outfits as well. When some of our favorite singers and songwriters took to the Mojave and Gobi tents this time around, they brought not only sweet sounds, but some pretty major duds. To wit, we present--in no particular order--our roundup of Coachella 2011's best-dressed acts:
JENNY LEWIS - From her days as Rilo Kiley's frontwoman to her current gig as one half of country-rock outfit Jenny and Johnny (Johnny, of course, being Lewis' boyfriend Johnathan Rice), this scarlet-haired songstress has always hit all the right notes in the style department. For the duo's early afternoon set, Lewis rocked a nautical-chic black-and-white top with a folded lapel, which she paired with tiny tap pants and kitten-heeled saddle shoes. For an added dose of whimsy, the "Scissor Runner" singer swapped out her shoelaces for lengths of baby-blue ribbon — an easy DIY anyone can try. Now, if only we could master those impeccable blunt-cut bangs.
RITZY BRYAN - Speaking of amazing hair, The Joy Formidable's Ritzy certainly nails it with her razor-cut platinum bob, no? The Welsh rocker donned a leaf-print minidress layered atop a sleeveless lace top for her performance, accented with patterned tights and an armful of colorful beaded bracelets. A great multi-textural mix from top to bottom.
BETH COSENTINO - According to Marc Jacobs, at least, polka dots are set to be fashion's next supertrend — and it looks like Best Coast's Beth Cosentino has already jumped on the circle-splashed bandwagon. She hit Coachella's outdoor stage clad in a sweetly spotted, strapless frock topped off with a straw fedora to shield herself from UV rays. Presto--instant California cool, perfectly suited to the rising princess of beach rock.
KANYE WEST - The last of Coachella's headlining acts to take the stage, Yeezy pulled out all the stops on Sunday night. From his dramatic entrance (via crane) to his cinematic three-act show (synchronized ballerinas, fireworks, and a backdrop of Roman gods were involved), West's performance was one for the ages. Yet the controversial rapper's clearly not too tough to rock some good old-fashioned womenswear. Yes, you read that right. The MC donned a geometric top from Céline's Spring 2011 collection, which he teamed with faded jeans, an armful of colorful bracelets, and his much-anticipated Nike Air Yeezy 2 kicks. Uh, guess wearing meant-for-ladies garb can only make him stronger?
RÉGINE CHASSAGNE - Arcade Fire's Canadian chanteuse has a definite flair for the dramatic — who else would close their set by dancing wildly with ribbon streamers? — and it showed in her onstage outfit last Saturday night. Chassagne's flapper-esque frock shimmered with hundreds of gold sequins, and we loved the unfinished look of its asymmetrical hemline and shoulders. Vintage glamour at its finest, folks.
EMILY KOKAL - LA-based quartet Warpaint is definitely an act to watch — we love their transcendental tunes and girl-power image. And though we enjoyed all four ladies' onstage ensembles at Coachella, vocalist Kokal's particularly stood out. She wore rose-colored cutoffs and a crimson mandarin-collar top with intricate, Asian-inspired beadwork that proved almost as hypnotizing as the songstress' lyrics.
MARINA DIAMANDIS - Welsh singer Marina — known best by her stage name, Marina and the Diamonds — provided one of the weekend's highlights with her awesome pop set on Friday. Clad in an offbeat bow-topped headband, sporty pleated skirt, and an amazing leather jacket embroidered with an oversize diamond (the latter shed within minutes, thanks to Indio's searing temperatures), her ensemble didn't disappoint. For added glam factor, Diamandis finished her look with sequined fingerless gloves and some perilously high platforms that miraculously didn't hinder her dance moves.
ELIZA DOOLITTLE - London's Eliza Sophie Caird, aka Eliza Doolittle, is as celebrated for her cool style as for her infectious pop tracks. And when she hit the Gobi tent, she wowed in a dramatic feathered headpiece, violet crop top, fuchsia Nike high-tops, and the coolest pair of denim shorts we've ever seen. Tricked out with beaded trim and dangling paillettes, these certainly aren't your standard-issue cutoffs. Impractical? Sure. Statement-making? You'd better believe it!