Editors handpick every product that we feature. We may earn commission from the links on this page.
The Best Celebrity Shoes of the Week
Alert! Alert! There were TWO prints.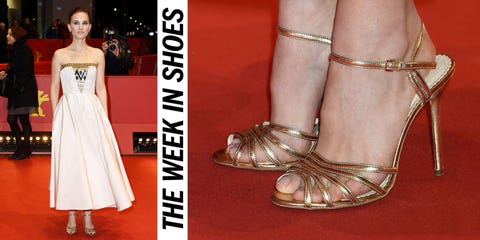 If
the last installment
of BCSOTW was all about the foot lingerie, this time, it's about…foot peacocks? Foot trophies? While we sort out the name, take a look at all the Rainbow Brite colors, eye-catching details, and
two
prints that made appearances this week.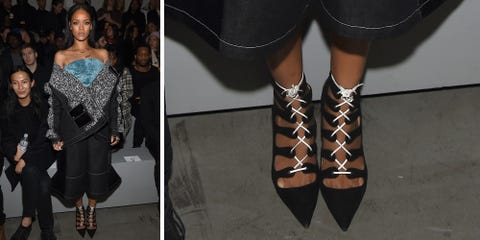 Rihanna in Manolo Blahnik Pumps
Whatever your thoughts are re: her directional Julia Seemann ensemble, the cross-stitch shoes (
similar pair here
) are classic Rihanna: sporty, urban, and totally unexpected.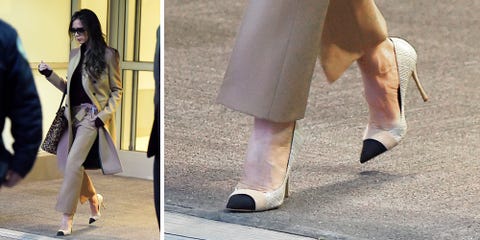 Victoria Beckham in Nicholas Kirkwood Pumps
What's it like being a lady who dresses like this for flights? We wouldn't know, but we do have a pretty good idea heels are usually part of the picture. What's surprising is that here, they're
cap-toe and striped
. We know—VB in a pattern!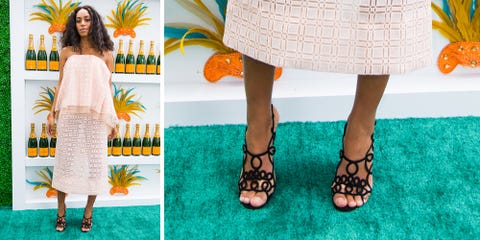 Solange Knowles in Manolo Blahnik Sandals
Did you know that after they stopped producing cordless phones, they donated all the coils to make Manolo Blahnik
"Gori" shoes
? That's why when Solange wears these, she has to be careful not to step too close to an outlet or else the squiggles start transmitting electrical signals.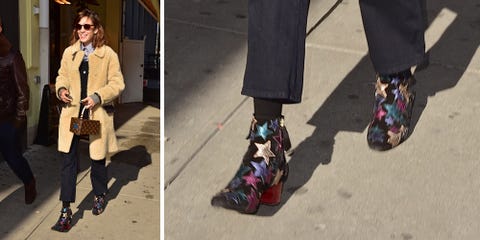 Alexa Chung in Tommy Hilfiger Boots
Us when we figured out these Ziggy Stardust boots are most likely runway samples: "Nooooooooo." Us when we found out this
affordable velvet pair
named after another musical icon exists: "All right, all right, all right."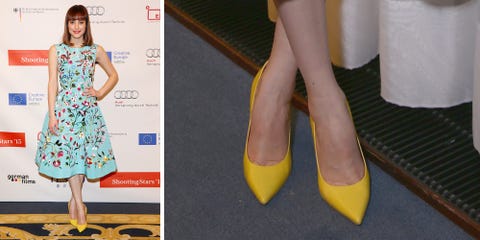 Natalia de Molina in Ursula Mascaró Pumps
See? Fun shoe choices! We could stand to have more sunny,
cheerful pointy-toes
on the red carpet, instead of The Invasion of the Boring Black Pumps.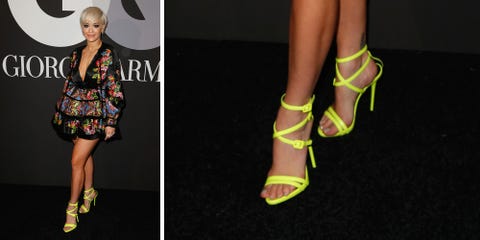 Rita Ora in Giuseppe Zanotti Design Sandals
Just focus on the highlighter-yellow stilettos, which you can ogle closer up
here
.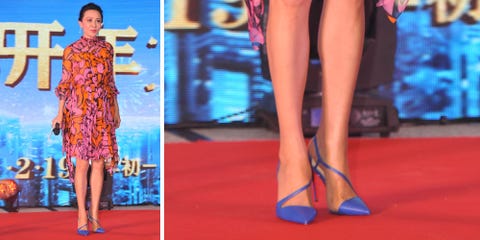 Carina Lau in Christian Louboutin Pumps
We salute you, Carina, for taking a Miu Miu kaleidoscopic print most actresses would be scared of, then going and adding
cobalt shoes
to it. That takes balls. Huge balls.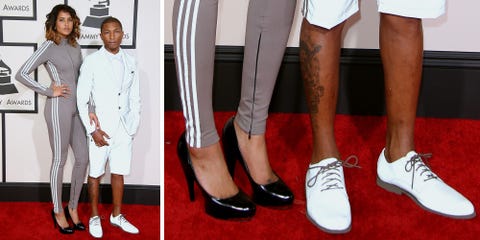 Pharrell Williams in Adidas Brogues
BCSOTW first-timer Pharrell has something no one else on this list has:
oxfords
that change from gray to white depending on the light.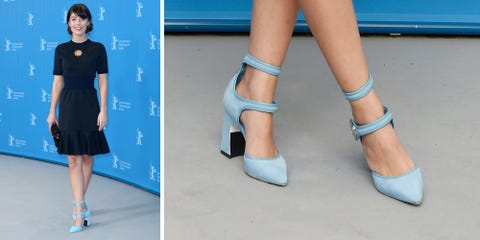 Alessandra Mastronardi in Louis Vuitton Pumps
Get on my feet now. (But these aren't available to the general public, so we'll have to make do with these
baby blue block-heels
.)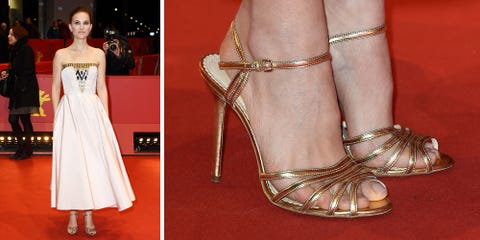 Natalie Portman in Charlotte Olympia Sandals
Fact: Gold strappy sandals aren't just gold strappy sandals when Natalie Portman wears them. (See them
in silver
; not-black-for-once Dior dress not included.)
This content is created and maintained by a third party, and imported onto this page to help users provide their email addresses. You may be able to find more information about this and similar content at piano.io