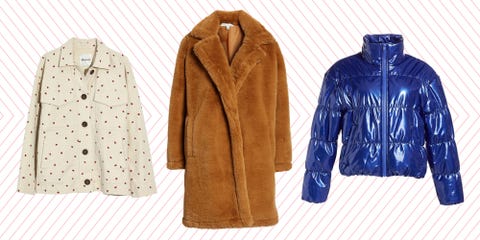 Design by Morgan McMullen
The one piece of clothing I'm willing to splurge on year after year isn't shoes or handbags, it's a nice coat. Sometimes I'll go with a trendy option, like the teddy bear jacket. Other times, I prioritize practicality and opt for a long down coat, which more or less resembles a black sleeping bag. (It's definitely not trendy, but oh-so very warm.) I'm a firm believer your coat should last you through multiple seasons, but with so many new styles coming out annually, I can't resist buying a new one...or two.
If you're in the market for a fresh jacket, too, read on below. Whether you plan to swaddle yourself in cozy faux-shearling or bury your hands in some wool pockets, the outerwear choices I've hand-picked won't disappoint—especially since they're all under $250.
Aritzia teddy jacket, $198
This season, one of the trendiest jacket designs resembles a stuffed animal that's been through the washer and dryer. The "teddy coat" is plush, soft, and cozy—lulling you into the same sense of comfort as your favorite childhood toy. I already scooped up this affordable Aritzia jacket and plan to wear it with a turtleneck sweater, crop flare jeans, and white boots all winter.
Madewell denim duster coat, $178
The denim duster is my dream summer-to-fall transitional coat. It's neither too heavy nor light (according to the reviews) and is, frankly, more stylish than a regular cropped denim jacket. I'd wear this with jeans of the same color, a black sweater, and brown riding boots. Denim-on-denim, here I come.
3
A Ladylike Lavender Coat
Halogen bell sleeve coat, $145
Avoid feeling like a penguin in your black puffer this season by reaching for less bulky outerwear, like this feminine piece, instead. The light-colored wool coat—which comes in sizes 1x to 3x—features a double-breasted design and bell sleeves that give it the look of a Meghan Markle–esque tuxedo dress. How chic.
& Other Stories alpaca coat, $245
I own alpaca socks (my sister got them for me in Peru) and they're the warmest, comfiest thing to wear as the temperatures drop. Therefore, I 100-percent endorse this alpaca-mixed material coat from & Other Stories. FYI: The outerwear fits slightly oversized because who wants a tight coat? Wear with jeans and black Chelsea boots and call it a day.
Michael Michael Kors trench coat, $228
A trench coat in beige is a safe and versatile option. But since you probably already own one of those, get out of your comfort zone and try an olive hue. The muted green tone gives your outerwear that little spark of uniqueness, but doesn't change the trench's classic appearance. This Michael Kors piece can be worn with jeans, skirts, or even leggings on a lazy Sunday as you run errands.
6
A Non-Blue denim Jacket
Madewell strawberries jacket, $148
Cue The Beatles' "Strawberry Fields Forever." This printed outerwear looks like a cream-colored denim jacket, but there's a tiny twist: the material's actually twill. My favorite part is the front pockets. They're large enough to fit your phone and credit cards in, so leave that handbag at home.
Rains glossed trench coat, $225
Disclaimer: I haven't watched The Matrix in its entirety, but this glossy trench resembles the one Keanu Reeves's wore in the movie...right? Or like something Kim Kardashian would wear with PVC heels and a slicked back wet hairstyle. Regardless, the shiny coat definitely makes a fashion statement, letting everyone know you're in sync with the trends. Style with boyfriend jeans and sneakers.
8
A Pumpkin Spice–Colored Coat
Woven Heart fur teddy coat, $105
If it's your first foray into the world of furry coats, start with this Margot Tenenbaum–inspired piece. The neutral color balances the trendiness of the fluff. More importantly, though, this coat is like a giant hug for your entire body—keeping you warm all winter long. Wear with...anything you want!
9
A Metallic Puffer Jacket
Scripted puffer jacket, $235
Don't own a puffer yet? You should—unlike wool coats, which can get heavy, puffers are lightweight but fully insulated to keep you warm and toasty through winter, as you battle the snow and wind on your way to work. This year, get one with a little something fresh, like this metallic blue.
Topshop belted trench coat, $170
There's no such thing as owning too many trench coats, especially after coming across this check print one. The pattern makes it distinct, but the gray palette keeps it low-key. To turn the coat into a high-fashion look, style with cropped leather trousers and mules.