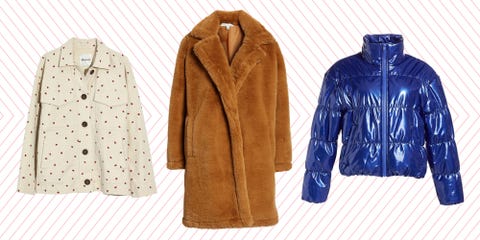 Design by Morgan McMullen
The one piece of clothing I'm willing to splurge on year after year isn't shoes or handbags, it's a nice coat. Sometimes I'll go with a trendy option, like the teddy bear jacket. Other times, I prioritize practicality and opt for a long down coat, which more or less resembles a black sleeping bag. (It's definitely not trendy, but oh-so very warm.) I'm a firm believer your coat should last you through multiple seasons, but with so many new styles coming out annually, I can't resist buying a new one...or two.
If you're in the market for a fresh jacket, too, read on below. Whether you plan to swaddle yourself in cozy faux-shearling or bury your hands in some wool pockets, the outerwear choices I've hand-picked won't disappoint—especially since they're all under $250.