The 18 Best Denim Jackets for Women in 2022
I want them all.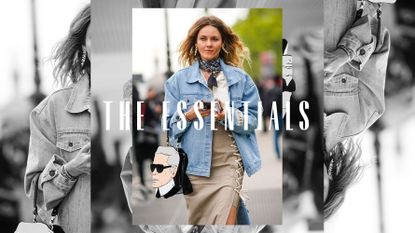 (Image credit: Getty Images)
Welcome to The Essentials, our series highlighting a must-have classic, key to building a timeless, pulled-together closet.
A denim jacket is a tried-and-true staple that deserves its rightful place in everyone's closet. I'm not afraid to admit I have a rotating collection in my closet, from a cropped trucker to a worn-in vintage relic to a particular shearling style that's become one of the best winter jackets in my wardrobe—the list goes on and on. Put simply, a jean jacket is that piece. The one so versatile it won't be tucked away when the seasons change and will adapt with you as your style evolves. (Itching for a personal fashion rebrand? Consult our favorite denim jacket outfits to see how the Americana staple can assist you on your style journey.)
Despite being a year-round, forever staple, Kendall Becker, Fashion & Beauty Trends Editor at Trendalytics (opens in new tab), observes a notable spike in interest for the classic piece coming into autumn. "This fall is all about the revitalization of nostalgic jackets—note the varsity jacket, leather moto, and, of course, the denim jacket. At the moment, searches for denim jackets are marked within the Trendalytics platform as 'extreme', noting an average of 105k weekly searches," she shares over email.
Courtney Busch, a Styling Team Lead (opens in new tab) at Stitch Fix (opens in new tab), substantiates Becker's findings: "In a recent trend report (opens in new tab) from Stitch Fix, denim jackets accounted for nearly 40 percent of sales for the jackets category, making a nearly 10 percent sales increase over last year. And it's no wonder they're in such high demand, as they're extremely versatile—a denim jacket can be dressed up or dressed down, and can come in multiple washes and colors, with a variety of fits," offers the stylist.
Ahead, you'll find tips and tricks for navigating 2022's denim market from Becker and Busch, as well as our picks for the best jean jackets. We guarantee at least one of the below styles is bound to be your new forever favorite.
What to Look for in a Jean Jacket
"When choosing a jacket that's right for you, there are no rules," Busch says emphatically. "Some clients prefer an oversized denim jacket (opens in new tab), while others opt for a cropped look." She does say, though, that a neutral pair in a non-denim wash offers astounding versatility, making it a solid wardrobe building block. "Having a black, white, or natural-wash jean jacket in your closet provides ample opportunity for styling any outfit no matter the time of year or occasion."
Should You Wash a Denim Jacket?
"Washing denim less than you might wash other garments is standard to maintain the garment's color and structure, as washing new jean pieces, particularly those in dark washes, can cause the dye to bleed," explains Brusch. "Over time, true blue or black denim jackets can get more distressed from consistent wear and wash, which often lends itself to a perfectly worn-in look and feel"—which, if you're into, great! If not, Brusch advises you have your jean jackets occasionally sit out laundry day. "Ultimately, I always tell my clients to do what they're most comfortable with, whether it comes to style, fit, or even as it relates to washing clothes!"
---
How to Style a Denim Jacket
"When it comes to styling, I love juxtaposition," gushes Becker. "Pairing a utilitarian style with unlikely partners like a feminine-detailed top, chic heels, and a handbag is always a win." For Busch, she references Britney and Justin circa 2001 and modern-day Julia Fox: "One of my favorite ways to style a denim jacket is creating a denim-on-denim look. Now that it's fall, I'll opt for classic straight-leg jeans paired with an oversized denim jacket," says the stylist.
The Best Denim Jackets of 2022