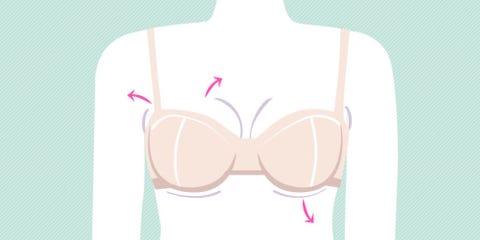 Design by Jen Baumgardner
As if being felt up by a strange lady under fluorescent lighting weren't bad enough, there's the realization long after you've snipped the tags off the bra she sold you that, oops, IT DOESN'T EVEN FIT CORRECTLY. Luckily, Negative Underwear cofounders Marissa Vosper and Lauren Schwab are here to act as your own personal fit consultants, setting the record straight on six common ailments from gaping to spillage. Ready to take your boobs into your own hands? 👀
Fun fact: It's not the straps that do the hoisting—it's the band. When the swath of elastic that runs around your torso is too roomy, it places more pressure on the straps to hold you up, which can cause those red indents on your shoulders. Most women could stand to go down a band size and up a cup size, like from a 34C to a 32D.
Negative Underwear balconette bra, $85, negativeunderwear.com.
If your boobs are like "Nah, not having this," it could be that your bra's the wrong size altogether *or* that you're putting it on wrong. "Once you have your bra band on," Vosper and Schwab say, "use your hands to literally scoop up and place yourself on top of the underwire and pull up the cups from there." Another thing to think about as the Great Front-Back/Back-Front Debate of 2015 rages on.
The number one sign of a well-fitted bra? The piece of fabric connecting the cups—called a gore—lies flush against the sternum. A mal gore (don't hurt me) probably means you've got the wrong size or style for your build, making the bra much more likely to shift or pinch.
In an ideal world, we'd all have lingerie drawers full of perfectly fitted bras (with matching bottoms!) we'd rotate to give the elastic a chance to retighten. In the real world, we wear black bras until they're white and nude bras until they're black, which is gross but also why we often don't get the support we need. Give your trusty balconette a day off between wears and hand-wash with mild detergent.
5
Underwires poking through
The underwire should span the range of your breast tissue from below the underarm to below the sternum—too big or too narrow and it could cause hole-making friction. And remember what we said about hand-washing? Important here because machines = warped wire.
6
It just don't feel great
Like Anne Hathaway and her quest for the ideal eggs Benedict, never settle. Too often, we just keep wearing the same frilly, padded models we wore in high school in the same *size* we wore in high school because that's all we know. But you're worth the time and the effort and the fittings (which don't have to be creepy—Negative does them in their Anthro-ad-cozy showroom) required to find your best bra. And if you have to hand-wash some high-quality micro mesh to get there, so be it.