Editors handpick every product that we feature. We may earn commission from the links on this page.
Photo Diary: On the Scene at Paris Haute Couture Week with Aimee Song
An exclusive look at how to dress for fashion's most glamorous gathering.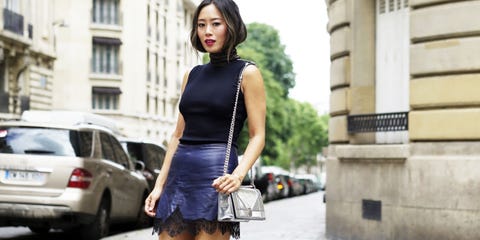 Paris Haute Couture Week came, it went, and it made us swoon. But as anyone who has been to (any) fashion week knows, sometimes the looks are just as good off the runway. Here, Laura Mercier ambassador and Song of Style blogger Aimee Song gives us the exclusive low-down on her crazy PFW, including the looks she wore, the parties she went to, and the snacks she ate. (Hint: Mostly macarons.)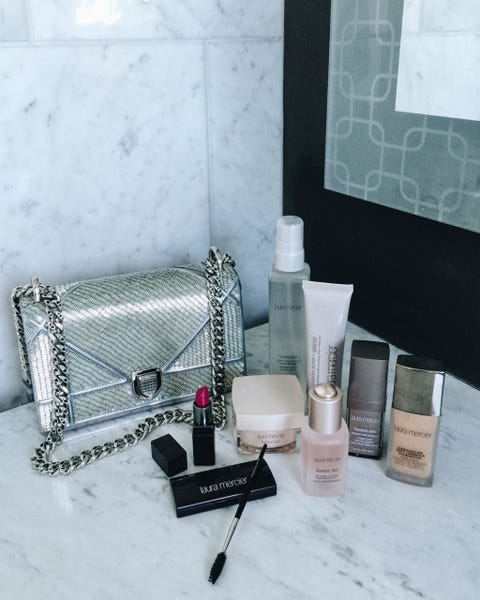 Monday, 7:30 a.m.
Day One of Paris Fashion Week and I'm up super excited to get ready for Dior Couture. I finished breakfast at the hotel and I'm just so antsy for the show so I already put on my shoes! When I'm in Paris, I don't really like to sleep much anyway. There's just too much to see and do and you only have so much time. Also, early in the morning is the best time to sightsee because there are no other people around, so you can get much prettier photos. My favorite way to get around the city (when I'm not in a hurry or wearing Dior shoes) is to ride a bike, but if you've been to Paris, you know that the streets are pretty crazy. So the morning is best for that as well because you can actually look around while you ride instead of trying not to get mowed down by a vespa.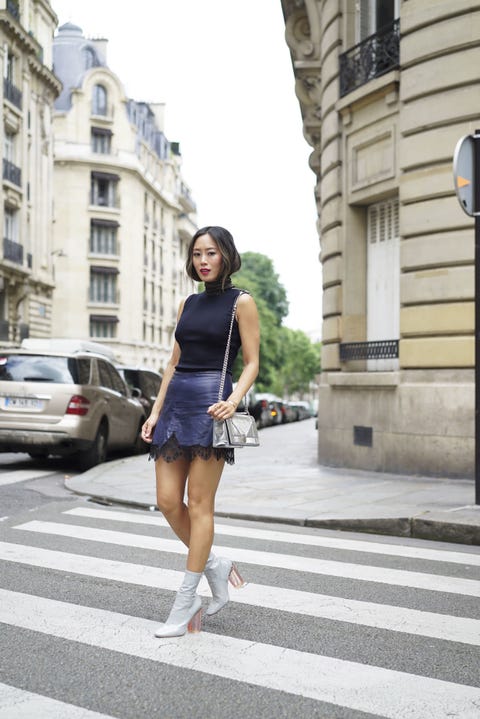 Monday, 9 a.m.
Time for Dior! I'm super obsessed with these lucite heel boots, and I've always been a fan of sleeveless turtlenecks. The collection was so beautiful and was the most perfect way to start my first-ever couture week. After the show, I explored as much of Paris as possible before going to a Kenzo party.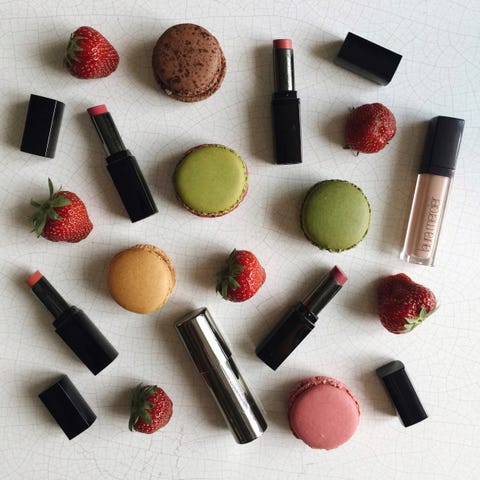 Tuesday, 9 a.m.
AKA when you're trying to get ready for the day and eat a snack at the same time...My favorite macarons with my favorite Lip Parfait Creamy Colourbomb shades by Laura Mercier. Tuesday was the day of the Chanel show, and I had a shoot for Elle China! I stopped for a green juice at my favorite place, Cojean, for a quick pick-me-up.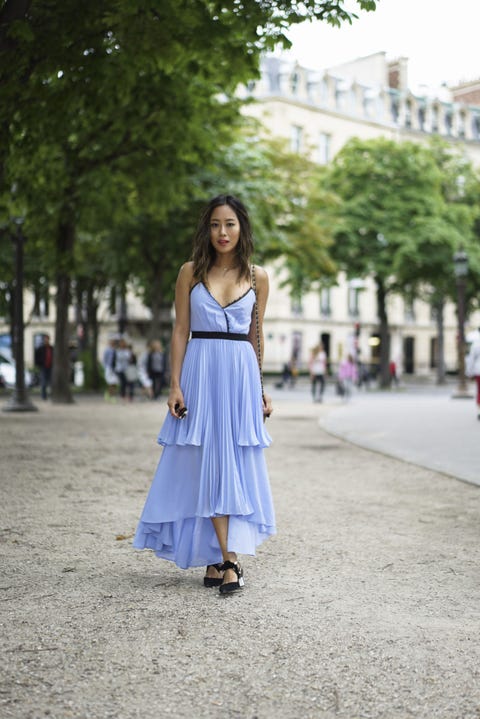 Tuesday, 12:30 p.m.
Walking around in this beautiful Self-Portrait dress after the Chanel show. I'm wearing the Laura Mercier Palm Beach color on my lips and I love how it looks with the blue of the dress. Right after the show, I had a shoot with Dior, and then I got to attend the Vogue Paris Foundation Dinner as a guest of Nina Ricci. I definitely had to pinch myself when the day was over.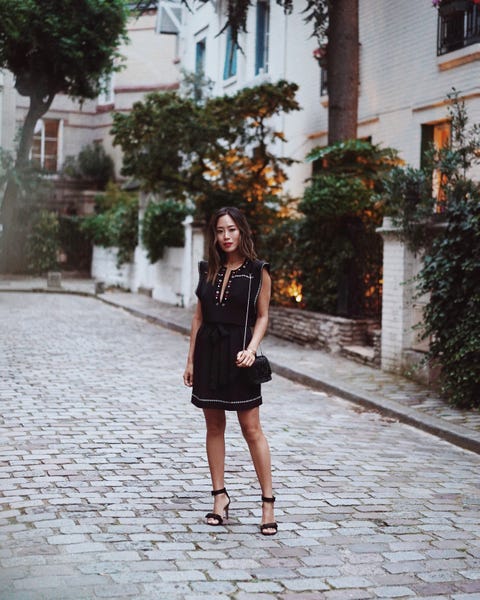 Tuesday, 10:30 p.m.
In Montmartre at night after the Isabel Marant party, still rocking that Palm Beach lip shade. I didn't have to touch it up once the entire day—it honestly stayed perfect for over 12 hours. The secret is to fill in most of your lips with lip liner before you put on your lipstick. My makeup artist, Alexandre, taught me that and I'm going to do it forever now.

I love that the sun doesn't set until 11 p.m. in Paris during the summer. You get to do so much more, which is great because when I'm traveling, I'm usually working, so there isn't much time during the afternoon.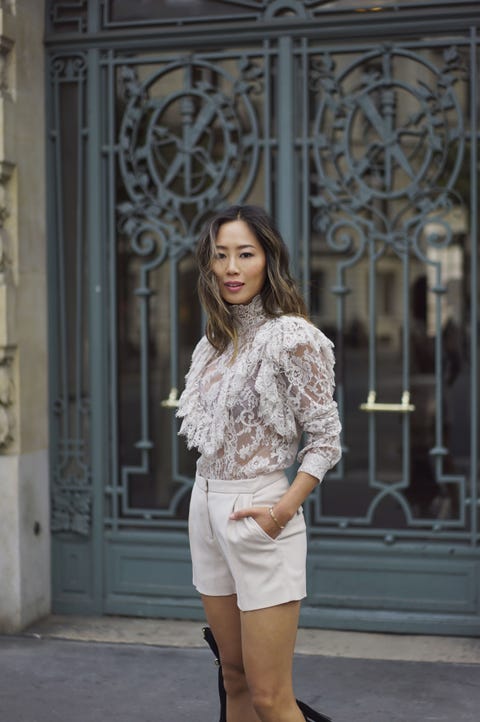 Wednesday, 11 a.m.
Went for a very natural look for the Elie Saab show, focusing mostly on having perfect looking skin. I started with the Laura Mercier Nourishing Rose Oil, followed by the rose cream. Then we used the Tinted Moisturizer with SPF 20 since it was a sunny day, and the Secret Camouflage to cover any blemishes. Never use it under your eyes though! You need to use a creamier product like their Secret Concealer. We didn't use any foundation. Then a Color Dots Lip and Cheek Sheer in Fruit Punch on my cheeks and lips, and my favorite lipstick, Pink Pout. I wanted to keep my makeup pretty minimum because I also had a photo shoot in the afternoon and I knew they would have a specific look in mind.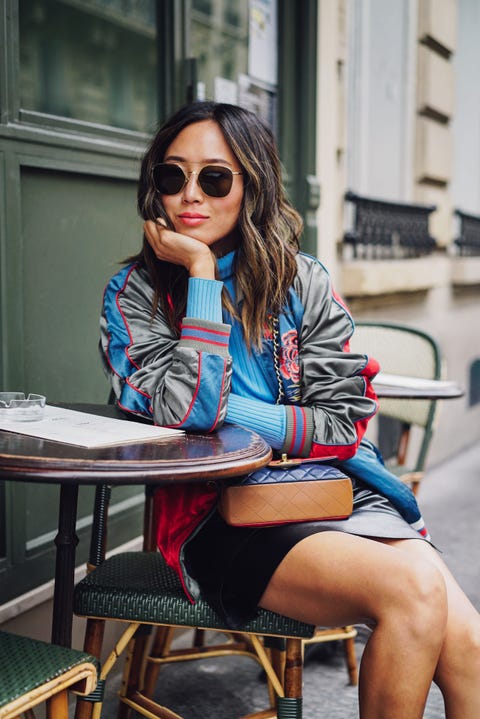 Wednesday, 4 p.m.
After my shoot, I changed into something casual for a late lunch. I love to mix in some cool menswear pieces to change up my outfits a little. I stole this silk Diesel souvenir jacket from my assistant's room and made it out the door before he even noticed…well, until we got into the Uber. I went to a cute little french cafe near the hotel before going back to change for the Valentino show. Valentino was so beautiful that I cried! After the show, we went to Petit Palais for La Soirée d'Haute Couture, and then to dinner at my friend's house for the perfect ending to my first Couture Week.
This content is created and maintained by a third party, and imported onto this page to help users provide their email addresses. You may be able to find more information about this and similar content at piano.io