25 Summer Hats You'll Love Even If You're Not a "Hat Person"
Shield your face in style.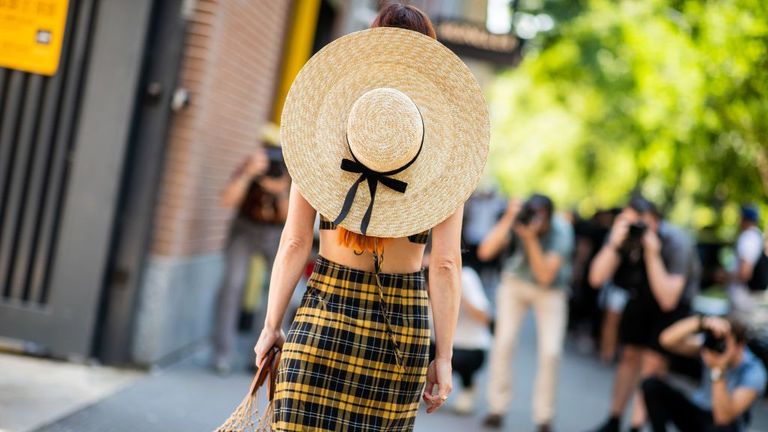 (Image credit: Christian Vierig)
If you haven't found a hat you're willing to smush in your suitcase, you've probably never come across one you truly love. We're on a mission to make this happen for you. Once you find your favorite style, it'll become your go-to accessory—not to mention, your skin will thank you. We rounded up the best options on the market right now, from visors to baseball caps to bucket hats, and here's a hint: The headpieces for spring/summer 2022 are looking colorful and practical. Whatever you have planned for the next few months, be it weekend trips to the beach or picnicking in the park, you'll be excited to grab your new favorite hat before you head out that door.
1/25
Brixton Jo Rancher Hat
A Wool Felt Hat
A wool felt hat is an essential for anyone's headwear collection. This Brixton rancher style hat comes at a great price point and in the perfect shade of off-white. An easy pairing with most outfits!
2/25
Zara Contrasting Hat
A Tri-Color Neutral Hat
When you can't decide on your favorite neutral color, wear all three! This contrasting hat from Zara feels summertime appropriate and wearable even with all the different hues.
3/25
Lack of Color The Ventura Straw Hat
A Versatile Straw Hat
If you're on the search for a classic straw hat that reads stylish and cute, this one from Lack of Color is a top pick. It'll complement all your warm-weather outfits, from linen pants and floral summer dresses to even denim shorts.
4/25
Fiorucci Angels Baseball Cap
The On-trend Baseball Cap
Fiorucci has made an incredible comeback in the past decade, so this baseball cap will definitely keep you on-trend. Easy to pair with an oversized t-shirt, denim cut-off shorts and white sneakers—the perfect formula for ''casual cool."
5/25
Fenty Unisex Bucket Hat
A Tie-Dye Bucket Hat
This tie-dye bucket hat comes in a unisex style, which means it'll suit everyone just fine. To channel a little of Rihanna's swag, slip this on along with some other pieces from her Fenty collection.
6/25
San Diego Hat Faux Leather Band Gondolier Hat
A Gondolier Style Hat
This gondolier-style straw hat has a wide brim and a faux leather band if you're looking for a simple detail. The hat's also not extravagantly big compared to some other styles, making it great for everyday wear.
7/25
Eric Javits Driptidoo Patent Bucket Rain Hat
A Waterproof Hat
The solution to humid, frizz-prone rainy days? A waterproof high-gloss bucket hat. This is the epitome of fashion brilliance because it'll keep you dry and stylish at the same time.
8/25
HENRIK VIBSKOV Checked Safari Hat
A Bright Safari Hat
The Safari hat, a beloved classic, got a very bright makeover. This unique check print will be an instant summer hit.
9/25
Jolie Su Mila Straw Hat
A Handmade Straw Hat
The Mila Straw Hat is an artisanal piece ready to be your summer go-to. Handmade in Ecuador with toquilla straw, the craftsmanship and neutral color palette makes it ready to top off any effortlessly chic summer look.
10/25
Eugenia Kim Valentina Straw Sun Hat with Tortoiseshell Chain
A Functional Straw Hat
Making a statement has never been easier. The Valentina Sun Hat is ready to be the dramatically oversized straw hat you've been craving while allowing you to feel carefree on windier summer days.
11/25
Janessa Leone Constance Visor
A Minimally Chic Visor
Yes, woven visors are still a summer favorite. Beautifully woven from cane of the rattan palm, this visor is ready to hit the beach or be snapped in a street style pic for your Instagram.
12/25
Reinhard Plank Hats Nana Sisal-Straw Hat
Perfect Navy Straw Hat
This Navy hat, made from sisal straw, is ready to be front and center of your summer wardrobe. We're dreaming of pairing with cream linen pants, a loose button-down, and an easy slip-on sandal.
13/25
Erdem Floral-Print Bucket Hat and Face Covering
A Floral Bucket Hat
A navy and white floral print is timeless. Plus, this Erdem bucket hat comes with a matching face covering, so you'll be not just sun safe but also COVID-19 safe this summer.
14/25
Jacquemus Le Chapeau Valensole
A Lime Green Woven Hat
Don't worry about the wide brim covering your entire face; it can easily be folded over to neatly frame your face. However, if you take avoiding the sun seriously, this will provide optimal coverage even on the sunniest days at the beach.
15/25
Guess x J Balvin Color Block Bucket Hat
A Blue Color Block Hat
Guess partnered with Colombian singer J Balvin to release a line of colorful pieces, like this color block blue bucket hat. It features the brand's logo on the front and a drawstring cord to tighten or loosen your hat for the perfect fit.
16/25
Prada Canvas-Trimmed PVC Visor
A Designer Visor
Avid golfers who care about their outfits will want to top off their looks with this white cotton canvas visor. The Prada logo plaque adds that signature luxury feel without being overly tasteless.
17/25
Thebe Magugu Woven Flat Peak Cap
A Woven Baseball Cap
Finally, your favorite hat silhouette comes in a woven style. This Thebe Magugu snapback packs a punch with the red color and comes with self ties that will securely strap the hat to your head.
18/25
Frances Grey NY Bella Hat
A Raffia Hat
If you like statement hats, then you need this in your closet. This dramatic floppy brim accessory is best for staging influencer photos like this in.
19/25
Helen Kaminski Raffia Crochet Packable Sun Hat
A Travel-Friendly Hat
A packable raffia hat you can toss in your beach bag or canvas tote without a second thought. This hat is perfect for those who tend to be a little rough with their belongings, but still want to invest in fashionable pieces.
20/25
Madewell x Biltmore Grosgrain Band Panama Hat
A White Straw Panama Hat
This classic style is beloved by the likes of Meghan Markle because it's functional and stylish. Just like that jumpsuit or denim shorts you throw on without a second thought, this white hat will be your go-to for topping off your ensembles.
21/25
Fendi Brown FF Logo Cap
A Logo Baseball Cap
You dress up for every event, even to attend baseball games. Show off your fashion smarts with this Fendi logo snapback.
22/25
Gucci Lamé Papier Hat
A High-Domed Hat
This straw hat's most defining characteristic is the black grosgrain ribbon with a metal bee detail perched on the side. Wear this to your July 4 outdoor celebration with a baby doll dress.
23/25
Janessa Leone Packable Hat
A Packable Hat
Hats take up a lot of room in your suitcase, so minimize the styles you have to bring. This woven straw option, luckily, will match with most of your outfits thanks to the color and versatile shape.
24/25
Kate Spade New York Crochet Bucket Hat
A Crochet Hat
Who else thinks of TLC's song "Waterfalls" when looking at this hat? This will take you right back to the '90s. Go full in on this decade with platform footwear and/or a choker.
25/25
Cuyana Wide Brim Summer Hat
Cuyana takes a classic straw hat and gives it a modern, minimalst feel with a thin ribbon that blends in perfectly, whether you choose the black or creme one.