Nina Garcia's Tips on What to Wear for Any Occasion
In her new book, the fashion expert gives advice on how to look your best no matter what you're up to.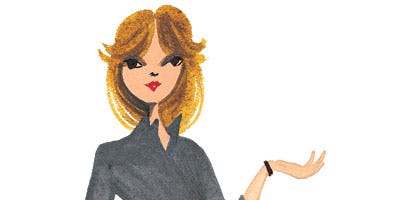 In her new book, the fashion expert gives advice on how to look your best no matter what you're up to.
To a Job Interview
"Your wardrobe should complement your skill set, never detract — or distract — from your assets," Garcia writes. "The smallest detail can set you apart from your competition. It's essential that you appear professional, capable, and confident without going overboard."
Suit Up: Garcia says a "chic, modern take on the classic suit" is the way to go for first-round interviews and recommends an eye-catching yet tactful touch of flair. "It's refreshing to see a woman who can artfully weave her individuality into an otherwise safe ensemble," notes Garcia, adding that loud jewelry, wild patterns, and heavy embellishments should be avoided. Sorry, sequins.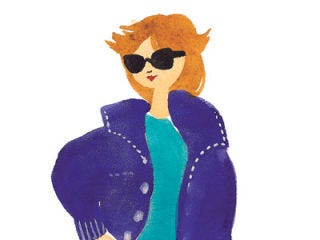 When Out Shopping
Why worry about your old duds when you are shopping for new ones, right? "As wonderful as this excursion may be, it's possible you'll be surrounded by many mirrors and a halo of hideously unflattering fluorescent lighting," she warns. Her tip: "Choose adorable lingerie. It doesn't have to be ultra-sexy, but you want to look your best as you slip in and out of your clothes."
Layer It Up: Wear jeans and a camisole, cardigan, and light jacket. "It allows you to adjust to the changing temperatures of each store and you can preview whatever outfits you try on with a different top or pants option, using the clothes you already own," Garcia writes.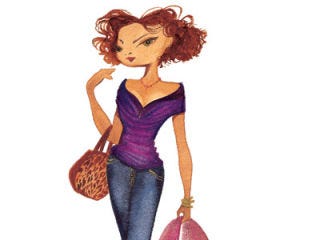 On a First Date
"We all get a little rush of excitement at the prospect of buying a brand-new outfit for a first date, but this is not the time," Garcia says. "You're much better off wearing clothes, shoes especially, that you've already tested."
Go Natural: Most men have conservative taste and don't react well to straight-off-the-runway ensembles, even if you do look ridic in those Fall 2010 leather thigh-highs. With a goal of being "effortlessly cool and sexy," opt for a simple tailored dress or a V-neck top paired with skinny jeans. "Nothing is more alluring to a man than a woman who looks good in her jeans," she writes.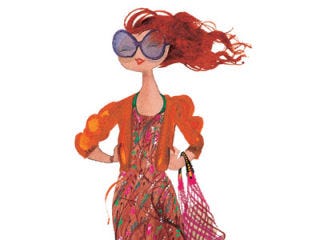 For Brunch with the Girls
If you think Sunday brunch with your besties is an opportunity to take a break from looking fab, you're giving your pals too much credit. "We all sneak in the 'up-and-down' glance," Garcia admits. "You don't want to seem as though you're trying to outshine anyone ... but always look fabulous."
Get Some Breathing Room: "This is the time for a billowy maxi dress in a gorgeous floral print," she suggests. "You'll have plenty of room for post-brunch expansion." And opt for ballet flats or slouchy boots as you'll likely "want to take a stroll after all that girl talk."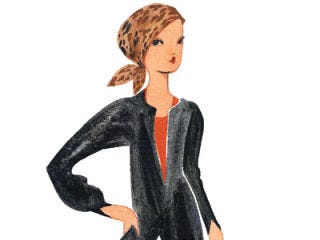 To Jury Duty
"Serving jury duty is a fascinating little slice of life, with its motley crew of personalities," Garcia writes. But it also involves uncomfortable seats. "Dress as you would for a casual workday ... and fit whatever you can into your bag. It's going to be a long day."
Break Free: If you are eager to do your civic duty, keep your look simple and unobtrusive. But, if you have no desire to live out some Law & Order fantasy, you increase your changes of being excused "by dressing more suggestively, very eccentrically, or as if your outfit were laid out by your butler that morning," she says. "Make them wonder who the hell you are."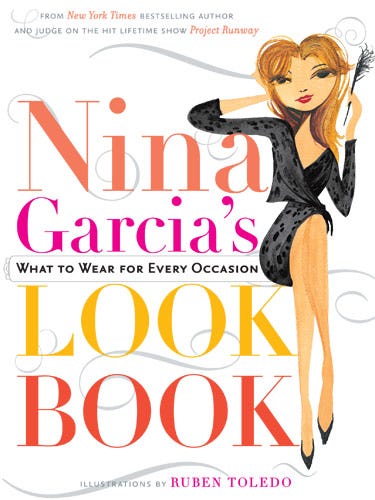 This content is created and maintained by a third party, and imported onto this page to help users provide their email addresses. You may be able to find more information about this and similar content at piano.io