6 Boozy Frozen Drinks You Can Make at Home
Find your chill with boozy frozen treats—slushies, ice pops, milk shakes, you name it—from some of our favorite female chefs and bartenders.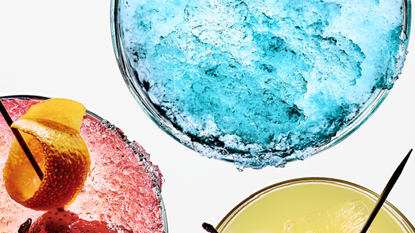 (Image credit: Dylan + Jeni)
Ingredients:
1 oz. Novo Fogo Cachaça
1 oz. Senior Blue Curaçao
11⁄2 oz. pineapple juice
11⁄2 oz. Coco Lopez
11⁄2 oz. coconut water
11⁄2 cups ice
Grated nutmeg and pineapple wedge for garnish
Directions:
Add first 6 ingredients to a blender and blend on high until smooth. Garnish with a little bit of grated nutmeg and the pineapple wedge.
"The Blue Brazil is a play on the classic tropical drink, a Blue Hawaiian. We sub out basic island rum for Brazilian cachaça, which has a much grassier, funky flavor. And we add a little coconut water to freshen things up, as well as citrusy blue curaçao." —Ryan
Ingredients:
3⁄4 oz. Campari
2 oz. gin (try Nolet's Dry Gin)
2 oz. fresh-squeezed lemon juice
2 oz. simple syrup
11⁄2 cups ice
2 whole strawberries, tops cut off
Orange twist and extra strawberry for garnish
Directions:
Blend first 6 ingredients until smooth. Pour into a tall glass; garnish with the orange twist and strawberry.
"Classic Gin Lemonade is the base for the Roman Holiday, but when you add the strawberries and bittersweet Campari, it truly becomes a grown-up slushie—perfect to sip on the entire summer long!" —Reiner
Ingredients:
12 oz. vanilla ice cream
1 oz. whole milk
1 oz. mezcal [try La Niña Del Mezcal's Primario Mezcal]
2 tbsp. mezcal caramel sauce (recipe follows)
Whipped cream
Directions:
Make the mezcal caramel by adding a few drops of mezcal into 2 tablespoons of caramel sauce. Swirl the inside of a glass with a drizzle of mezcal caramel. In a blender, add ice cream, milk, mezcal and blend on high until thick. Add a little extra milk if needed. Pour into glass and top with whipped cream and a drizzle of mezcal caramel.
"Mezcal is one of our favorite spirits, so we wanted to create a shake that really highlighted its unique flavor. We pair the sweetness of our vanilla ice cream and the butteriness of our housemade caramel sauce with a shot of mezcal to create a decadent and rich milkshake with an amazing smoky finish—the perfect grown-up rendition of the classic vanilla milkshake."—Aidan
RELATED STORIES
Ingredients:
2 c. heavy cream
2 c. whole milk
¾ c. granulated sugar
4 egg yolks
1 c. crystallized ginger, coarsely diced
1 tsp. vanilla
2 tbsp. dark rum [try Cruzan Estate Diamond Dark Rum]
Directions:
Whisk egg yolks, then add sugar until it forms a fluffy, light yellow paste. Combine cream, milk, sugar, vanilla, and ginger in a saucepan. Heat until it simmers, then remove from heat. Pour about ½ cup of the warm cream into the egg mixture while whisking constantly. Add another ½ cup of the warm cream while continuing to whisk. Pour the egg and cream mixture into the saucepan with the remaining cream. Add rum. Gently heat while stirring until the mixture is 170 degrees (or thick enough to coat the back of a wooden spoon). Strain through a fine-mesh sieve into a bowl. Place bowl in an ice bath to cool. Cover and chill at least four hours. Churn in an ice cream maker according to the machine instructions until it forms a soft-serve texture. Serve immediately or place in a container to harden in the freezer to achieve hard-scoop ice cream texture. Serve with a splash of dark rum! (Makes one quart.)
"The Dark & Stormy cocktail has clean ginger notes and rich dark rum flavors—as an ice cream, it becomes light and elegant. The perfect complement to a slice of cake or fresh fruit."—Lai
Ingredients:
8 ripe peaches or nectarines
½ c. sugar
2 tbsp. fresh lemon or lime juice
½ c. champagne or sparkling wine
½ tsp. salt
Directions:
Slice peaches in half, remove the pits, and rough chop. Allow them to sit in a bowl for at least 15 minutes, so all the natural juices come out. Add peaches to a food processor or blender with sugar and lemon juice. Puree until smooth. Stir in champagne and salt. Pour mixture into popsicle molds, making sure to leave at least ¼-inch from the top to allow room to expand. If using conventional molds, snap on the lid and freeze until solid, 3-4 hours. If using unconventional molds, freeze until the pops are beginning to set (45 minutes to one hour), then insert the sticks and freeze until solid, 3 to 4 hours. Dip molds fully in warm water for five to ten seconds to loosen paleta, and pull up to unmold. (Makes 8-10 popsicles.)
"This is my absolute favorite brunch cocktail—and it's so simple to make as a popsicle. Make sure you pick the ripest of peaches, so their natural glory really shines!"—Gerson
Ingredients:
2 c. heavy cream
2 c. whole milk
1 c. granulated sugar
7 large egg yolks
4 tbsp. Cardamaro Amaro
Directions:
Bring cream, milk, and sugar to a simmer in large heavy saucepan. Stir until sugar is dissolved. Whisk egg yolks in large bowl to blend. Gradually whisk hot milk mixture into yolks, and return mixture to saucepan. Stir over medium heat until the mixture coats the back of a spoon, about three minutes. Immediately strain through sieve over another medium bowl. Stir in Cardamaro, cover, and refrigerate for at least 4 hours. Transfer to ice cream maker, process according to manufacturer's instructions. Transfer to covered container and let freeze for at least 6 hours. (Makes one and a half quarts.)
"Cardamaro, the only wine-based amaro, works perfectly with a simple gelato base, adding a slight kick and sweet bitterness, while remaining delicate in flavor."—LaRaia and Wasser
A version of this article appears in the June issue of Marie Claire, on newsstands now.
Marie Claire email subscribers get intel on fashion and beauty trends, hot-off-the-press celebrity news, and more. Sign up here.
Priya Krishna is a food writer who contributes to the New York Times, The New Yorker, Bon Appétit, and more. She is the author of Indian-ish and the college-centric cookbook Ultimate Dining Hall Hacks, and formerly worked for Lucky Peach.