For V-Day, Wine is in the Air
Celebrate Valentine's Day with a wine that complements the state of your relationship.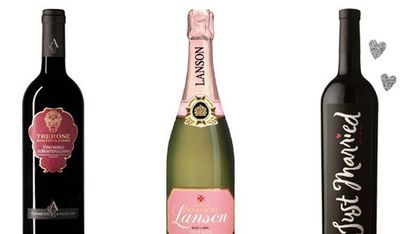 (Image credit: Archives)
Another Valentine's Day is almost here, and maybe you're going to avoid the prix fixe menus and sappy rose and heart decorations in restaurants to cook at home. But, what wine to serve? Instead of focusing on what food you're making, pair a wine with the stage of your relationship.
First Date: You're just getting to know someone and finally getting that one-on-one date — perfect for Envolve Rosé (opens in new tab) ($25), which is made by the winery owned by Bachelor Ben Flajnik and his two childhood buddies. Their Syrah rosé just came out February 1, and it's so good. Screw the rose ceremony and just go straight for the rosé.
It's Complicated: Sometimes things just don't go so smoothly. He doesn't totally get you, you don't totally get him, but you're both still into it. Hey, the chase can be fun, so drink down some Chasing Venus Sauvignon Blanc (opens in new tab) ($16). It's from Marlborough, New Zealand, where the Sauvignon Blancs are full of tangy cantaloupe - the flavor's very distinctive and some people love it (like me) and some don't. See if your palletes are compatible, and maybe this will be the deciding factor on your relationship status.
In Love: It's on! You hang out all the time and love exploring things together — perfect for throwing some wine discoveries into the night's mix! TastingRoom.com makes these awesome kits which include six mini-bottles (cute in and of themselves), perfect for the three-ounce sample pour. The Wines for Lovers (opens in new tab) ($30) version has three kinds of Il Cuore ("the heart") wine from Mendocino — a Chardonnay, a Zinfandel, and a Barbera — and tasting note sheets to scribble your impressions on.
Moving In: Now, you're getting serious. You've advanced beyond receiving flowers, so go for a wine with a great bouquet. The 2007 Tenimenti Angelini TreRose ("three roses") Vino Nobile di Montepulciano (opens in new tab) ($22) is mostly Sangiovese, rocks dark berry and tobacco notes, and has a good long finish. Hopefully, your relationship will too.
Engaged: You get that fizzy feeling when you look at each other and now it's official — you're going to blend your lives together. There might be no more beloved blended wine than Champagne, which traditionally mixes three grapes: Pinot Noir, Chardonnay, and Pinot Meunier. Try Lanson Brut Rosé (opens in new tab) ($50) with its Valentine-y pink label. This is a yummy Champagne that's hugely popular in the UK (it's the official Champagne of Wimbledon), and just came to the states. If he popped the question, the least you can do is pop the Champagne cork!
Just Married: It's cool to get really special wedding gifts, and this idea ranks up there. After making custom wines for each of his daughters' weddings, vineyard owner Clark Swanson made this Just Married Cab-Merlot blend (opens in new tab) ($25) to celebrate anyone who just got hitched. It boasts yummy blackberry and raspberry flavors and I love the logo, too.
Married For Years: You've been together for a while, so you need a wine that ages really well. Thanks mostly to the tannins and acid in the wine, Bordeaux from a good vintage can last 30 to 40 years. Most Bordeaux labels just have black and white sketches of a chateau, but Calon-Ségur also puts a heart around its name, which I've always thought was so sweet. Price varies from vintage to vintage, but you guys are in this for the long haul — the higher cost is worth it!
Single: Valentine's Day is basically just a day that celebrates love. So, even if you're not dating anyone, you can still love love, and you deserve great grapes too! Hook yourself up with some Sanct Valentin wine from my absolute favorite winemaking area in Italy, Alto Adige. This northern Italian region makes killer crisp whites like Sanct Valentin's Sauvignon and Chardonnay (opens in new tab) ($24 each). Even if you're a cranky Valentine's Day person (yeah, I know there are plenty out there), you'll at least fall in love with this region and this wine!
For more fun wine advice, check out grapefriend.com (opens in new tab)