Bala's Sold Out Ankle Weights Are Back and On Sale for Prime Day
Let's get physical.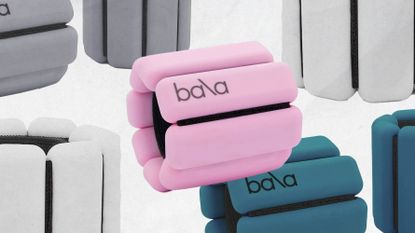 (Image credit: Courtesy of brand)
If you're like me, you may be feeling a little slow getting back to your pre-pandemic workout routine. Our bodies went through the wringer—stress, sickness, craning our heads over our laptops to work from home—and getting back to business workout-wise can feel insurmountable. But there's one at-home fitness accessory that seemed to keep all of Instagram and Hollywood sane during 2020, and it makes even more sense for 2021. Enter Bala Bangles, the chic wearable weights that are finally back in stock—and they're on sale for Prime Day.

These trendy weights have a cult following on social media, and have been spotted on celebs in many a post-gym selfie. And for good reason! They're equal parts functional and adorable, and can be incorporated into almost any workout without the clunkiness of ankle weights past. Rock them during strength training for an extra challenge during reps, switch them to your wrists during Pilates or yoga, or just strap them on before a brisk walk. They come 1lb and 2lb sets, so whether you're working out for the first time in years or you've been keeping fit consistently, these adjustable weights WORK. Added bonus: they blend into athleisure almost seamlessly thanks to their cute colors and sleek design.
RELATED STORIES
Taylore Glynn is the Beauty and Health Editor at Marie Claire, covering skincare, makeup, fragrance, wellness, and more. If you need her, she's probably roasting a chicken, flying solo at the movies, or drinking a bad Negroni at JFK.