Our Editors' 7 Favorite Workouts for 2019
From a boxing-slash-yoga class to a cardio workout on a trampoline, these are the fitness routines Marie Claire's editors will be trying this year.
The new year often means starting new things—calendars, resolutions, and, for some, workout routines. Hopefully one you like enough to stick with. When it comes to exercising, people want different things: Do you enjoy a cardio-heavy class? A stress-relieving outlet? A full-body tone? If you're looking for a new challenge when it comes to your fitness this year and need a little extra inspiration, check out the seven options below, Marie Claire's editors' favorite workouts going into 2019.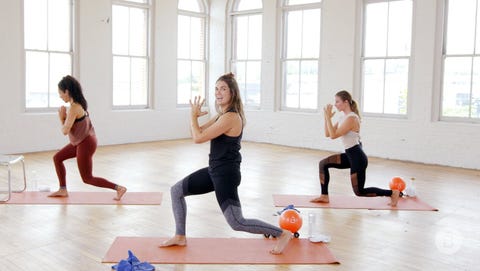 I actually hate most barre classes. I used to study dance and I find their claims about resulting in a "ballet body" insulting. Plus, there's a lot of weird tucking and body positioning that's probably leaving you ripe for an appointment at the physical therapist's. But Barre 3 I LOVE. I look forward to going. How many workouts can you say that about? It's tough, but energizing. It's total-body, rather than completely thigh-focused, another complaint I have about many fitness classes. And the best part is that, thanks to their subscription service, I can do their workouts on my phone from anywhere, in case I can't make it to my local studio—or just don't feel like leaving my apartment. —Danielle McNally, Features Director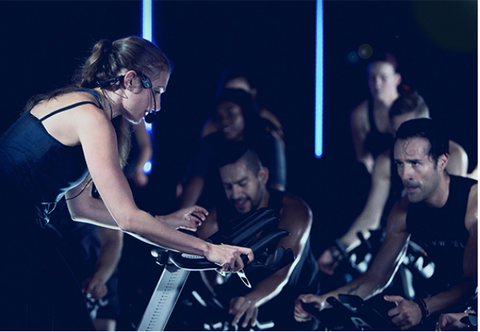 When I found Flywheel everything changed. I had just moved to New York and was working until 10 p.m. every night at my first magazine assistant job. It was the first time I was truly introduced to stress and anxiety and I needed an outlet…fast.
Flywheel feels like a race to the finish line, but for myself, not anyone else. It's so therapeutic to dedicate 45 minutes of your day to something that will make you better. When the music is blasting, my bike metrics are skyrocketing, and my heart-rate is through the roof, it's equivalent to the fun I have on the dance floor with my friends on a Saturday night. Think: workout party with turned up instructors (*ayeeee*!!!). If you're into upbeat environments and competing with yourself, you'll love Flywheel! —Maya Allen, Beauty Editor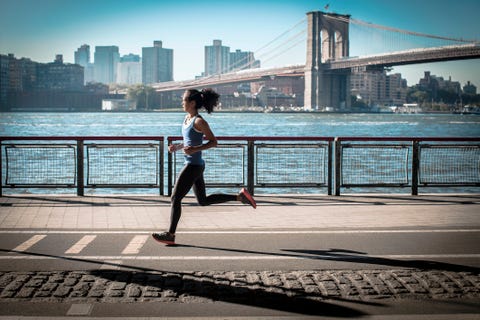 Cultura RM Exclusive/Edwin Jimenez
Getty Images
I'm an avid ClassPass user, but my favorite workout right now is running in the park at night. It's free and I have a running buddy (she keeps me motivated and also brings her dog—a plus). My goal is to run a half marathon this year, so training begins…now. I know some people find running to either be grueling or boring, but for me it's cathartic after a stressful week and simply put, I'm good at it.
That block of run time is also precious because I can either catch up with my best friend or silently be alone with my thoughts. (It's a great time to be introspective, TBH.) Afterwards, I always feel happier (endorphins?) and accomplished, ready to tackle anything that gets thrown my way. —Marina Liao, Fashion News Editor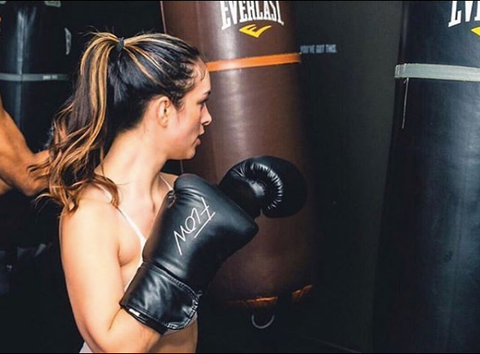 My favorite workout is a hike. I know, could I be more L.A.? The fresh air, leg workout, and the mind trickery that makes me feel like I'm not working out makes it tolerable. On occasion you see animals and are reminded there is a bigger world than the concrete jungle of Manhattan. Living in NYC now, though, hiking happens rarely, so I've found a new favorite workout: Box & Flow.
It's a combination of boxing and yoga, which gives me the release I need (the boxing) and the relaxation I need (the yoga). The classes are really fun and set to upbeat music, mostly hip hop in my experience, that gives you more motivation to work out harder. You do need to buy your own wraps but everything else (mat, gloves, towel) is included with the price of your class. I promise you will feel amazing after the nine rounds. —Krystyna Chavez, Social Media Editor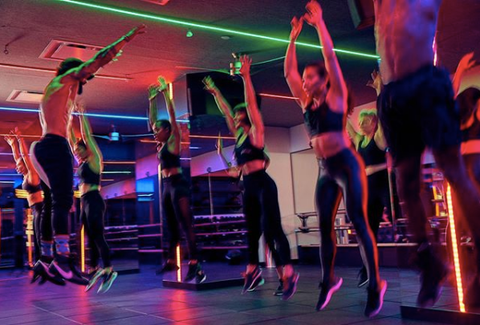 When it comes to working out, my main goal is to clear my brain—I, of course, appreciate the healthy, this-is-good-for-my-body benefits as well, but I'm always looking for a way to reduce stress. I recently tried the Bounce class at Fithouse: A cardio class where you...bounce on a fitness trampoline. Really. And it's amazing. The class promises to be high-cardio, high-adrenaline, low-impact, and it's all that plus, fun, because again, you're bouncing on a trampoline. It's also hard: Imagine trying to balance on one leg on a trampoline, while holding weights. Let's just say there's not a lot of time for your brain to be running through your to-do lists while you're concentrating on not falling over...and feeling that ab burn. —Sally Holmes, Digital Director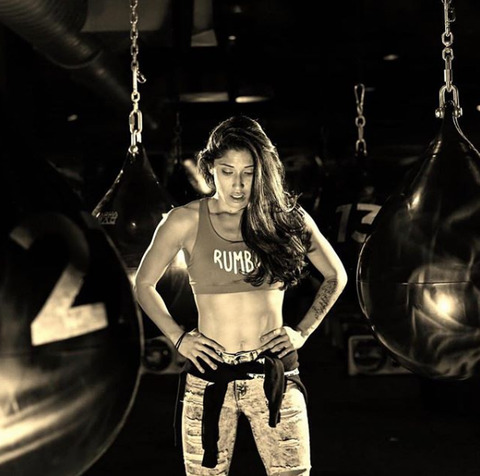 I had no idea what to expect when I took my first Rumble class, considering I had never, uh, boxed a day in my life. Six months later, I can't imagine not taking it every other week. You choose whether to start on the floor side or the bag side, then you're guided through 10 rounds of kickass workouts—a mix of HIIT, strength training, cardio, and the six punches—with incredible music under dimmed lights. I walk out sore/feeling amazing every time, and any lingering stress or anger has disappeared by the end of the class. (Gotta take it out on the bag.) Classes are available in NY, L.A., and San Fran. Ten out of 10 recommend booking Joe's class in NYC. —Rachel Epstein, Assistant Editor
This content is created and maintained by a third party, and imported onto this page to help users provide their email addresses. You may be able to find more information about this and similar content at piano.io