Editors handpick every product that we feature. We may earn commission from the links on this page.
The 7 Best Abs Machines Of 2021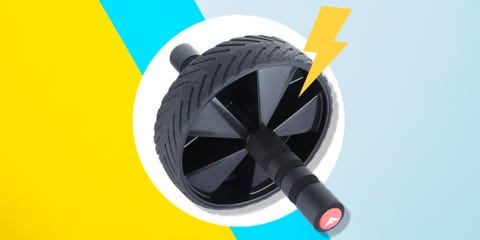 While there's no such thing as spot training, there's no way you'll get Halle Berry abs without adding some core-strengthening moves to your workout routine. And an ab trainer is a good way to do just that. To get you started, here's a list of ab trainers that will definitely help you level up the difficulty of your go-to core workout. They've been selected based on user reviews and top rankings on trusted online retail sites like Amazon and Walmart. Best of all: There's one here for every price point and skill level.
1
Best Abs Wheel
Fitnessery Ab Roller
Upgrade your planks with this abs wheel, which comes with a few extra perks, including a knee pad for added support, and an abs workout e-book in case you're stuck on what specific exercises to add to your fitness regimen.
Not only will this ab roller strengthen your deep core muscles and obliques, but you'll also work your glutes and shoulders, too, says McCowen.
How to: Start in a kneeling plank gripping the handles, engage your abs, and then slowly push your hands out past your shoulders, gradually increasing how far you go as you get stronger. The key is to keep your core tight the entire time.
Rave review: "Great ab roller. The price is awesome considering that sometimes equipment like this can be overpriced. It came with a knee pad which I wasn't expecting which was a nice surprise because that can be the downside of using equipment like this if you don't have a mat at home to use. The wheel itself it well made and sturdy. I've used ones before where I'm worried that the handles are going to snap off and this isn't like that at all. It's incredibly durable." —Dorothy Z., amazon.com
2
Best Abs Rocker
CAP Barbell Ab Trainer
Need help nailing those crunches? This abs trainer will help you execute proper form, so you can happily avoid back and neck strain. It provides support to the spine and the lower back, while targeting the transverse abdominis (deep core muscles), says McCowen.
How to: Start lying on your back with your feet flat on the floor, knees bent, and head on its headrest. Grab the top of the bar with both hands, palms facing away from you, and begin to perform crunches.
Rave review: "Easy to assemble. If you're looking for a nice ab workout, this is the product." —Martha, walmart.com
3
Best Abs Bar
Livebest Power Tower
This power tower will assist you in working out more than just your core—you can use it to work your upper bod with exercises like pullups, too. But for a killer lower-abs workout, use it for moves like hanging leg and knee raises, says McCowen, which can target muscles like the hip flexors, rectus abdominis (six-pack), and obliques.
How to: Either hang from the high bar or place your forearms on the lower bar and grab ahold of either handle. Begin to lift leg (they can be straight or bent) up off of the floor and toward your chest. Lower them back to start with control.
Rave review: "Sturdy enough and easy to put together! and I can fit it in my basement with a low ceiling!" —AlyssaSara. amazon.com
4
Best Decline Bench
XMark Fitness Adjustable Decline Ab Workout Bench
You can adjust this abs bench according to your needs. It features 12 levels of declining adjustment on a 47-inch rail. The bench also has rear transport wheels, making it easier to move and stow after you've finished the day's workout. This machine can help you target all your ab muscles, says McCowen.
How to: Secure your feet under its pads to hold them in place while performing abs exercises like situps or crunches.
Rave review: "Overall good quality, almost gym worthy, but for home use excellen.t Packing was very good, arrived via FedEx, no noticeable damage. Was fairly easy to assemble, however couple of the bolts were challenging as they were powered coated so a little tight. That said heavy construction, very solid, would definitely recommend and would buy again." —Janice N, Amazon.com
5
Best Sit Up Machine
AbCoaster MAX Ab Machine Exercise Equipment
This machine's freestyle swivel seat allows you to target your obliques, hip flexors, transverse abdominis, and rectus abdominis without doing a million bicycle crunches. To intensify your workout, you can switch up the weight plates on eithe side of its seat to make your moves more challenging. Using the machine is also pretty easy.
How to: Grab the handle bars, rest your legs on the seat, and engage your core to slide the seat up and down.
Rave review: "I shopped for a long time before choosing to buy this ab machine, and I'm glad I did! I love being able to feel the burn in my abs without straining my neck, and it seems to work much better than basic ab workouts you do on the floor. It was really easy to put together and seems nice and sturdy." —Emily96, amazon.com
6
Best Exercise Ball
ProBody Pilates Mini Exercise Ball
Depending on what exercise you do, it can target any ab muscle from the obliques to the transverse abdominis. "Stability balls and its curvature can offer greater ranges of motion which means more muscle groups can be targeted," says McCowen.
How to: Tuck a small exercise ball behind your low back while performing situps or between your knees during planks or leg lifts for extra core engagement.
Rave review: "This is exactly what it is advertised as—a Pilates exercise ball. I've been using it while participating in a core stability class and it has been amazing how using this little ball can give me such a great full body workout. I absolutely love all of the color options too." —Amberly, amazon.com
7
Best Roman Chair
Marcy Adjustable Hyperextension Roman Chair
This Roman chair, or hyperextension bench, will help you improve your posture and strengthen your back muscles, while targeting your obliques, deep core muscles and six-pack.
How to: Working out on it requires you to secure your feet under its pad before training your abs with exercises like side bends, situps, or back extensions.
Rave review: "This is my favorite piece of equipment—well worth every penny! I use it for crunches with hand weights, and also ab-twists with hand weights, and for back, buttock and hamstrings. great all around pc of equipment. If I only had one pc of equipment - this would be it. Very well made, and easy to assemble." —Sue, amazon.com
This content is created and maintained by a third party, and imported onto this page to help users provide their email addresses. You may be able to find more information about this and similar content at piano.io