Editors handpick every product that we feature. We may earn commission from the links on this page.
The 9 Best Electric Toothbrushes
Shop for the same ones dentists use!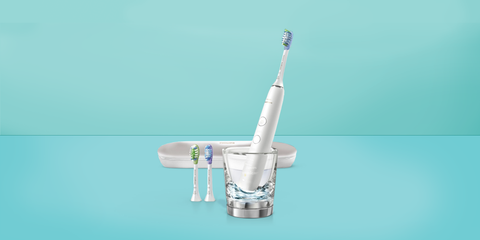 How you clean your teeth is just as important as how often. That's why electric toothbrushes are so great — many come with genius built-in tools (like minute timers, special brush modes, and even real-time feedback) to help you make the most out of every brushing session. And ultimately, it's much less painful and cost-effective to prevent a problem than to treat one. Once you're ready to ditch your manual toothbrush, the choices can be overwhelming, so we cut through the clutter to help you pick the best electric model for your teeth and gums.
1
BEST VALUE ELECTRIC TOOTHBRUSH
Philips Sonicare ProtectiveClean 4100 Rechargeable Toothbrush
With over 12,000 five-star reviews, it's no surprise this Philips Sonicare is one of the best-selling power toothbrushes on Amazon. It has all the benefits of an electric toothbrush, like a rotating head to remove plaque, a pressure sensor to prevent you from brushing too hard, and a two-minute timer — at a fraction of the cost of many others!
2
BEST DENTIST RECOMMENDED ELECTRIC TOOTHBRUSH
Philips Sonicare DiamondClean Smart
Ever wondered what toothbrush your dentist uses at home? Here it is: DiamondClean by Phillips Sonicare. It has different settings like Clean mode and Deep Clean+ mode, plus brush heads that address specific concerns like plaque control or gum care. It also works with the Sonicare app to guide you during brushing and alert to any missed spots.
3
BEST CONNECTED ELECTRIC TOOTHBRUSH
Oral-B 9600 Electric Toothbrush
Powered by Braun, this Oral-B smart toothbrush is seriously genius. It has all the features you'd expect, like a built-in timer, pressure sensor, and different brush modes based on your concerns. Plus, it works with an app to help improve your brushing skills in real-time. Great for people who travel regularly, it also comes with a useful travel case and handy phone stand so you can watch your brushing feedback in real-time, no matter where you are.
4
BEST SANITIZING ELECTRIC TOOTHBRUSH
Philips Sonicare FlexCare Platinum Connected
Philips Sonicare brushes are always great quality and this connected model is the one that GH Beauty Lab Director, Birnur Aral uses at home! It's packed with all the bells and whistles, works with the Sonicare app for personalized brushing feedback, and also comes with a UV sanitizer. "I like that I can zap the toothbrush head with UV light to sanitize. This helps prevents them from smelling bad, which is a sign of bacterial growth," says Aral.
5
BEST ELECTRIC TOOTHBRUSH FOR OLDER KIDS
Philips Sonicare For Kids Sonic Electric Toothbrush
Kids don't need all the different brushing modes and travel features that adults do, says orthodontist Jamie Reynolds. He recommends this Philips Sonicare for Kids to children 7 or 8 years old and up, especially those with braces. We like that it works with an interactive app that turns brushing into a game. Kids won't even notice that it's also teaching good habits and proper techniques!
6
BEST FLOSSING ELECTRIC TOOTHBRUSH
Waterpik Sonic-Fusion Flossing Toothbrush
Not the best about flossing? We get it, but gum care isn't optional. That's why the GH Beauty Lab pros like Waterpik's sonic toothbrush with a built-in water flosser. Water flossers eliminate the hassle of string floss, meaning you might do it more often! GH testers found the two-in-one option (which is American Dental Association accepted) more effective than brushing and flossing manually.
7
BEST WHITENING ELECTRIC TOOTHBRUSH
Go Smile Sonic Blue Smart Brush Whitening Kit
Improper teeth-whitening can be dangerous, which is why GH experts like Go Smile's smart brush. Pair the electric toothbrush (it has a built in blue LED light!) with the pro whitening gel for at-home whitening while you brush. Our Lab found that when used twice daily, the toothbrush and gel whitened the teeth of 90% of testers in two days. This is one of the most effective OTC whiteners because the active ingredient makes full contact with teeth.
8
BEST ELECTRIC TOOTHBRUSH FOR YOUNGER KIDS
Arm & Hammer Kid's Spinbrush Spiderman
Even superheros have to brush their teeth! When kids are young, getting them in the habit of brushing is more important than anything. That's why this Arm & Hammer Spinbrush is perfect. While it isn't as powerful as sonic models (which can sometimes be too intense), it's still great for improving kids' brushing technique, says Dr. Reynolds.
9
BEST SUBSCRIPTION ELECTRIC TOOTHBRUSH
Quip Electric Toothbrush Set
It's easy to forget that you should be replacing your toothbrush (or brush head) every three to four months. Yes, really! That's why our editors love Quip. Not only is the battery-operated brush super-slim and chic, the brand also offers a refill plan. Uou can get a new brush head and battery delivered every three months. For an extra fee, they'll add toothpaste too! We especially like this pick for travel since you don't have to pack charging cords or bulky stands.
This content is created and maintained by a third party, and imported onto this page to help users provide their email addresses. You may be able to find more information about this and similar content at piano.io