There's a New Contender in the Breast Cancer Test Market
Find out how Quest is making genetic testing for breast cancer cheaper and more available for women.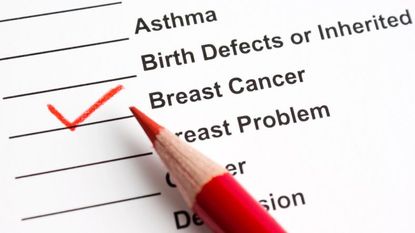 (Image credit: E+/Getty Images)
Just in time for Breast Cancer Awareness Month, NBC News reported on Tuesday (opens in new tab) that Quest Diagnostics Inc. has become the largest U.S. company to start offering gene-based tests for breast cancer.
Quest's BRCAvantage tests will search for mutations in the BRCA1 and BRCA2 genes, which can be strong indicators for women at higher risks of breast and ovarian cancers. The company will offer these tests at $2500, a lower price than when Myriad Genetics Inc. monopolized the market before June's Supreme Court ruling (opens in new tab) against patents on human genes.
Despite making headlines when actress Angelina Jolie underwent a double mastectomy (opens in new tab) following her Myriad test, Quest found that 72 percent of women in a national survey had never heard of the BRCA test.
According to the World Health Organization, breast cancer kills about 458,000 people globally each year. With over 2,100 centers in the U.S. and a more affordable exam, Quest seeks to spread awareness of their new genetic testing. Chief Medical Officer Jon Cohen said, "Patients need to understand their cancer risks in order to make the most informed and timeliest decisions about their health."