For Amazon Prime Day, This Keurig Is Almost 40 Percent Off
Even more when you think about the money you'll be saving on your daily Starbucks runs.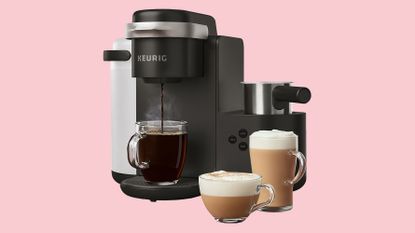 (Image credit: Courtesy)
Amazon Prime Day (opens in new tab) is officially here, which means thousands of items across the site are on sale—including this popular Keurig (opens in new tab) that's almost 40 percent off (!). Originally $180, the Keurig can make coffee, lattes, and cappuccinos that—let's be honest—taste much better when you're saving $70.
The Keurig K-Cafe (opens in new tab) comes in four cup sizes including 6, 8, 10, and 12 ounces and allows you to brew six cups before having to refill it, so you can save time in the morning when you're rushing to work. One reviewer said it makes an "amazing latte" and another couple was "stupidly happy to make this machine our first Keurig," so clearly it's a winner.
Fuel your coffee addiction (which, btw, doesn't dehydrate you (opens in new tab)) and add this Keurig to your cart before the Prime Day sale ends. If you're not a Prime member yet, you can sign up here (opens in new tab) and shop other amazing discounts, like these tech deals below.
Amazon Prime Day starts at 3 p.m. EST on July 16 and runs through 3 a.m. EST on July 18.
MORE FROM AMAZON PRIME DAY 2018