Your Weekly Tarot Reading
Here's what's in the cards for you the week of April 25.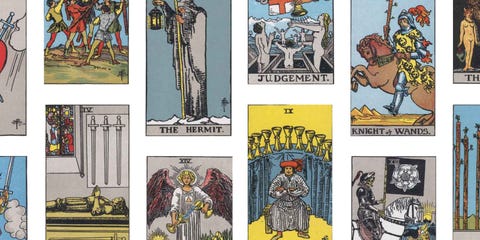 In this horoscope-filled world, we decided to do something a little different: Tarot card readings for the masses. Here you'll find a card drawn and interpreted just for you, based on your zodiac sign—and fair warning: This stuff is creepy-accurate.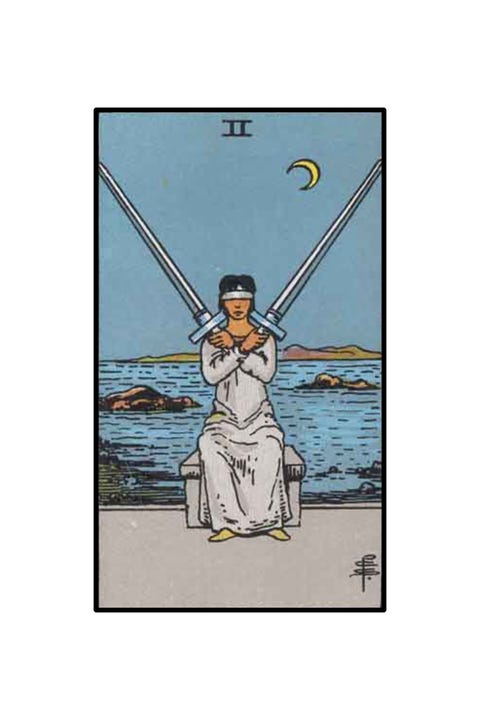 Brave Aries, the Two of Swords is your card of the week. A gentle reminder to pause and slow down. Your laser-like focus constantly surveys the landscape as you seek competitive edges. Yet, massive benefits exist in effortlessness. Thursday's Mercury Retrograde is a monumental reminder to take it easy. If a desired plan is not coming together, put it on the back burner. You need to find your zen: What blisses you out? (More importantly, do you meet enlightenment inside a Nicki Minaj track?) Turn the volume up. Way up. Take a yoga or meditation class. Can't get to one? Fire up a meditative practice on YouTube. Block out what is unneeded. Find stillness. Take a mental health day. Sleep later than usual—on a Thursday. Get to your favorite beach, river, pond, or lake. Unfurl a blanket. Soak in sunny, salty air. A shower or bath makes a worthwhile substitute if done mindfully. Allow water energy to cleanse and clear your aura. Allow stressful thoughts to slip away. You get further faster—and make decisions with greater clarity—if you make space.
Tarot Tip of the Week: Block out extraneous distraction.
Taurus: Ten of Swords (reversed)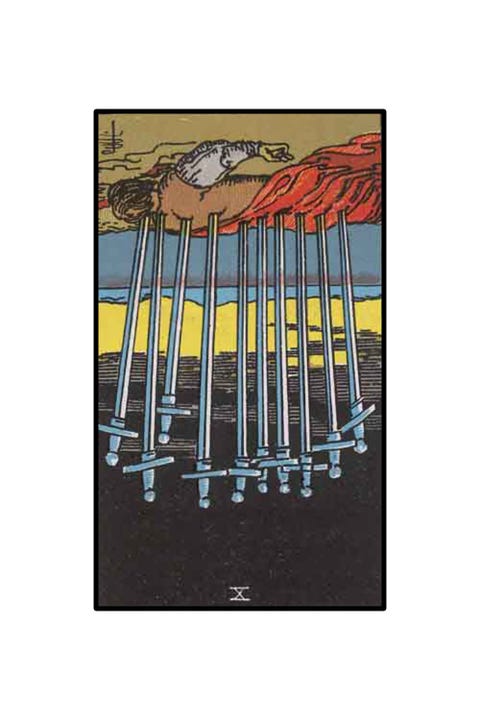 Practical Taurus, you know how to keep it real when others act up and put on airs. That's why people depend on you. What they see is what they get. The Ten of Swords (reversed) is your card of the week. Alignment of the mind and body take on supreme importance right now. Acupuncture, massage, and physical therapy of any sort work wonders for your physical well-being. Open yourself to sexy and romantic energy by focusing on your root chakra. Sit straight, find the base of your spine, and imagine a ball of energy spinning there. Allow the energy to move up and down your spine as you straighten your posture. Thursday's Mercury Retrograde offers you the perfect opportunity to let go of the past. Release old emotional attachments. Are you obsessing over someone you can't have? Let it go. Invoke gratitude for the experience but bid it goodbye.
Tarot Tip of the Week: Align yourself.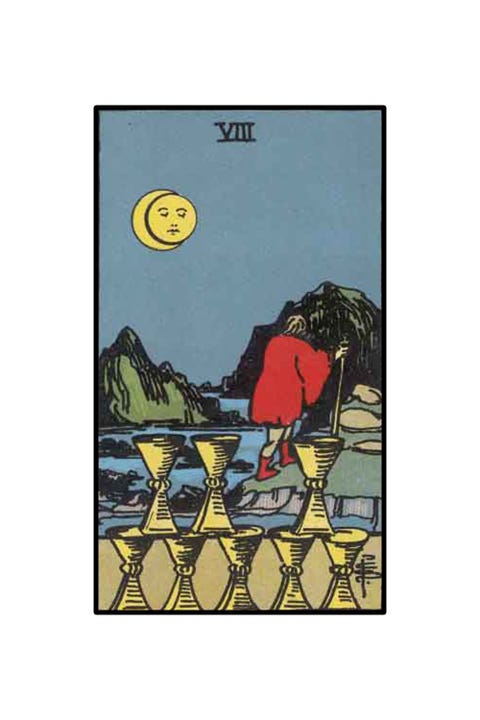 Gentle Gemini, the Eight of Cups is your card of the week. Note how the figure on the card is moving toward higher ground. You are well-advised to do the same. Mercury enters retrograde on Thursday so tidy up any loose ends. Respond to outstanding emails. Pay off a debt. Schedule postponed doctor appointments. Clean out that junk drawer. Once you've settled outstanding scores, consider your current path. Make a choice to carry yourself higher. The taller the mountain, the more glorious the view. The card's solar eclipse speaks of a unique, transitory moment—a song only you have ears to hear. Your talent, creativity, and uniqueness is yours alone. No one can match it. Answer the call of the universe by stepping up. You will find it makes all the difference. Live loud. Be bold. Be you.
Tarot Tip of the Week: Move to higher ground.
Cancer: Queen of Cups (reversed)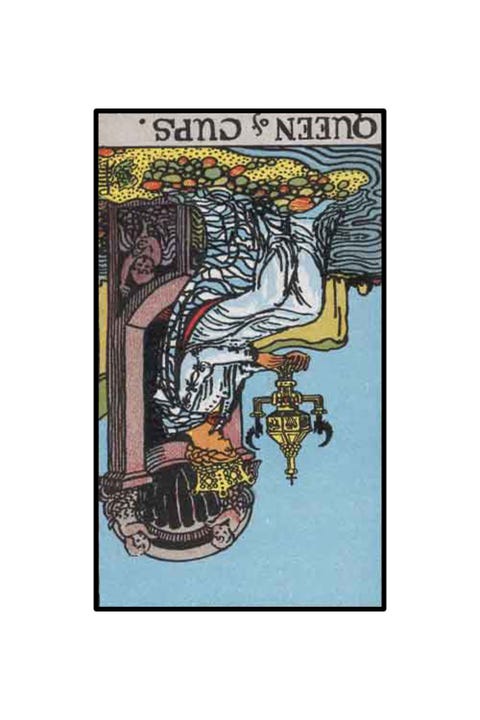 Caring Cancer, you offer a wellspring of emotional energy and support for others. The Queen of Cups (reversed) is your card this week. She begs and pleads for you to protect and nurture your intuitive, sensitive side. Toss aside emotional baggage—you shouldn't be carrying it. When did you become the bellhop to everyone around you? You don't have to fix other people's problems. Allow someone else to take care of you for a change. If support is offered, accept it. If a situation or place doesn't feel authentically good, depart at once.
Tarot Tip of the Week: Toss aside extraneous emotional baggage.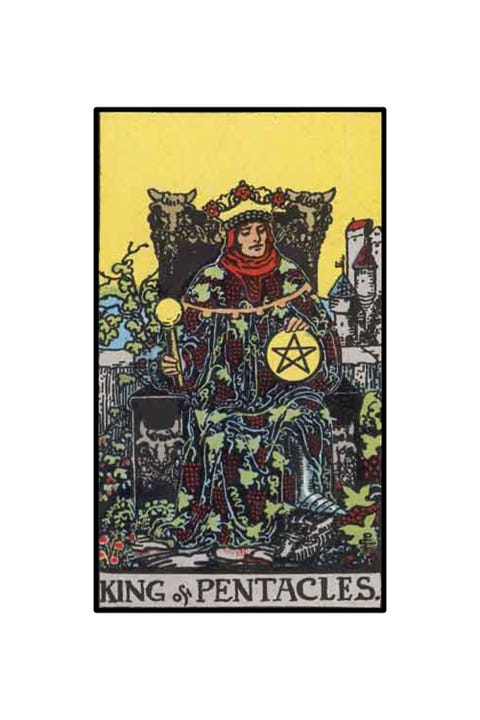 Lucky Leo, you've drawn the King of Pentacles. Does money buy happiness? No. However, financial security makes life livable. Economic grounding and support reduces stress. You are free to enjoy life's delights when you aren't freaking over the next paycheck and /or mounting debt. This wealthy king is a snapshot of your richest self. He experiences the distinct pleasure of being alive. Know you have the resources you need at your fingertips. This week's trick is to refine what you already have. Small steps make a huge difference. Put coffee money toward student loans. Start a money diary. Reward yourself by sequestering vacation funds out of every paycheck. Describe your dream job and salary in startling detail in a journal. Make a realistic short-term financial goal. Then, enjoy cost-free experiences. Take solace in the people you love. Thank your skin and bones by treating them well. Stroll in fresh morning sunlight. Wander in evening's twilight.
Tarot Tip of the Week: Take pleasure in what surrounds you.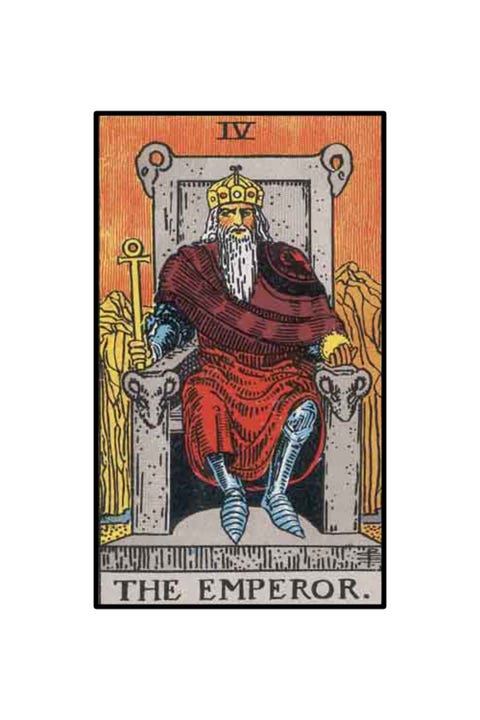 Methodical Virgo, never has your attention to detail better served you. The Emperor is your card this week. Think Julius Cesar and Napoleon-esque energy. Mercury throws a tantrum and goes retrograde on you this Thursday. You'll be needing all the power you can muster to maintain your course. Back up your electronic devices. Double check info. Read fine lines. The Emperor's power is in structure and steadfastness. What you resist persists. Counter Mercury by working alongside the retrograde, not against it. Retrogrades beg us to slow down. Examine the past. Indulge nostalgia. But do so with a new set of eyes: thumb through old photos. Spend time with a dear old friend. Revisit the music you loved when you were 12—and while you're at it, revisit your 12-year-old dreams. How do they compare to current ambitions? Recall your first kiss. Write a love letter. Send it snail mail. Cover it with kisses. Indulge the past to create your future.
Tarot Tip of the Week: Prepare and then look back.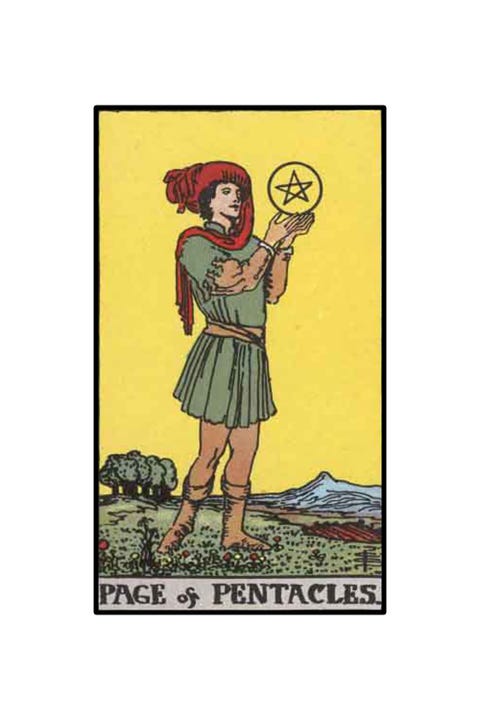 Likeable Libra, do you find yourself saying "yes" to everyone else but yourself? Does uttering "no" feel like saying a four-letter word? The Page of Pentacles is your weekly card. She's a bright shining student who loves to learn. Put yourself first by turning your attention toward education. This is an opportune time for you to return to school at any level. Complete a certificate. Obtain required degree credits. Indulge a curiosity. Get out of your own head by losing yourself in a curious subject. Fascinated by Baroque art? Romantic poetry? Shakespeare? Look into free online courses. Maybe you prefer a live learning experience? Sample a cooking class with a local chef. Roll up your sleeves and learn how to plant a gorgeous biodynamic garden. Education always opens your mind to new possibilities and opportunities. Classes are also a wonderful place to cultivate new friendships. Make sure to read the fine lines and double check any school contracts or tuition payments as Mercury goes retrograde this Thursday.
Tarot Tip of the Week: Seek out knowledge.
Scorpio: The High Priestess (reversed)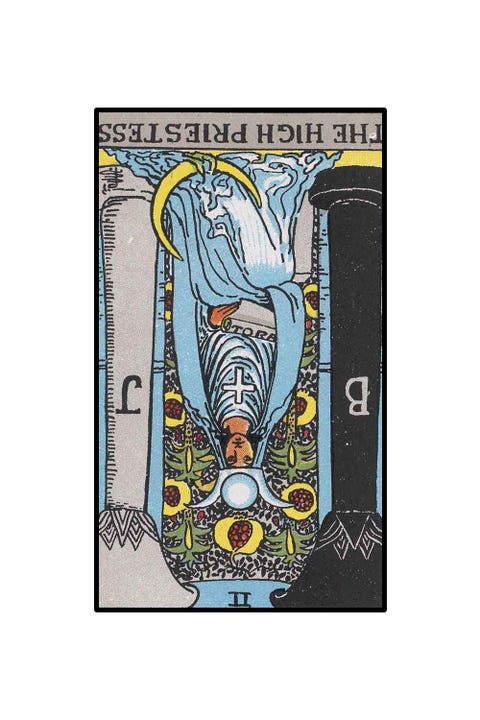 Sexy Scorpio, others are fascinated by you, your motives, and your actions. The High Priestess (reversed) is your weekly card. This watery, subconscious inner goddess whispers an important question in your ear. How do you know what you know? Do you confuse intuition with past experience? Mix up intuition with fear? When you make a life decision, where does it spring from? Decisions based in authentic intuition and self-knowledge repay you in spades. Opportunities unfold. Luck increases. You "stumble" into an amazing job. You "bump into" the right person. Conversely, decisions based in past experience contain prejudice. Judging people on looks alone, you miss meaningful relationships. Even worse, fear-based decisions can fling you in the wrong direction. The High Priestess reminds you that intuitive decisions are made in the space emotional calmness. Intuitive decisions feel "right" inside of your body and are stress-free. Intuitive decision-making is a Scorpio's birthright. Choose wisely.
Tarot Tip of the Week: Ignite your intuition.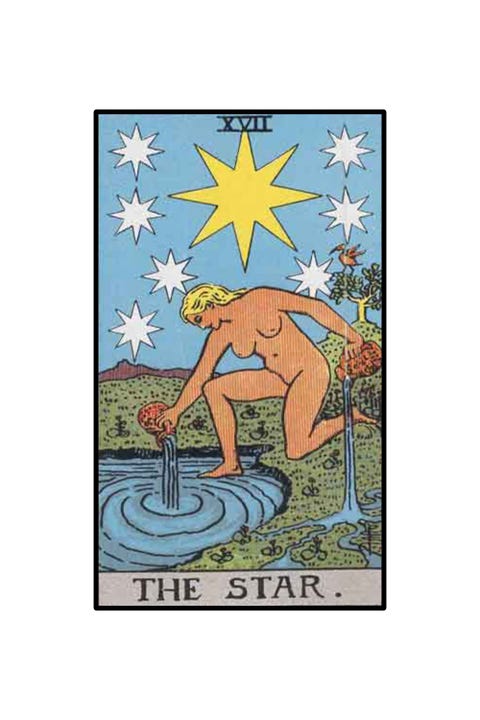 Stellar Sag, of course you received the Star card this week. Your luminous charisma shines brighter than North Star, Polaris. You are the glowing epicenter of so many lives. People adjust their path to your coordinates. Guide others by remaining true to yourself. Embrace truth by pushing your ego aside and letting your talent stand in the forefront. Show up and be real—not because others expect you to, but because you genuinely want to. Help yourself by exuding extra effort: pull an all nighter, feel the burn, and go the extra mile. It pays off. What is hard for others comes easily for you. Choppy waters soon abate. Thursday's Mercury Retrograde barely affects you. You land in your sweet spot by the Friday. Once there, toss any insecurity aside. Loosen up and let go. Get ready for a weekend of epic proportions. Enjoy yourself. You've worked hard and deserve some serious downtime.
Tarot Tip of the Week: Push beyond expectation.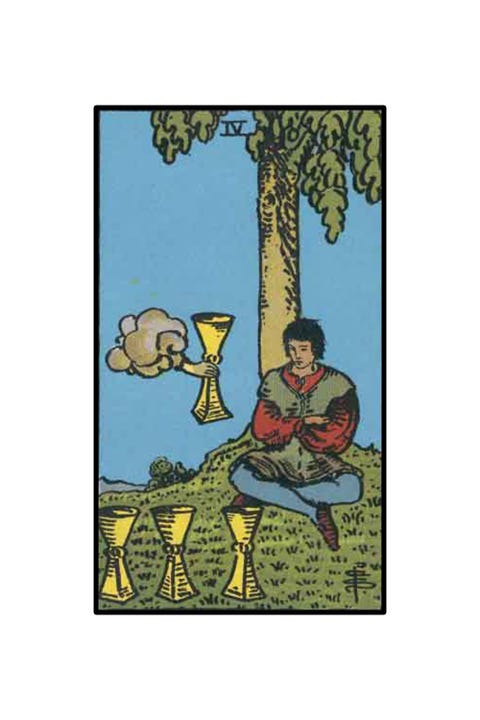 Stable Capricorn, the Four of Cups is your weekly card. You desperately seek an opportunity. The answer is right in front of you but perception is a strange thing. Edit out what you see and feel on a moment-to-moment basis, otherwise you'll be pulled in a million different directions. Filter out human voices, traffic sounds, background music, even the air's temperature on your skin. You aren't even thinking about the rhythm of your breathing until I mention it, yet you've been doing it all day. Move through your week with less effort. Release tightly-held ideas. Allow uncertainty to unlock potentials. Breathe. Look up from electronic devices and petty distractions and observe the world around you.
Tarot Tip of the Week: Opportunity is right in front of you.
Aquarius: Seven of Pentacles
Eccentric Aquarius, the Seven of Pentacles is your card of the week. Does the phrase, "Jack of all trades and master of none," remind you of yourself? As an innovative air sign, you naturally excel in a number of areas. What's more, you are genuinely interested in whatever captures your attention. If you find yourself feeling blah, simply wait on it. The answer will be revealed, but it needs time to develop. Mercury goes retrograde on Thursday, messing with clear thinking and logic. Ready for a retrograde hack? Allow strange and foreign thoughts to bring you to new conclusions. Let emotions to filter through you without judgment. Feeling jealous of someone. Don't repress it. Feel it. Express it in a healthy way. Write out what you are feeling. Feeling cranky? Articulate it. Don't beat yourself up. Feel it. Bitch. Complain. Pout. You are human. You have a right to basic human emotions. Repression can cause discomfort to stick around longer than need be.
Tarot Tip of the Week: Allow things to develop in their own time.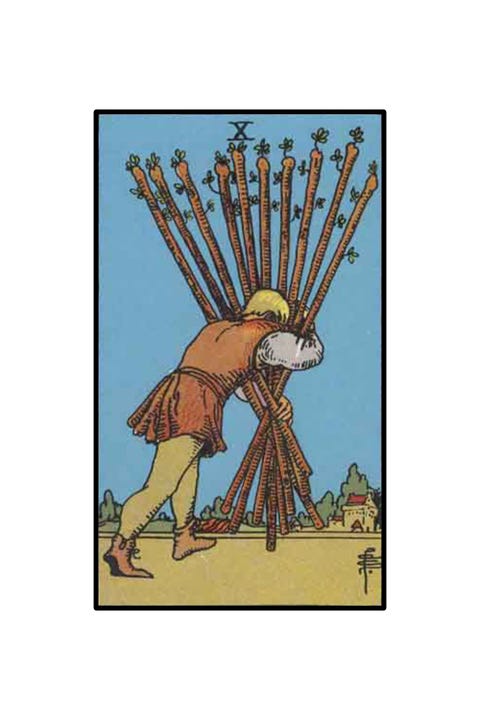 Sensual Pisces, this April held unique challenges for you. You rose to the occasion like a rock star. The Ten of Wands is your weekly card. You end the month by wrapping up a monumental project. Work related challenges, passionate endeavors, or even a straining relationship are settled once and for all. Pat yourself on the back. Acknowledge your hard work and effort. Mark this time period with restorative actions. Indulge in your favorite things. Hit the snooze button. Better yet, turn off the alarm. Treat yourself to inspired meals. Eat natural foods that replenish your body's energy: leafy greens, natural oils, hearty whole grains, and colorful fruits. Take your favorite exercise class. Visit a space that inspires you and fills you with joy. Venture to your favorite museum. Curl up like a kitten under spring sun in your favorite outdoor space. Consider the new space that has appeared in your life. What do you want? Of all the possibilities, what will you manifest next?
Tarot Tip of the Week: Think beyond the finish line.
This content is created and maintained by a third party, and imported onto this page to help users provide their email addresses. You may be able to find more information about this and similar content at piano.io