Watch Hillary Clinton's Historic, Inspiring, Chill-Inducing Speech After Becoming the First Official Female Presidential Candidate
What a time to be alive!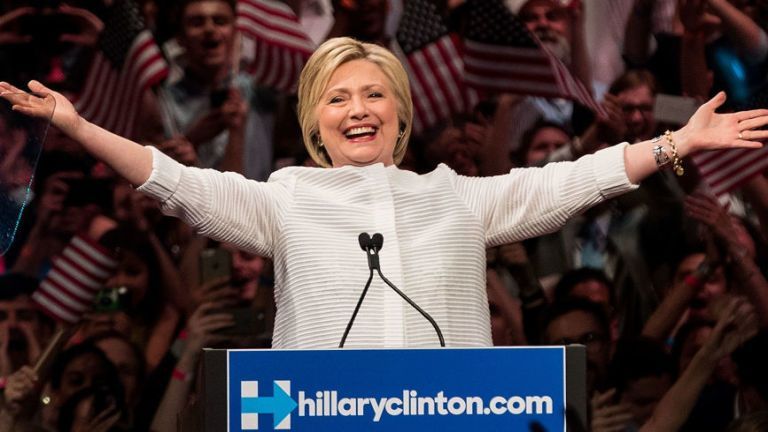 (Image credit: Getty images)
After a huge victory margin in the New Jersey presidential primary on Tuesday, Hillary Clinton has effectively secured enough delegates to become the presidential nominee for the Democratic Party, making her the first woman to ever represent a major political party as nominee for President of the United States.
To every little girl who dreams big: Yes, you can be anything you want—even president. Tonight is for you. -H pic.twitter.com/jq7fKlfwGVJune 8, 2016
See more
Following confirmation of her New Jersey victory, Clinton gave a rousing speech at a rally in Brooklyn, New York, both thanking her supporters and acknowledging the many women who came before her that made this moment possible.
"Tonight caps an amazing journey—a long, long journey," Clinton said. "We all owe so much to those who came before, and tonight belongs to all of you."
In particular, Clinton talked about how much she wished her mother were there to witness the moment, to meet her granddaughter, and to see how much things have changed for women since she was born.
"On the very day my mother was born in Chicago, Congress was passing the 19th Amendment to the Constitution. That Amendment finally gave women the right to vote," Clinton said. "I really wish my mother could be here tonight. I wish she could see her what a wonderful mother Chelsea has become, and could meet our beautiful granddaughter, Charlotte. And, of course, I wish she could see her daughter become the Democratic Party's nominee."
Wish Mom could have been here to see tonight. pic.twitter.com/NalmZoKoV7June 8, 2016
See more
While not all states have finished polling yet today, even taking into account a possible upset in California with Sanders winning the majority of the state's delegates, Clinton would still have the lead—and it's safe to say this is an incredibly historic moment for both U.S. politics and women everywhere.
Since multiple news outlets called her victory earlier this evening, Clinton has taken to social media expressing her gratitude and readiness to take on the role of the Democratic Party's nominee, calling out how important it is for young women to know that they, too, have every right to dream of becoming President.
"Thanks to you, we've reached a milestone," she said during her speech in Brooklyn. "Tonight's victory is not about one person. It belongs to generations of women and men who struggled and sacrificed and made this moment possible."
For the first time in our history, a woman will be a major party's nominee for President of the United States. pic.twitter.com/4iLojpuPj8June 8, 2016
See more
You can watch Clinton's inspiring speech in its entirety below.
Follow Marie Claire on Facebook for the latest celeb news, beauty tips, fascinating reads, livestream video, and more.