CBS Evening News Anchor Norah O'Donnell Is Focusing on Substance
O'Donnell will co-moderate the Democratic primary debate in South Carolina.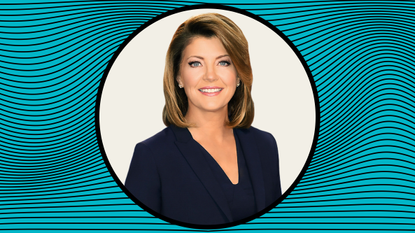 (Image credit: Morgan McMullen)
Marie Claire Newsletter
Celebrity news, beauty, fashion advice, and fascinating features, delivered straight to your inbox!
Thank you for signing up to Marie Claire. You will receive a verification email shortly.
There was a problem. Please refresh the page and try again.
Norah O'Donnell loves to fact-check herself. The newly-appointed anchor of the CBS Evening News refers to her notes often during our chat. She counts the exact number of newspapers on her desk and doesn't hesitate to read me texts, verbatim, from her best friend. She even emails following our call to clarify the exact phrase Oprah once said to her.
The exacting behavior is unsurprising coming from the veteran journalist who will co-moderate Tuesday night's Democratic primary debate in South Carolina. And yet, in this, the Era of Fake News, it's oddly reassuring.
That type of old-school, hard-hitting journalism is exactly what landed O'Donnell the coveted spot behind the CBS Evening News desk last summer—she's only the third woman in the network's history to helm the show.
Marie Claire spoke with the anchor about how she plans to hold the presidential hopefuls accountable during the upcoming debate, what it's like to team up again with her former CBS This Morning co-anchor, Gayle King, and the time she asked Serena Williams a "dumb" question.

Marie Claire: How did the last debate impact how you are prepping for tonight's debate?
Norah O'Donnell: CBS will have the tenth and final debate before the South Carolina primary and Super Tuesday, so we have always looked at this debate as extremely pivotal in deciding who is is going to be the Democratic nominee for president. I think this is a critical debate for Mike Bloomberg, who clearly had a target on his back in the [the last] debate.
I think we also saw the candidates engage one another in a way that we haven't in the past either. [It] was vigorous. It was intense. But [this time] we don't want a food fight. We want to foster understanding. And that's the hallmark of what I believe in my own journalistic career. We have to get beyond Twitter headlines and talking points. We have to get into substance, because voters know what the substance is. Voters see multiple bills from doctors' visits or hospital visits that don't make any sense and they want an answer to that. Voters see that their taxes are different and they are not getting as much in pay—depending on what your bracket is.

MC: You mention 'Twitter headlines.' All of the debates, especially the last one, sparked a lot of reactions on social media, like memes of Elizabeth Warren. Are you at all influenced by social media reactions in how you're approaching moderating this debate?
NO: I didn't monitor Twitter [during the last debate]. It's different from how I've done things in the past. I wanted to watch for substance. I think Twitter plays an integral role, and they're our partner in this debate, but I don't let Twitter influence the way I ask questions. We look at what the most important issues to voters are, and what are the issues affecting voters in South Carolina? What are the issues affecting African Americans? What topics have not gotten a full airing in past debates? That's the kind of the criteria we look at.
MC: What are the issues you feel have not been given enough attention [that you'll focus on]?
NO: I think the most important issues that voters are looking for more information on are, 1. Electability: That's the number-one concern for Democratic voters. Who can beat Donald Trump? 2. Entitlement Spending, which makes up the majority of the federal budget. 3. Foreign policy, and 4. Issues that affect African Americans and minorities.
MC: You're teaming back up with your old co-anchor, Gayle King, to moderate this debate. How does it feel working with her again? Has that rapport come back easily?
NO: It's one of the best parts. Gayle and I have been asking questions, not just of politicians, but of people, for seven years together. So our incredible chemistry is one of the things that gives me a great deal of ease going into this, in terms of prepping and anxiety.
MC: You mention anxiety. How do you deal with and process stress? Is there something you'll be doing the morning of the debate that will help keep you calm?
NO: The most important element is preparation. Preparation builds confidence and confidence builds success. I let any anxiety or stress that I have motivate my preparation. I'm a big fan of Lisa Damour. She's a psychologist and writes for the New York Times. She talks about how anxiety and stress can be good things, not in large amounts, but...she really shifted around for me [my perspective] about using stress and anxiety as a motivator to prepare. The other thing for me is exercise. I've always enjoyed exercising, but the older I get—I'm 46 now—I try and exercise everyday. You never regret working out, I always say.
MC: Do you have a favorite type of workout?
NO: I got a Peloton [treadmill] for Christmas. I do a lot of Robin Arzon's running classes; she's like a motivational speaker while you're running. One of my best friends from college and I text each other Robin's quotes of the day: "We woke up today, might as well slay." It's very motivational and I'm like Yeah! Yeah! Running and Robin Arzon are my morning therapy.
MC: Tell me more about your morning routine. I hear you read six hard copies of newspapers every day. Is that true?
NO: They're here! In fact, it's seven newspapers. I was just counting them because they are here on my desk. I still like to read the hard copy of the newspaper, because when you read online you only click on the articles you're interested in. With the hard copies of the paper, you might fall across an article that you wouldn't see online. I'm usually reading The New York Times or The Washington Post online, like at 10 or 11 at night. And then I go back and read the hard copy in the morning.
MC: Seven newspapers is a lot of information to digest. Do you ever feel overwhelmed by the amount of content out there? Is there ever a moment of I need to put this down or I need to turn off the news?
NO: I feel like covering the news these days is like sipping water from a fire hose. On the CBS Evening News what we're trying to do is curate the smartest, best broadcast every night. We know everyone's time is limited and for people who are seeking trusted, unbiased information, that's what we're trying to deliver every night at 6:30. Curating all of that information is what we do every day. It does seem like a lot. But there's a big team here at CBS that helps sort through it.
MC: Tell me about a time you made a mistake that, in the moment, felt career-ending, but then you were able to find the silver lining in it.
NO: I remember, when I first joined CBS This Morning, Serena Williams was on, and she had just won the U.S. Open. I had never met Serena Williams before, and I had never really interviewed an athlete like that before. I was used to interviewing politicians. So I said to her, "Um. So, what's it like being such an amazing role model for young girls?" And the producers got in my ear and said, "That's a really dumb question." So that was one time when—while the feedback from the producer was maybe not phrased in the right way—it was a useful amount of criticism. One of the most important things in getting better is learning to accept criticism and making sure you get it from the right people. We all need feedback in order to get better. I think part of my success has been surrounding myself with people who give me honest feedback. And so it's a constant state of improvement all the time. I keep waiting for that time in my life when things seem easy, like I'm just coasting along, and I haven't gotten there yet!
MC: You have two amazing female predecessors in the role of CBS Evening News anchor, Connie Chung and Katie Couric. Did they give you any advice when you took on this job?
NO: This is a historic opportunity, being only the third woman to solo anchor an evening news broadcast. So when I was named, there were a lot of current and former evening news anchors who reached out to me. David Muir and Lester Holt reached out and were incredibly gracious. And I did hear from Katie Couric and Diane Sawyer. And Barbara Walters sent me the most beautiful note.
I grew up—you can ask my mom—imitating Barbara Walters. She was the only woman of prominence in the '80s that I saw regularly on television. So in many ways I attribute seeing Barbara Walters on television to why I wanted to be a journalist. Here's a woman speaking to the most powerful people in the world. When I started, she sent me the most beautiful note and I thought Wow. There is a sisterhood and that is powerful and we need it.
MC: I wrote a journalism grad school essay on Barbara Walters—she was the first real female journalist I could remember watching on TV. And now you are that woman for so many young girls.
NO: That's why women in prominence, in positions of power, are extremely important. We have to see it in order to believe it. Oprah called me after I got the job. She is on a phone call the same way she is on television. Everything that comes out of her mouth is golden. She was like, "Norah this is part of your supreme destiny to become the anchor of the CBS Evening News." [Oprah] said "I remember sitting on my couch and watching Diane Sawyer when she anchored the World News. And her being in one country one night and a couple days later in another country, and I remember thinking for Diane Sawyer, I am a woman I am in the midst of what is happening in the world. And, Norah, you have the ability now to claim that." That reminds me, not only the power of being a journalist, but the power of being a journalist who anchors the evening news. And I plan to use that power for the purpose of understanding.
For more stories like this, including celebrity news, beauty and fashion advice, savvy political commentary, and fascinating features, sign up for the Marie Claire newsletter.
RELATED STORIES
Celebrity news, beauty, fashion advice, and fascinating features, delivered straight to your inbox!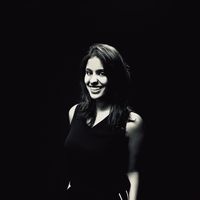 As Marie Claire's Entertainment Director, Neha oversees and executes strategy for all editorial talent bookings and culture coverage across the brand's print and digital entities, including covers, celebrity profiles and features, social takeovers, and video franchises as well as handles talent relations for MC's flagship summit, Power Trip. She's passionate about elevating diverse voices and stories, loves a hot-take, and generally hates reboots. She's worked in media for more than 10 years and her bylines about pop culture, film & tv, and fashion have appeared on Glamour, Vanity Fair, GQ, Allure, Teen Vogue, Brides, and Architectural Digest. She is a graduate of the Columbia School of Journalism.