Why I, a Republican, Am Voting for Hillary Clinton
Lifelong GOP die-hard Jennifer Pierotti Lim on jumping ship.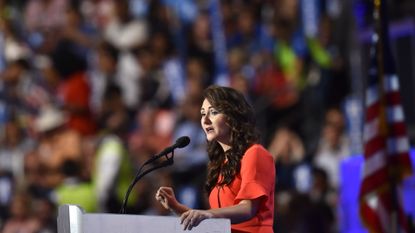 (Image credit: Marie Claire)
Some of Jennifer Pierotti Lim's earliest memories are of going with her father to polling stations near their home in Richmond, Virginia, to hand out pamphlets on his chosen Republican candidates. As an adult, she volunteered on local campaigns to get out the GOP vote. This election cycle, Lim will do something she never before thought possible: vote for a Democrat.
And that's not all. In May, she and Meghan Milloy cofounded Republican Women for Hillary to do everything in their power to ensure the GOP loses the election. "I felt it was important that it not go unchecked that the Republican Party has nominated a man who thinks very little of women and treats them as such," says Lim, 31. Here, she discusses why she's #WithHer, her experience speaking at the DNC, and why Republicans shouldn't sit out the election.
Marie Claire: Who did you support during the primary season?
Jennifer Pierotti Lim: "I can't say I was super-thrilled about anybody. I really liked Jeb Bush—he's a thoughtful policy maker and more moderate on social issues that Millennials care about. I think he encapsulates the direction the party needs to go. But I also really liked Carly Fiorina. I thought she killed it during the debates, and I appreciate her business background."
MC: When they dropped out, did you think, What am I going to do?
JPL: "Like many Republicans, I have gone through many stages of disbelief and grief throughout the campaign. The impetus for our group came when Republican leaders started endorsing Donald Trump. That was when it clicked that we had to do something to give Republican women a voice. There are so many of us out there who don't believe that Trump represents us or the Republican Party."
MC: Why start an organization supporting Hillary Clinton?
JPL: "I have so many Republican friends sitting the election out or writing someone else in. Our call to action to them is: You have to get involved in this election because Hillary Clinton is, at the very least, our only chance of blocking Trump from the White House. Beyond that, we wanted to impress upon Republicans how valuable their vote is in expressing their disagreement about the direction he's taking the party. If we don't speak out, there is not going to be a Republican Party after this election."
MC: How did you get the group going?
JPL: "We had limited resources and figured our best bet for making an impact would be through social media, so we started our Facebook and Twitter pages back in May. Now when we post on Facebook, we reach about 40,000 to 50,000 people. Over the summer, we launched a website so people can get in touch with us. We're trying to expand our grassroots network, which is growing by the day. Over the past few months and especially after the DNC, thousands of people have reached out to us—we've gotten more Facebook messages than we could ever go through."
MC: What was it like speaking at the DNC?
JPL: "I was most worried about reading off the teleprompter, but it worked out okay. I've never been to a Democratic convention before, but everybody there was so welcoming— I've been overwhelmed by the gratitude and kindness."
MC: Does it scare you to think of another four years with a democrat in the white house?
JPL: "I have confidence that Hillary will continue to be the leader that we have seen her be throughout her whole career. I expect to see her taking a very moderate approach to issues, getting things done, and having all the right people at the table, whether they're Democrats or Republicans. There are so many things that I can already see that we can work together on, and that is a great starting point for me and for many Republicans. I don't worry about her at all—my fear is all about Trump. I just cannot imagine what his effect would be on America if he gets elected."
This article appears in the November issue of Marie Claire, on newsstands November 18.
Marie Claire email subscribers get intel on fashion and beauty trends, hot-off-the-press celebrity news, and more. Sign up here.
Kayla Webley Adler is the Deputy Editor of ELLE magazine. She edits cover stories, profiles, and narrative features on politics, culture, crime, and social trends. Previously, she worked as the Features Director at Marie Claire magazine and as a Staff Writer at TIME magazine.