My Celebrity Hot List
I like to think I am not obsessed with celebs; the only reason I permit myself to read Us Weekly is because my sister's name is on the address label every month...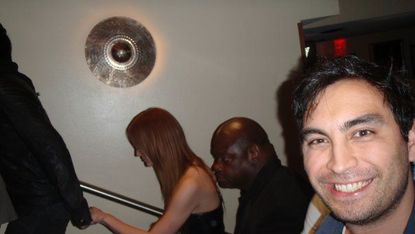 (Image credit: Shannon Riley)
I like to think I am not obsessed with celebs; the only reason I permit myself to read Us Weekly is because my sister's name is on the adress label every month...and Fashion Police. But something happened at at a New Year's party hosted by Britney Spears and Justin Timberlake, my first celebrity encounter...
When I'm on the dance floor I love Justin's music. But that doesnt' mean I am not annoyed at pop music when I'm my regular, sane self. Before attending the New Year's party, I told my buddies that I intended to confront Justin Timberlake and give him a piece of my mind:
"I think you're talented but, you're a total sellout and I don't respect you."
I planned to return to my buddies, a folk hero. Well, things actually happened this way:
My sister and I were dancing with friends right as the clock struck midnight. Timberlake shook up a champagne bottle and sprayed it all over our group. According to legend (AKA my sister), I turned to my sister, bright eyed and blushing while clutching my champagne-soaked shirt and cried:
"OH MY GOD I'M NEVER WASHING THIS SHIRT AGAIN!"
A far cry from my original plan. In light of that experience, I am much happier these days selling out just like the rest of the American population. When my friends at AXE invited me to a party for the launch of AXE Instinct, hosted by Ashlee Simpson and Pete Wentz, I must say I was intrigued.
The party delivered the goods: Ashlee Simpson and Pete Wentz were there, although Ashlee forgot to turn around for her picture with me, as you can see in the lame picture above- maybe because I hadn't yet donned the new AXE fragrance to attract her.
It got me thinking: what celebs do I find attractive? Here are four notables in no particular order:
Rachel Bilson - I don't watch those "OC" type shows (honest!) but I can't help but notice Rachel Bilson.
Mila Kunis - She has an amazing look, whether she's dressed down in jeans and a tshirt, or dressed in a gown, she is striking in every picture.
Leighton Meester - My little sister told me about the "hot girl" in Gossip Girl and I immediately agreed when I saw the show. But she was actually talking about Blake Lively. Alas, my sister always wanted to be a blonde.
Jennifer Love Hewitt - She's really cute and she hasn't done a thing to annoy me, but can you explain why women hate her so much?
Classic Beauties
I tried to keep the list above current, but there are a whole host of beautiful celebs from the beginning of time:
Marilyn Munroe - Marilyn could say a lot with her eyes and smile, two things I always notice in a woman.
Jessica Rabbit - I loved Jessica Rabbit because she was so mysteriousand in control, but she had a soft side for her guy. Plus, I had to get a red
head on here!
Jackie Kennedy - Jackie Kennedy represents the standard in beauty, fashion, and demeanor. Wealth and power doesn't hurt too much either.
Personality Crush
Just to keep this list from being completely shallow, here are three great personalities:
Paula Deen - I love Paula's Southern hospitality and she shamelessly throws butter (one of my favorite ingredients) in everything!
Queen Elizabeth I - It took a woman to defeat the Spanish, who had the most powerful navy at the time. Queen Elizabeth spurred the rise of the English Empire.
Janis Joplin - Aside from her amazing voice, she had a powerful personality but was delicate underneath this exterior. And all she wanted to do was fall in love, without the pain.
Man Crush
And to keep it fair, three good looking men...I guess:
Brad Pitt - Undeniably good looking guy, I admit it.
David Beckham - Athletes are cool,and Beckham is a good looking chap.
George Clooney - I can only hope I age as well as George Clooney.
All I've learned from this list is that I have a thing for dark haired, girl next door type, love butter, and think older guys who play sports are hot. It's fun to discuss cute celebs, and it does sometimes reveal what "look" you find attractive. So, who would you put on your hot celeb, personality, classic, or same gender crush list? What do you think of mine? Is Jennifer Love Hewitt really that bad?
Follow me on Twitter: twitter.com/richravens
Celebrity news, beauty, fashion advice, and fascinating features, delivered straight to your inbox!