Bon Voyage: An American Francophile's Jaunt to St. Barth's
Toi là! Je t'aime!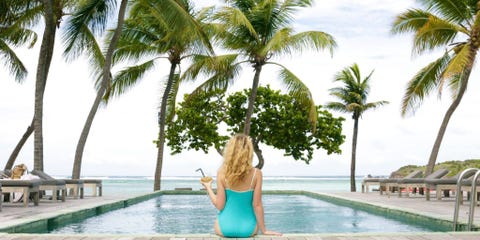 Toi là! Je t'aime!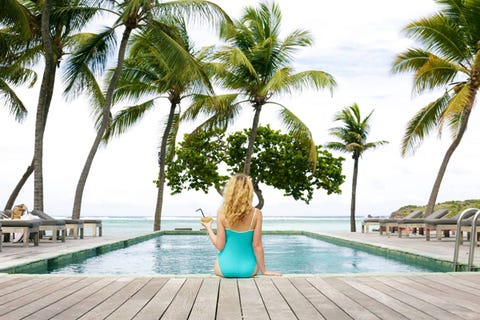 The Voyage
It's not unusual for an early twenty-something American to consider herself a Francophile, even if she has yet to infiltrate the City of Light. So, like many, I had decided that life doesn't begin until my first trip to Paris. As fate would have it, this conviction was changed forever when I found myself on a jaunt to the French-Caribbean island of St. Barth's earlier this year. Upon my arrival, and most especially during my 4-night stay at the island's premiere boutique hotel
Le Sereno
, I learned swiftly that St. Barth's, at its essence, is not just a place to see and be seen, but a tropical slice of France. With winter travel season just around the bend, here are my personal wanderings and musings from my hallmark voyage.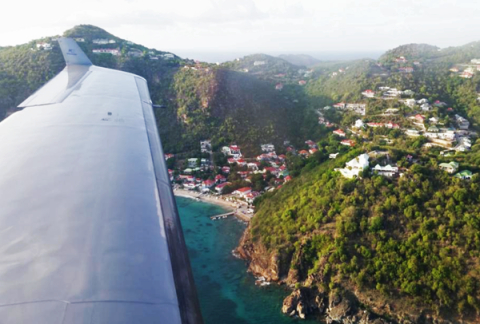 The Plane
After flying into San Juan, I boarded a Tradewind Aviation charter plane to St. Barth's. The flight gave me the most idyllic bird's eye views I'd ever experienced as we sailed through the peaks of the island. As an occasional thrill-seeker, I enjoyed every stomach-flipping second of the nose-dive down landing on the island's famously short runway.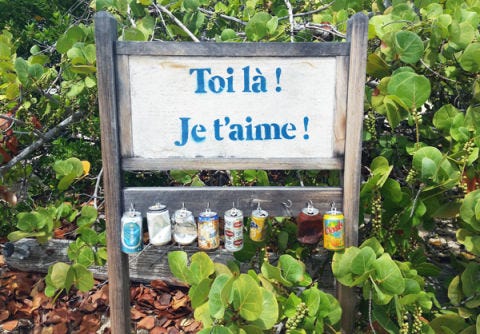 The Greeting
When I arrived, I was greeted with this sign emblazoned with "Toi là! Je t'aime!," which translates in English to "Hey you there ! I love you." The feeling was mutual, naturally.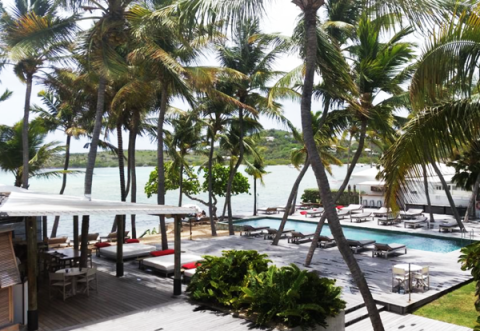 Le Sereno
Of all the awe-inspiring sights I had yet to see, none was more breathtaking than the views entering Le Sereno. Nestled on the Grand Cul de Sac, a palm tree-lined turquoise lagoon with white sandy beaches, the waterfront boutique hotel was the picture of understated elegance. Designed by much-lauded Parisian architect Christian Liaigre, the aesthetic was decidedly pared-down and tranquil, but a lavishly chic sanctuary no doubt.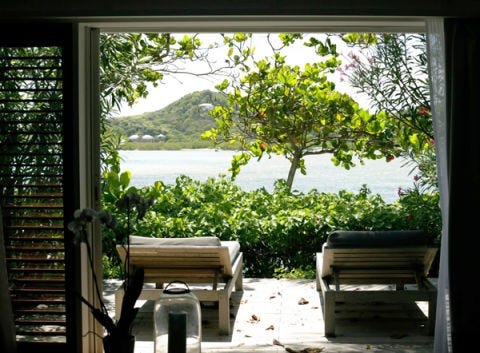 The Rooom With a View
Le Sereno boasts 36 suites, like the one I stayed in, as well as three, four bedroom villas. The rooms are a minimalist's dream with all-white walls and linens, and exotic dark wood furniture and floors. The bathroom is like a streamlined spa with a woodern open shower, deep soaking tub, and granite sinks. For a breath of fresh bay air, there's an outdoor, furnished deck overlooking the Grand Cul de Sac.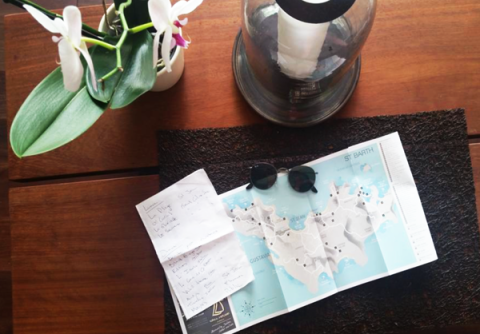 The Itinerary
Without a second to waste, I plotted my trip day-by-day using a map of St. Barth's, Le Sereno's tried-and-true recommendations, and a handwritten list jotted down by a local whom I met on the plane.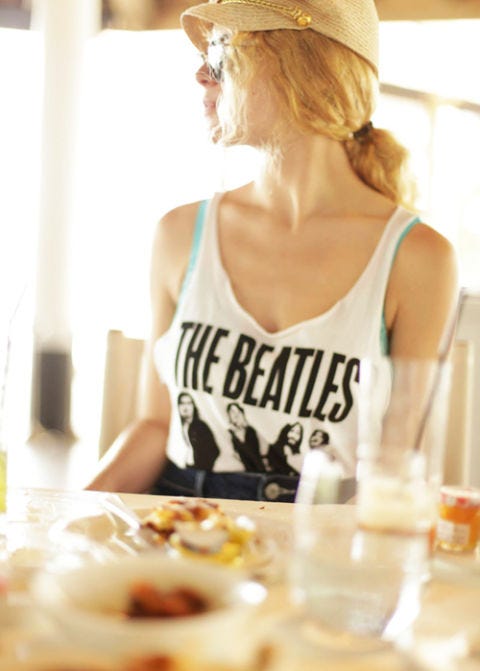 The Breakfast
My first morning in St. Barth's was spent at Restaurant Le Sereno on the water, where I indulged in waffles and nuttela, sipped iced coffee, and took in the lagoon-side views. I couldn't help but people watch as my fellow patrons proved to be as eye-catching as the sights. I mean, singer and actor Johnny Hallyday, otherwise known as "the French Elvis," sat just two tables away with his entire family.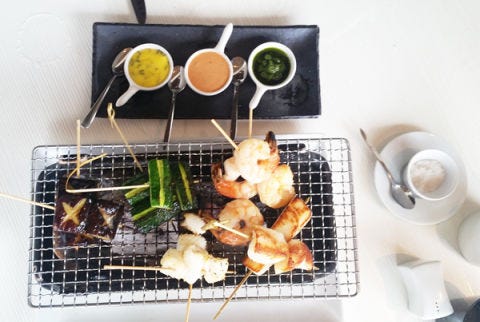 Le Sereno Restaurant
Between breakfast, lunch, and dinner, I kept finding myself going back to the Le Sereno Restaurant, and not just because of its proximity. The French dishes, infused with Japanese influences and locally-sourced Caribbean ingredients, made every meal a new adventure. Among my favorites was this toothsome skewer situation with fresh seafood and vegtables, along with three piquant dipping sauces.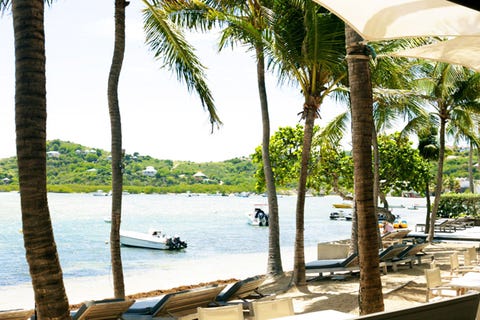 The Staff
In addition to its beauty, another thing that struck me about Le Sereno was the congenial staff. Considering it was my first time staying at a boutique hotel, I'd never spent so much time getting to know the individuals who ran it. On my first day, I had lunch with general manager Samy, who later on in the trip invited myself and handful of guests over to his house for a BBQ along with owner Luis Contreras and marketing manager Carolita. Trust me when I say that going out with the locals makes all the difference.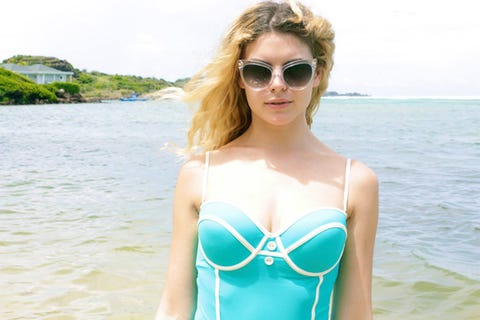 The Swimwear
I subconsciously decided to pack one-piece swimsuits, like this Red Carter 'I Dream of Genie' one-piece, that matched the water's aquamarine color palette.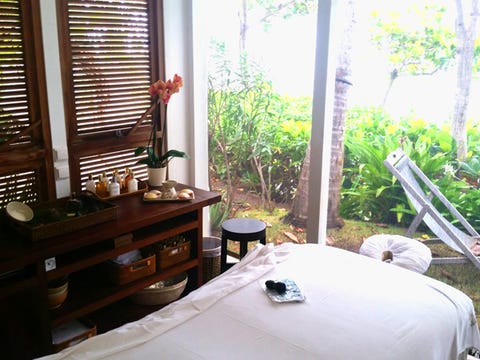 The Spa
As I entered the beachside spa and met with director Simao de Silva, one thing was clear: it's not a trip to Le Sereno until you've gotten the works. From the facials to massages, the whole experience will bring you sensorial nirvana. All the products used are locally-sourced from Ligne St. Barth, a homespun skincare range where French techiniques meet Caribbean plants, fruits, and flowers. I had the opportunity to visit the brand's family-run cosmetic laboratory where I was able to learn just how they bring their traditions to life using cutting edge technology.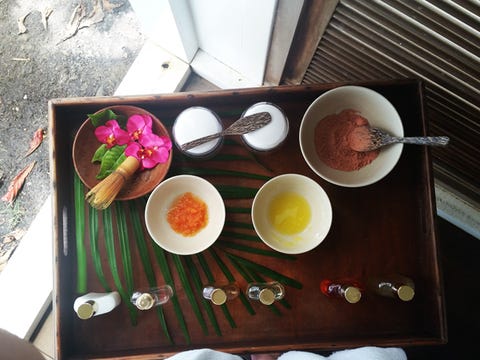 The St. Barth's Pureness Facial
The second treatment, and my personal favorite, was the St. Barth Pureness Facial. Using fresh papaya and pineapple mousse, the spa specialist massaged my face and décolleté leaving my skin rejuvenated, baby soft, and smelling heavenly.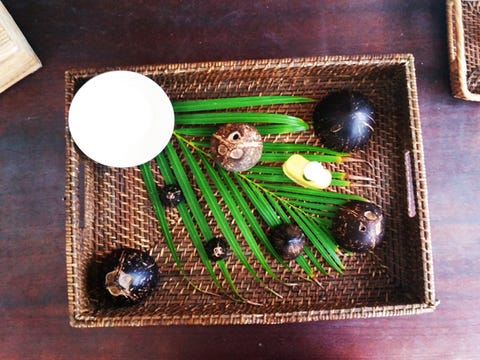 The Coco Massage
The first treatment I received was the Coco Massage, which moisturizes and soothes the skin with its anti-inflammatory and anti-oxidant ingredients, and firms with collagen formulation. Simao uses Ligne St Barth Coconut oil, as well as coconuts from the palm trees on the Le Sereno property.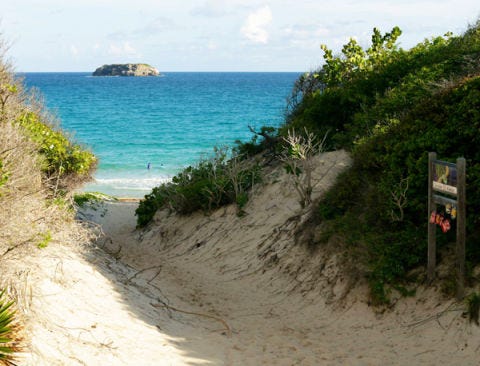 La Grande Salines
While exploring the island, we visited another exquisite beach, La Grande Salines, which embraces naturalism with its dune-laden entrance. After laying out in the power-soft sand and catching a healthy amount of rays, we bodysurfed in the ocean waves.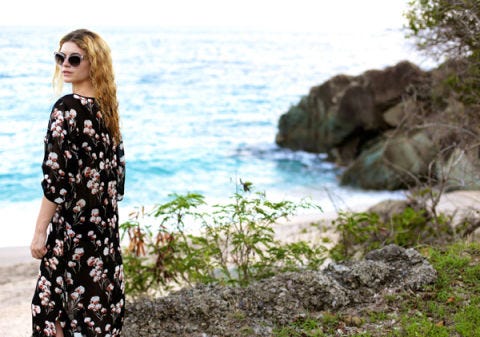 The Caftans
In hopes to do as the French do, caftans were a style staple during my time on the island. I wore this printed Tory Burch solace caftan from the beach to dinner al fresco in Gustavia, the main town and capital of Saint Barth's.
Gustavia
Gustavia was the most charming harbor town I'd ever seen, filled with 17th century red-roofed shops, galleries, and a plethora of restaurants and bars. I indulged my inner-Francophile at La Petite Colombe, a neighborhood patisserie where locals come early in the morning for fresh baked croissants and pain au chocolate.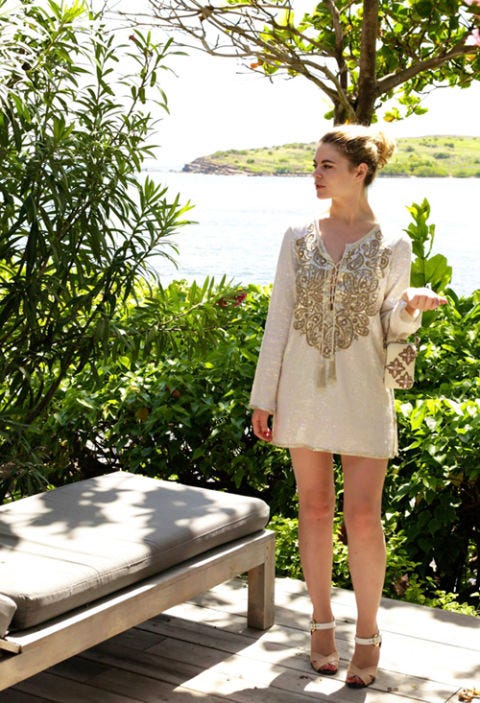 The Day-to-Night Look
My favorite day-to-night outfit of the trip was this Calypso St. Barth sequin and beaded tassel tunic paired with a Tory Burch minaudière and Carlo Pazolini heels.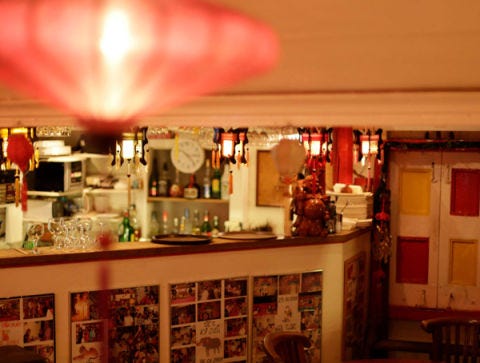 La Vietnam
One evening, we had a lovely dinner at La Vietnam, a Vietnamese, Chinese, and Thai restaurant in an old 18th century restaurant. Our waitress, who also happened to be the chef, told us ghost stories while she took our orders.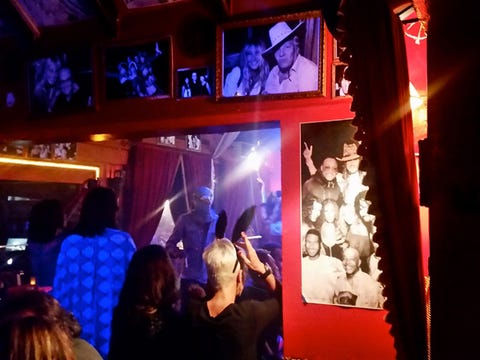 Le Ti
My favorite nightlife spot by and large was Le Ti, or "Ti," as it's known among the locals, a Parisian cabaret club decked out with chandeliers, red velvet furniture, and iconic photographs of its famous clientele. The best part was their room filled with flamboyant costumes you could borrow for the night.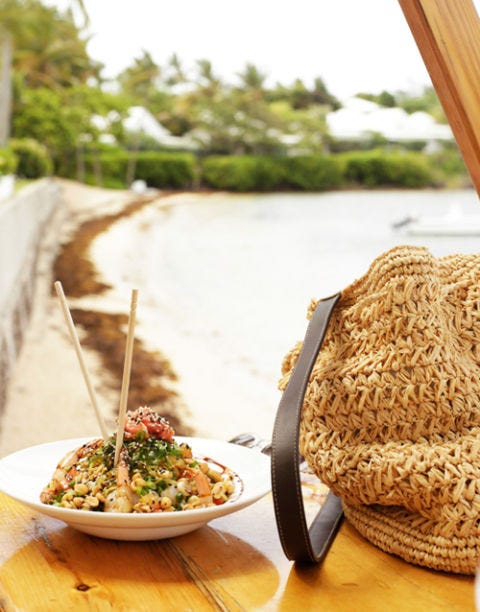 O'Corail
On the last day, we visited beachside restaurant O'Corail, which is a stone's throw from Le Sereno on the Grand Cul De Sac. We dined at a bar table overlooking the lagoon and filled our faces with Thai salad and squid.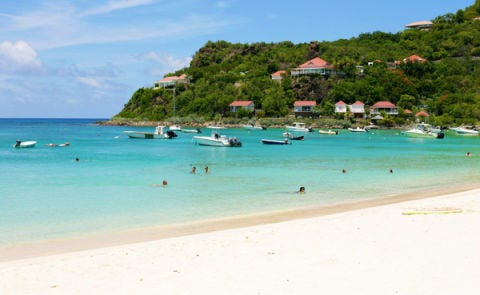 Nikki Beach
After lunch, we went to check out the famous Nikki Beach scene at St. Jean Beach where the sand is like white sugar, the crystal clear waters are calm, and the patrons are ready to party — and that's putting it mildy.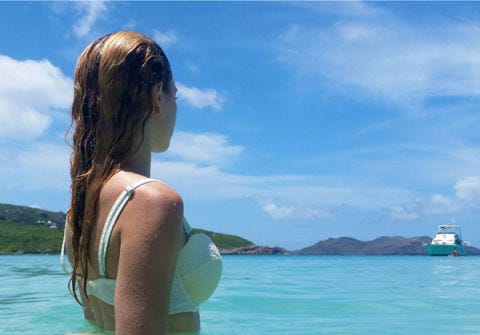 Nikki Beach
I knew that ending the trip like this would make bidding adieu to St. Barth's especially painful, but I couldn't help but bask in every last moment before heading back to New York.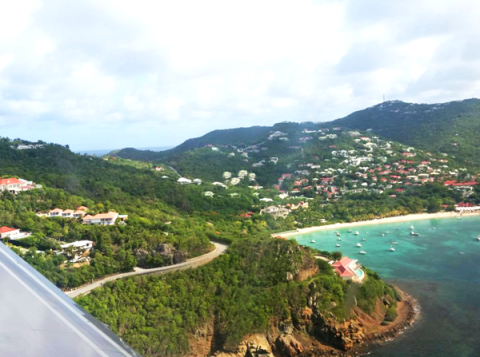 Au Revoir, St. Barth's!
You sure know how to make a girl feel like she's an American in Paris Paradise
This content is created and maintained by a third party, and imported onto this page to help users provide their email addresses. You may be able to find more information about this and similar content at piano.io