The Best Bachelorette Hotel Packages Across the U.S.
Because organizing all those bridesmaids (and buying all those penis necklaces) is hard enough.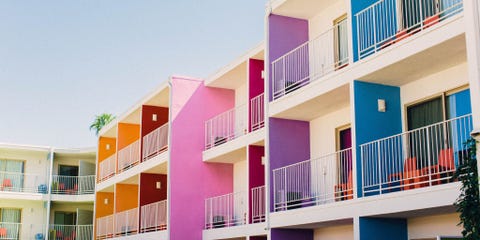 Bachelorette parties—an amazing time to remember (-ish), but planning one? Definitely not. We're making your lives a bit easier by finding hotel deals across the country that are A+ for big groups of girls ready to explore, relax, and party. Call (or you know, email), book, done. Now bring on the debauchery.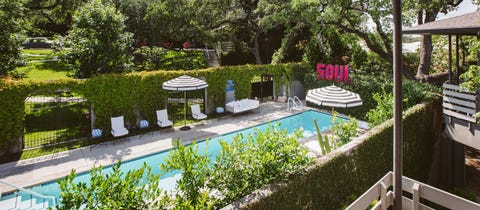 This secluded oasis of a hotel is the perfect backdrop for a girls' weekend, and while there's no "formal" hotel package for bachelorettes, there's a pool, an awesome lounge, and plenty of drinks. Translation: Something for everyone.
2
Las Vegas: Palms Casino and Resort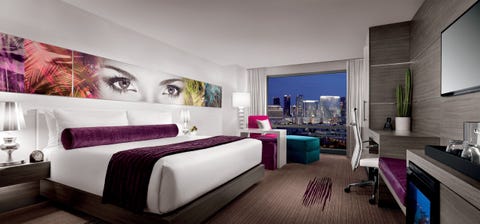 Palms Casino and Resort is one of the perfect starting points for a bachelorette weekend in Las Vegas—from fantasy suites to champagne at the ready, the Palms will help you strategize for your big weekend.
3
New Orleans: Bourbon Orleans Hotel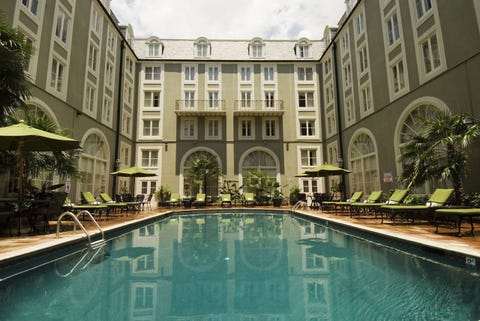 Offering a "girlfriend getaway" package, which of course is code for Fun Bachelorette Times, the Bourbon Orleans Hotel in the French Quarter has pretty much everything you need: a two-night stay, airport transfer, champagne and chocolates, robes, the requisite souvenir beads, breakfast coupons for Café Du Monde, coupons for Hurricanes at Pat O'Briens, complimentary in-room movie rental, and a food and beverage credit. Basically, you're set.
4
Palm Springs: Saguaro Hotel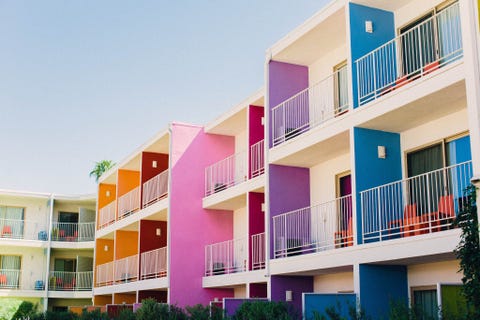 This 'Gram-worthy hotel is not only super adorable, but is also filled with cool people at the pool, fun tunes, and one of the best bachelorette packages around: poolside chairs, a pitcher of sangria or bucket of beer, snacks, and—perhaps most importantly—a late checkout.
5
Los Angeles: W Hotel Hollywood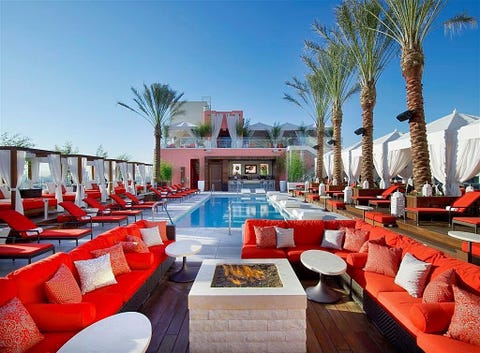 The W Hotel is one of the biggest hotspots for bachelorette and bachelor parties in Hollywood, and for good reason: It's located in the heart of town and features built-in nightlife (there's a rooftop club and the downstairs lobby turns in a lounge). Plus, the concierge is always there to help with any plans.
6
New York City: The Standard NYC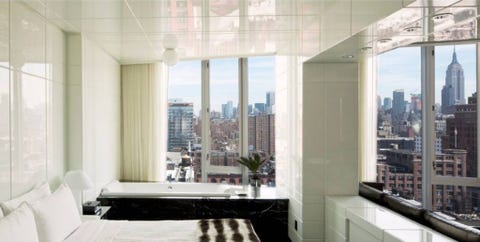 Located right above the High Line in NYC, The Standard is pretty perfect for bachelorettes ready to take the city by storm. With champagne services and their own clubs and food, this hotel is a great bet—just make sure to call ahead, because it's in high demand.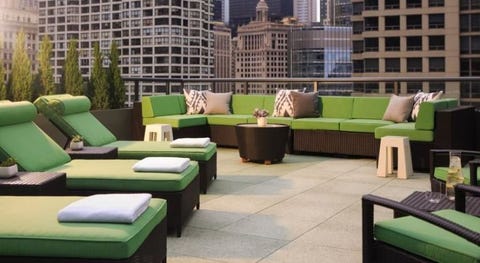 The Chicago Hotel Palomar is located in downtown Chicago, close to Michigan Avenue shopping, museums, and parks. With a beautiful rooftop, it's an ideal homebase for exploring the city—and with a 5 p.m. wine hour, you can get ready for the night out quiiiiiite easily. (Plus, it's a Kimpton hotel—which means the customer service is amazing).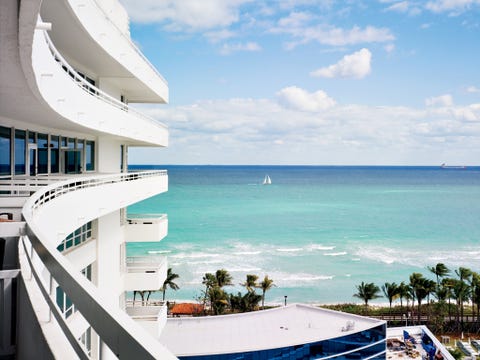 One of the premiere hotel properties in South Beach (with the famous LIV nightclub on the property), the bachelorette package for Fountainebleau is pretty spectacular: a private cabana and butler, four bottles of champagne, a Grey Goose punch bowl, food, a discount at the spa, and fun props and games. It's pricey...but it may just be worth it.
This content is created and maintained by a third party, and imported onto this page to help users provide their email addresses. You may be able to find more information about this and similar content at piano.io