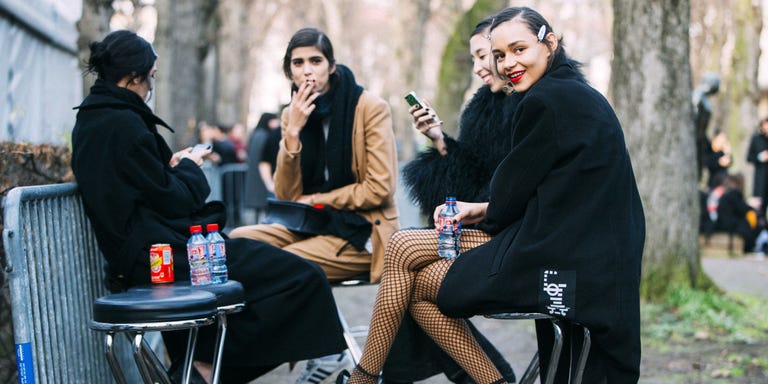 I know nothing about Westworld except that they've got Radiohead and saloon girls and possibly a woman problem, but I *do* know that where there's a saloon girl, there might be a brothel, which means there will definitely be fishnet stockings. Objectively, there's nothing wrong with looking like an American can-can dancer, but there's a cooler, less costume-y way to wear loose-knit tights. How, though? Like this.
Pretend They Don't Exist Beyond Your Ankles
You-know-what is coming, which means Double-Pants-ing Season draws near in some parts of the world. But before you break out the thermals, opt for hole-ier legwear—or just socks, if the weather will allow for thighs separated from the elements by a mere single layer.
There's a reason fishnets and combat boots are a classic combo.
Really against type, like at Margiela, where fishnets were paired with society-lady paillette cocktail dresses and Betty Draper bouffants.
With athleisure-y, skater-y stuff. 
A woman can be called nasty regardless of what shoes she's wearing, so they really don't have to meet any requirements except that you like them. Though with fishnets, it is preferable to go more Fashion and less GNO, because tall and spindly *and* bare legs (as seen through 76 percent nylon) could read rather Bungalow 8-y.
Make the Most of Your Cutouts
Whether that is a Proenza dress or random jeans with the pockets or waistband cut out—you want the fishnets to show through or even *over* the tops of the denim, which is a very Carine Roitfeld styling move. Because why go through the trouble of wrestling with a pair of fishnets if you're not going to make a statement?