This Woman Got Rid of Her Forehead Acne in *5 Days* and I'm Freaking Out
Like, the before-and-after pics speak for themselves.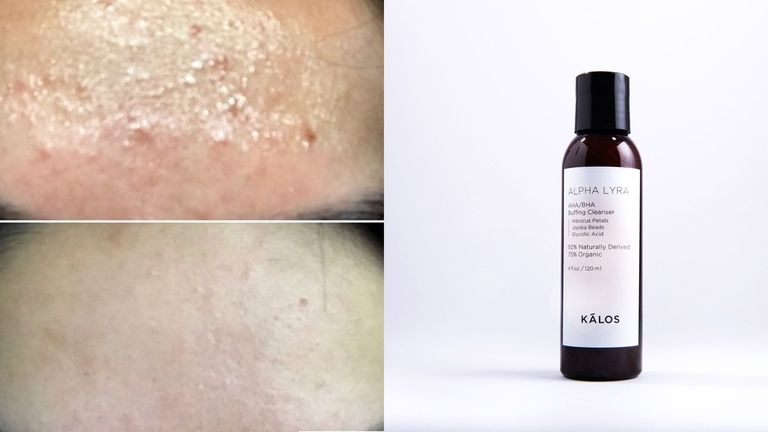 (Image credit: Reddit/@aylabeautybreakdown)
I hate acne. I hate acne so much that I would probably chop off a few years of my life to never see another zit again (hey, my 84-year-old grandmother says it's all downhill after 80, anyways, so), or at least commit to a decade of really, really bad hair days. And based on the number of anti-acne stories, articles, and questions littering the internet, I think it's safe to say I'm not alone.
So when one user on Reddit posted a before-and-after photo of her forehead acne looking totally cleared after five days, it was wholly unsurprising that the internet—and me, your resident acne h8r—would take notice, especially when the fix for her zits involved just two quick, easy products.
"Crazy forehead congestion went down in literally 5 days [by] using an AHA/BHA Scrub and Blemish Serum from Kalos Skin. Had to share. Halle-freakin-lujah!" reads the post submitted just a few hours ago by user aylabeautybreakdown, which also includes a side-by-side photo of her irritated skin covered in closed comedones and papules, followed by a photo of her skin looking pretty damn smooth, even, and clear, allegedly just five days later.
Though she has yet to elaborate on her routine or how she uses the products, I'm assuming she's using the Kalos Skin Salvatrix Anti-Blemish Serum (which, along with being 98-percent natural, contains a mixture of pore-clearing two-percent salicylic acid, calming aloe vera and green tea, and the ultra-hydrating sweet almond oil, safflower oil, shea butter, and jojoba oil), in addition to the Kalos Skin Alpha Lyra AHA/BHA Buffing Cleanser, an exfoliating face wash that's formulated with glycolic and salicylic acids to dissolve gunk and dead skin cells, tea tree oil to kill acne-causing bacteria, and a big ol' dose of fatty oils to keep the cleanser from drying out your skin.
Basically, looking at these ingredient lists alone, I'm not at all surprised that the combination helped clear this user's skin, though I'm totally shocked that it only took five days to see such a drastic change. My only word of caution before you immediate add these products to your cart, though: They're pretty potent, so tread cautiously (or not at all) if your skin is hella sensitive or dry. For everyone else, though? Go nuts, and please post your results immediately. I'll be waiting.