Which Personalized Skincare Is Right For You?
Totally bespoke beauty.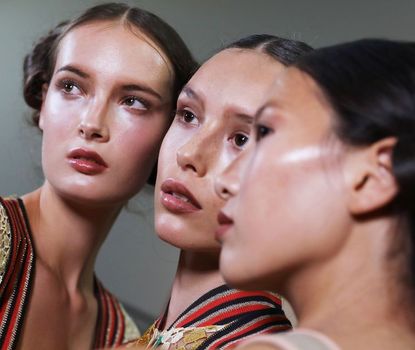 (Image credit: Tristan Fewings)
For people with sensitive skin, looking for the right skincare routine can be a Sisyphean task. One wrong ingredient can send your complexion into an angry spiral of breakouts or irritation. Skincare is not a one-size-fits-all situation by any means, so it makes sense that the idea of customized skincare is resonating with a lot of customers. Think about it this way: if you want a dress that fits perfectly, you head to a tailor to customize it. Well, same goes for your skincare routine. The concept is quick and easy; Plus, it could potentially save you a lot of money by eliminating those trial-and-error shopping habits.
However, with all the new personalized beauty brands cropping up, customizing your skincare might feel overwhelming. If you're going to commit your face to a specific routine for a month or more, you want to make sure you're choosing the right one. We broke down some of the different types out there:
How they test your skin: Epigenetic testing
What you get: Epigenetic testing kit, product recommendations, and skincare schedule
Price: $299 for the program
What it is: Epigenetics is a complicated science word that boils down to a simple idea—our skin aging is influenced by many factors including lifestyle, environment, genetics, and medications. Epigenetic skincare tries to "reverse" or modify how your body ages by adopting positive lifestyle habits. Skintelli does this by sending over a kit to analyze your DNA methylation (a gene which strongly correlates to skin quality) in order to make a 90-day schedule for your skin. Just take the four adhesives they provide, stick them on four samples areas of your face, and mail back the stickers in separate tubes. Their labs will get back to you with an easy-to-read snapshot of your skin stats, along with personalized guidance on what ingredients you need and which skincare products you should use. You can shop your recommended brands directly from the site based on your budget.
Sign up here.
2. Curology
How they test your skin: Quiz + selfie
What you get: Personal provider (that you can ask questions anytime), daily face cream, cleanser, and moisturizer
Price: $19.95 for a 30-day supply or $39.90 for 60-day supply
What it is: You've probably seen Curology's influencer ads all over Instagram. The premise is pretty straightforward: Replace your entire routine with their prescription-strength compounds delivered to your doorstep. They determine which formulas are best for you based on a quick quiz, with questions that ask about your skincare goals, areas of breakouts, skin type, how long your pimples last, and health history (gender, prescription topicals, other medications). You'll be assigned to a personal provider who will choose the best formula for you based on your answers. If you find that their formula isn't working, they even give you the option of swapping it out for a new one.
Sign up here.
3. Atolla
How they test your skin: Skin health kit
What you get: Serum
Price: $65 your first month, $45/month from then on
What it is: For the more scientific-savvy savants, Atolla uses an at-home pH kit to measure your skin's moisture levels, oil percentages, UV exposure, and humidity levels. And here's the best part: They actually take into account that your skin is constantly changing. At the beginning of each month, they'll send you a pH-measuring kit. Simply swatch your face in four different spots and send back the strips. Their skincare experts will get back to you with your specific skin sequence and very own personalized serum. Then just apply and repeat: Atolla sends you an updated serum each month that accommodates your skin's changing needs.
Sign up here.
4. Kiehl's Apothecary Preparations
How they test your skin: In-store apothecary station
What you get: Customized serum
Price: $95
What it is: Run don't walk to your closest Kiehl's—most of their locations now include an apothecary station where you can feel like a scientist and conjure up the perfect serum. The process is simple (and free!): Consult with the skincare expert on-site about your top two skin concerns (whether that be wrinkles, texture, clarity, enlarged pores, or redness), and they'll help you whip up your very own concentrate from their blend of targeted complexes. Plus, you'll be able to take home your new product immediately.
Find store locations here.
5. Proven
How they test your skin: 28-question quiz
What you get: Personalized cleanser, moisturizer (with SPF), and night cream
Price: $145 for 60-day set
What it is: The skin science behind Proven comes from The Skin Genome Project, which won MIT's 2018 Artificial Intelligence Award, so you know it's pretty legit. Their skincare philosophy is that you don't need hordes of lotions, salves, and oils cluttering your shelves. If the ingredients are effective, you just need three. Their skin genome quiz asks specific questions like how your skin feels in the morning to how it looks over camera. Based off your answer, they'll show you the skincare ingredient you need so you know exactly what is getting mixed into your product (and why). Using these unique ingredients, they'll give you three products created exclusively for you.
Sign up here.
6. Neutrogena Skin Scanner
How they test your skin: Face scanner
What you get: Face scanner app, face scanner device (sold separately)
Price: $60 for skin scanner, Mask iD TBD
What it is: While you can't pocket your dermatologist, you can get pretty close with the Neutrogena Skin Scanner. Attach the camera to your phone, hook it up to the app, and hold the zooming lens to your face. The system will measure pores, fine lines, and moisture to generate a unique skin score. You can use the analysis to maximize the benefits of skincare products and treatments. Neutrogena's newest upcoming innovation, the Mask iD, will use similar technology to create a mask that molds perfectly to your face. The device attaches to your phone and scans your skin and face shape to create an outline for the mask. From there, you can choose which ingredients you want to add in. It isn't set to come out until January 2020, but you can sign up for updates here.

Buy the skin scanner here.
7. Skinsei
How they test your skin: Quiz + selfie
What you get: The Core Kit: cleanser, serum, and moisturizer OR The Complete Kit: cleanser, serum, and moisturizer, plus masks, essences, and finishers.
Price: Core Kit: $45/month, Complete Kit: $69/month
What it is: After completing a "holistic diagnostic" that asks you about things like your skin type, stress levels, and diet, you'll receive a BioPrint, a unique skin map that shows you where exactly your problem areas are and what might be causing it. Depending on which kit you choose, your personalized Skinsei mailing will contain an assortment of products cooked up just for you.
Sign up here.
Hana Hong is the beauty assistant at Marie Claire, where she covers skincare, makeup, and haircare, and is identifiable by her signature cateye.