Reese Witherspoon Just Shared Her Age-Defying, 3-Step Skincare Routine
She broke down her favorite cleanser, face massager, and at-home peel.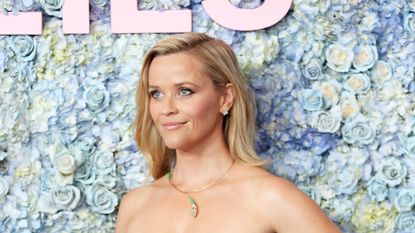 (Image credit: Monica Schipper)
Reese Witherspoon, 43, shared her 3-step, nighttime skin care routine on Instagram.
The actress broke down her favorite cleanser, face massager, and at-home peel, all of which you can get online.

Witherspoon says simplicity and quality products are key when it comes to maintaining good skin.
Ever wondered how Reese Witherspoon takes care of her age-defying complexion? Well, she has officially graced the internet with her night-time skincare routine, and—you won't believe this—it's only three steps. With skin as seamless as hers, you'd think the 43-year-old actress implements a complex routine with steps in the double digits, but according to her, simplicity and quality products are key.
She shared the process in an Instagram TV video after receiving an overwhelming response to a similar post about her post-filming skincare routine. Lately, she's been working on-set, shooting The Morning Show, a new series for AppleTV in which she co-stars with Jennifer Aniston.
She filmed the video in a fuzzy white robe from what appears to be her bathroom. First, she tied her hair back, and began with the first step.
Step 1: Cleanse
She used Elizabeth Arden Ceramide Replenishing Cleansing Oil (Witherspoon is an ambassador for the brand) to remove any makeup from her skin before using treatment products. "This is great," she said, pumping some onto a cotton round and wiping it over her face. "It takes off all my makeup and it makes my skin so soft and moisturized. Love this!"
Oil cleansers are a great first step because they help break down impurities without stripping the skin of natural moisture. This one is made of nutrient-rich oils, like olive, safflower, and apricot oils to condition the skin while buffing away dirt, excess oil, and makeup.
Step 2: Massage
A facial massage may seem like an unconventional or unnecessary step, but if it works for Witherspoon, it works for us. (Plus, experts say that using a facial roller temporarily reduces puffiness and eye bags.) To keep the skin looking young and buoyant, you have to maintain good blood flow. That's where a tool like Witherspoon's NuVibe RX Amethyst Massaging Beauty Roller comes in handy.
"It feels so good," she said, rolling the stone tip over her face in circular motions, along her jawline and under her eyes. "I do it in the morning, too, a little bit. And then it helps me get rid of the dark circles."
Step 3: Peel
After a quick massage, Witherspoon rinsed her face with warm water and moved on to the third step: an at-home chemical peel. The Elizabeth Arden Prevage Progressive Renewal Treatment is a four-part, four-week treatment with strong active ingredients like lactic acid and gluconolactone that promote cell turnover and reveal polished, glowing skin. "This is very gentle," she said, pressing the serum's top to combine the fresh ingredients. You just "mix it like a little scientist," as Witherspoon said, and pat it all over.
After applying the peel, she mentioned a final step, but unfortunately, didn't show it on camera. "And don't forget ladies, always with the moisturizer at night." She failed to mention the one she's currently loving. But hopefully, she'll share it in another video soon.
Until then, check out these dermatologist-approved moisturizers for dry skin, anti-aging night creams, and face creams for sensitive skin for top-notch hydration.
For more stories like this, including celebrity news, beauty and fashion advice, savvy political commentary, and fascinating features, sign up for the Marie Claire newsletter.