40 Fresh Ways to Amp Up Your Ponytail
"Next day hair" has never looked better.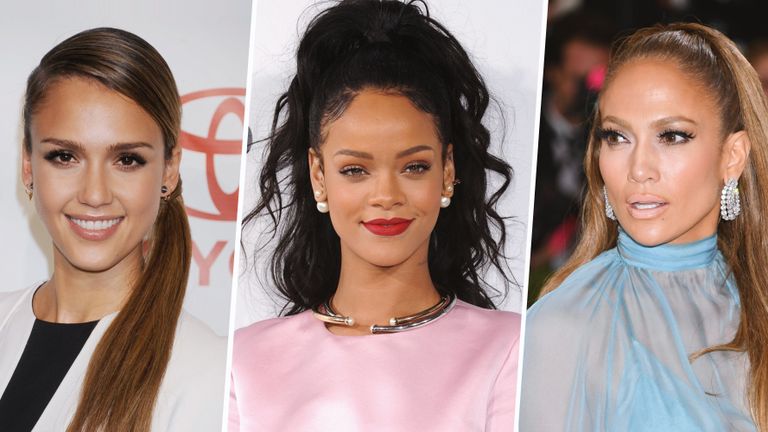 (Image credit: Design by Bridget Burns)
Take a cue from these celeb red carpet moments to upgrade your ponytail from a gym staple to an actual "lewk."
1/40
Make Sure It Takes Up Space
When you want your hair to pancake at the sides of your head and flow rather than hanging in a tapered ponytail, pull the hair down below the hair tie as much as you can so that all the lengths of your hair fan out. It helps to have super long, thick hair, too, but extensions can help you create the same look.
2/40
Create a Flowing Half-Pony
Rihanna's hair looks like a flowing waterfall of waves, and it's all thanks to the fact that she tied up only the top half, tugged at the crown for more volume, and waved the ends.
3/40
Wrap it Up Loosely With a Bow
For a dressy look that's less structured than your average ponytail (on purpose), very loosely wrap up your hair into a messy ponytail, pull the hair band down halfway, separate the strands into two sections, and flip the end of your hair into the space between them. And for some hair pizazz, disguise the tie with a silky ribbon.
4/40
Wear Face-Framing Tendrils
When you don't have bangs but want the same face-framing effect, center part the front half of your hair, leave out two thick tendrils of hair, and wave them with a curling iron.
5/40
Brush it Straight Back
Ever the princess of the pony tail, Ariana Grande's signature look is pulled back and worn super high on her head. It's the perfect way to show off an ombre style, too.
6/40
Wear It Low and to the Side
The side ponytail doesn't get enough love these days, but Jessica Alba's showing how to make it look super sleek and grown up. Super, super long hair adds to the drama.
7/40
Dip Dye the Ends
No one plays with color like Katy Perry, and here she's making the case for wearing a brighter dye job that starts at your temples. All the better to pull off a unicorn tail style like this one, right?
8/40
Crimp the Top
We haven't touched a crimping iron since the '90s TBH, but when it adds cool dimension to the top of your ponytail, it's worth another whirl.
9/40
Go For a Retro Swoop
So pretty, so glamorous. Round brush the ends of your hair when blow-drying, then after you have your ponytail, pull out a section underneath, smooth and hairspray it, then wrap it around the hair tie. Secure it in place with a clear rubber band.
10/40
Pull Back Your Bangs
Beckinsale imitates the '50s puffy bang ponytail by pinning back her bangs at the top of her head and curling the ends of her ponytail.
11/40
Keep It Short
Yes, even short-haired girls can wear a black-tie ponytail, but you have to be okay with the spiky, fishtail ends.
12/40
Wear It On the Side of Your Head
Beyoncé's high blonde ponytail is fast becoming a red carpet staple for her, which she keeps pulled slightly to the side and curled at the ends.
13/40
Super Section It
Basically the ponytail version of a braid, Maria Menounos sections off her ponytail with individual elastics to get this rope-like effect.
14/40
Wrap a Length of Hair Around the Base
The classic, as seen on Rosie Huntington-Whiteley, is the result of a section of hair being wrapped and pinned around a hair tie. So subtle, so chic.
15/40
Boost Volume at the Tail
We're loving the Duchess' amped-up ponytail, from the sleek strands to the Bumpit-worthy volume at the top of her head and the base of the ponytail.
16/40
Go Dramatic
Nicole Kidman sweeps back her hair straight back from her forehead and secures over her other strands.
17/40
Play With Texture
If you're blessed with amazing natural texture like J.Lo's, work with natural bedhead volume and wear it messy at the top of your head.
18/40
Leave Loose Strands Framing Your Face
Leave it purposely undone like Cameron Diaz's low-key version.
19/40
Wave It Up
Though sleek ponytails are the red carpet norm, some beachy waves pulled back into a low ponytail can look just as elegant.
20/40
Get Creative with Your Scrunchie
When not just any scrunchie will do, look to ribbons and creative hair clips to embellish your pony.
21/40
Get Some Pouf Action Going
The result of some seriously innovative twisting, America Ferrara's poufy ponytail is one way to mix it up. Twist bangs or strands from the front section of your hair and pin them to the top of your head, then puff out hair—instead of pulling it taut—before securing hair with a band.
22/40
Create Glam Curls
Amy Adams opts for a sleek and bouncy pony over lush waves, the typical glam go-to.
23/40
Secure It Sky High
Tired of wearing you hair down? We love Ariana Grande's super straight—and long—high pony.
24/40
Go Super Sleek
Emma Stone looks red hot with a severe side part and sleek low pony.
25/40
Play With Proportions
The queen of ponytails, Gwen Stefani loves to tease her hair at the crown before pulling her hair into a high style.
26/40
Add Volume On Top
Pump up the volume at the crown and let a few side pieces free, like Felicity Jone's chic style.
27/40
Create A Perfect Curve
Gabrielle Union's ultra slick pony is stunning.
28/40
Try A Center Part
Look polished like Gwyneth Paltrow with a severe side part paired with a super straight low pony.
29/40
Section Off Strands
Try Jessica Chastain's new take on the half up, half down (and sectioned out) style.
30/40
Flip The Ends
Bouncy and fun, Kate Beckinsale gives a flirty flip to her high pony.
31/40
Go Low
A unique combination of a severe side part with loose pieces and a low pony lends to Kate Hudson's signature style.
32/40
Leave the Length Bouncy
A sleek blowout pulled backed into full, bouncy cascade of curls keeps Kate Middleton's pony royally chic.
33/40
Let It Be Crazy Long
Katie Holmes goes to great lengths.
34/40
Try It with Super Smooth Strands
Katy Perry rocks a super high full pony that is perfectly in place.
35/40
Add Wave Enhancements
Curl shorter layers around your face to keep your style causal yet chic, like Keira Knightley.
36/40
Go for Super Low and Sleek
Scandal star Kerry Washington stuns with her slicked-back style.
37/40
Keep It Low Maintenance
Help make your highlights stand out by loosely pulling hair to the side (instead of straight back) like Witherspoon's low, bouncy style. It's also the easiest way to style a pony tail.
38/40
Try An Extreme Side Sweep
Try Rihanna's dressed up version—a smooth pony and severe side sweep.
39/40
Wear It Totally Undone
Sarah Hyland matches the tousled texture of her pony with some casual face-framing pieces.
40/40
Opt for a Severe Side Part
Selena Gomez shows off an extreme side part with a low pony.