The 18 Best Natural Hair Products in 2023
Remember: Your curls are your crown.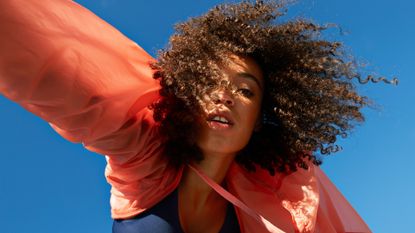 (Image credit: Getty)
For women with curly, coily, and kinky hair, it's of tremendous importance to invest in high-quality products that keep those strands healthy and full of life. This not only means investing in moisturizing shampoos and conditioners, but it also means finding silk or satin hair wraps, leave-in treatments, hair masks, hair oils, and other products with formulas that are specifically crafted for natural hair.
And why is the care and keeping of natural hair important? Taking care of your natural hair so that it can look and feel its best is a tremendous act of self-care and self-love, especially for women of color. In fact, according to a study published in the Journal of Black Studies, there was a "significant positive correlation between a higher internal locus of control and [African American women] who choose to wear their hair in a natural state." In other words, embracing your natural hair is good for your strands and for your confidence.
But how do you identify the right products that will keep your curls looking their best? We spoke to Antoinette Bullock, a natural hair expert for Sally Beauty, along with board-certified dermatologist Dr. Rebecca Marcus, about taking care of natural hair and how to shop for the best natural hair products money can buy.
What to Look for in Natural Hair Products
According to Bullock, finding the best products for natural hair is all about balance. "Women with natural hair should look for products that are perfectly balanced with moisture and protein," she advises, going on to say that too much of either can produce damaging results.
"Using moisturizing products will cause your hair to be too soft and have no elasticity," she explains. "On the other hand, only using protein-based products will cause your hair to be stiff and will eventually dry it out." Instead, products that contain both moisturizing and protein-based ingredients "will help maintain your hair's health and keep your curly and coily hairs thriving."
And what exactly are some of the most common water-based and protein-based ingredients? According to Bullock, water- or moisture-based ingredients can include water (of course), honey, aloe vera, glycerin, shea butter, avocado oil, and argan oil. Protein-based ingredients, on the other hand, include hydrolyzed (wheat, oat, and soy) protein, hydrolyzed keratin, amino acids (such as silk, milk, and wheat), and hydrolyzed collagen.
Best Shampoos for Natural Hair
Best Conditioners for Natural Hair
Best Leave-Ins for Natural Hair
Best Styling Products for Natural Hair