Harry Styles Appears to Have Shaved Off His Signature Curls
The buzz cut's timing is suspicious, according to Swifties.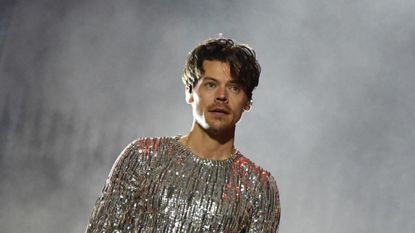 (Image credit: Getty)
I love Harry Styles just as much as I love his signature curls. So while I'm in full support of his freedom to make personal style choices, I was a bit upset to learn that the singer appears to have shaved off his signature waves. This week, rumors that Styles had gone the buzz cut route spread after a fan snapped a photo of the singer in Las Vegas. In the photo, a man that looks exactly like Styles stands in a crowd (the image was supposedly snapped at a U2 concert), his hair shaved close to his head.
While the blurry snap, which has been circulating online, doesn't exactly confirm the theory, it's certainly convincing—especially coupled with the fact that the chop came soon after Taylor Swift revealed new song lyrics that (again, allegedly!) could be about the Brit's locks.
Taylor Swift wrote "you grew your hair long, i miss the old days, you didn't had to change" and Harry Styles booked a hair appointment pic.twitter.com/GCVFsbAiERNovember 7, 2023
See more
In her new song "Now That We Don't Talk," Swift sings about a past relationship with eerie similarities to her time with Styles. The song, a 1989 (Taylor's Version) vault track left over from her 2014 1989 album, was likely written around the time the pair were together.
"You grew your hair long / You got new icons," the Pennsylvania native sings in the first verse. "And from the outside / It looks like you're tryin' lives on."
The evidence here? Styles started growing his hair out soon after he and Taylor split. During One Direction's Where We Are tour in 2014, it got really long; he was often seen tying it up in a bun.
Later in the song, the "Karma" artist tells her mysterious beau "you didn't have to change." Was Styles taken with the lyrics, realizing he's more than his luscious locks? It's all speculation at the moment and we'll have to wait for clearer photos to be sure, but fans certainly think there's a connection.
A long-haired Harry is sure to appear again, but until then? We have complete faith the Pleasing"founder can make the buzz cut work.
Celebrity news, beauty, fashion advice, and fascinating features, delivered straight to your inbox!