Lady Gaga's "Lip Sculpt Hack" Is About to Revolutionize Your Makeup Routine
Prepare to have your mind blown.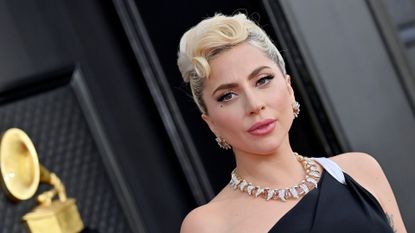 (Image credit: Axelle Bauer Griffith/Getty)
Lady Gaga may have a full glam squad at the ready, but don't let that fool you…the Haus Labs founder knows her way around a makeup bag. In the past, she's shown off her graphic eyeliner skills and eyeshadow prowess, but this week she upped the ante and gave her TikTok fans a "lip sculpt hack" that's already reached viral status. To recreate the look, you'll need a few key products from Haus Labs: The Brow Pencil in shade Cinnamon, the Lip Crayon in Mocha Matte, Cerise, and Rose, and the PHD Lip Oil in Tint.
The first step? Grab your brow pencil—yes, your brow pencil. In this case, it's going to double as your lip liner. Gaga ever-so-slightly overlines her upper and lower lip, effectively adding the first layer of ~dimension~. Now, it's go-time on the gradient. The House of Gucci star used Mocha on her outer counters and Cerise and Rose in the center of her pout. The same, sculpted vibe could easily be achieved with any colors that are at least few shades apart.
To wrap up the whole lip hack, Gaga added a little more brow pencil (we love a multi-tasking product!) and swiped on her PHD Lip Oil, which happens to be one of my personal favorites from her line. It's an ever-so-slightly tinted formula that's not the slightest bit sticky. Instead, it's deeply hydrating thanks to ingredients like squalane, prickly pear oil, and vegan collagen.
These three lip sculpting products may be all the hype right now, but the brand's soon-to-be-released foundation is bound to have a moment in just a few days. The "Bad Romance" singer teased the "clean foundation" drop yesterday. While details are still under wraps, it looks like the formula has a radiant, dewy finish. It's set to launch September 8, so stayed tuned for updates.
Shop Lady Gaga's Sculpted Lip
Samantha Holender is the Beauty Editor at Marie Claire, where she reports on the best new launches, dives into the science behind skincare, and keeps up with the latest trends in the beauty space. She has previously written for Us Weekly, Popsugar, Makeup.com, Skincare.com, and Philadelphia Wedding. Follow her on Instagram @samholender.