Summer Beauty Tips for Fair Skin
"Any words of encouragement for a fair-skinned girl in the summer? I want to enjoy the outdoors, but my freckles get out of control." Marie Claire answers this question.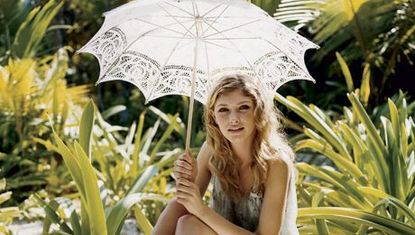 (Image credit: Chloe Webber)
Why not embrace the skin you were born with? Katharine Hepburn was pale, gorgeous, and freckled — as are modern-day beauties Gwyneth Paltrow, Lucy Liu, and Julianne Moore. Nothing is more beautiful to me than seeing someone's natural skin tone. If you are truly bothered by your freckles, you can, of course, keep them in check. Wearing broad-spectrum sunscreen, a hat, and sunglasses will help. Besides, by always keeping your skin protected, you'll eventually look 10 years younger than your peers who tan themselves. Your complexion will be smoother, firmer, and free of age spots. Add freckles to this, and you'll look even more youthful.