10 Easy and Fun Summer-Inspired Nail Designs to Copy at Home
Long live nail art.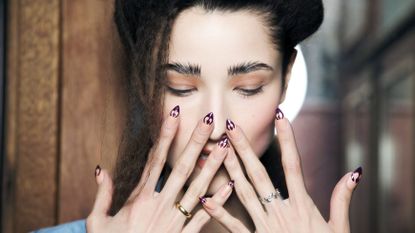 (Image credit: Ivan Lattuada)
Marie Claire newsletter
Celebrity news, beauty, fashion advice, and fascinating features, delivered straight to your inbox!
Thank you for signing up to . You will receive a verification email shortly.
There was a problem. Please refresh the page and try again.
The Look: Circles and LinesThe Look: Rainbow Nails
The Look: BeadsThe Look: Pure ChromaticsThe Look: Fruit SlicesThe Look: Striped Stripes
We may all be stuck in self isolation right now, but the truth remains: summer is almost here (opens in new tab). This means that the number of Insta photos featuring your hands is about to skyrocket. Now, seeing pics of your bare nails clutching iced coffee, frosé, and ice-cream cones isn't exactly a crime against humanity, but it is a crime against passion—at least, in our beauty book.
And while plain polishes are perfectly fine (check out our picks for the most gorgeous colors (opens in new tab) to try right now), when it comes to photoshoots, it's nail designs that are going to earn you those double-taps. (We even have designs for specific nail shapes (opens in new tab), if you're just as obsessed as we are with nail art.) So to get your hands ready for their close-up, we've broken down the coolest, most screenshot-able nail designs that are worth the melfie (manicure selfie? No? Sorry?) all on their own—no sweet treats required.
How to Get It
Here's a cult classic with a bit of flair. Instead of doing a typical polishing of the nail tips achieve a classic French manicure, use a nail art brush (opens in new tab) to extend the design. Extend the design downwards into your nail beds with different colors of your choice. The beauty of this design is that not every nail needs to look identical, so have fun with it and don't sweat it if you mess it.
Try: Winstonia Nail Art Brushes Set Liner Striping Brush for Strokes, $11
shop it (opens in new tab)
How to Get It
Don't worry, you don't need to be a skilled artist or go Picasso on your nails to achieve this picturesque paint job. With this design, the more more imprecise you are the better because #ART. After your base coat dries, sketch a few lines, shapes, and symbols over your nails with a black nail-polish pen (opens in new tab). Wait for that to dry, then add your top coat as per usual.
Try: Sally Hansen I Heart Nail Art Pen in Black, $6
shop it (opens in new tab)
The Look: Stroke Sketches
This is a manicure minimalists will love because it looks amazing with pure white or pastel shades. To create the perfect half-moon, use hole reinforcer stencil stickers (opens in new tab) and cut them in half and horizontally to create a dome shape. To perfect the slanted shape, use a precise nail brush (opens in new tab) to distribute your polish of choice. Once the color is dry add a clear top coat.
Try: Avery Self-Adhesive Reinforcement Labels, $6.
shop it (opens in new tab)
The Look: Off-Center Half Moon
Here's the gist: grab two complementary nail colors, and then apply a fast-drying top coat. Place nail art tape (opens in new tab) horizontally on your nail beds to create a clear line of distinction from your two opposing colors. Then, fill that space in with your first color of choice. Next, place the reinforcer on the lower end of your nail, and then paint over that section with the second color. Gently remove the sticker when the polish is still wet, then apply a top coat to seal everything in place.
Try: Clear Double-Sided Adhesive Tape, $12

SHOP IT (opens in new tab)
The Look: Circles and Lines This content is imported from Instagram. You may be able to find the same content in another format, or you may be able to find more information, at their web site.
How to Get It
This design may look a bit complicated but here's a simple, stress-free breakdown: starting with your first nail color begin painting your larger circle at the tip of the nail. For a neat and precise curve, apply nail tape to the bottom half of the nail in the shape a half circle. Wait for the color to dry, then grab a thin nail art brush and add a vertical line down the middle of each nail. Before adding your top coat, finish off the design by using a dotting tool (opens in new tab) to apply a dot to the lower right side of the large circles. Voilà!
Try: Two Way Dotting Pen Tool Set, $6
shop it (opens in new tab)
The Look: Rainbow Nails
How to Get It
ICYMI: Rainbow nails are coming in hot this year. Celebs like Kendall Jenner are picking up on the most Instagrammable trend, which is honestly so convenient if you're consistently indecisive when it comes to choosing your nail color (*raises hand*). Literally pick up whatever color you want, and for this design use a precise nail art brush to create this curved twist on a classic French mani.
Try: Nicpro Micro Detail Brush Set, $13
SHOP IT (opens in new tab)
The Look: Beads
How to Get It
It's jewelry—for your nails. After applying a clear base coat (opens in new tab) to your nails, glue mini seed beads (opens in new tab) to your nails with nail glue. After they dry, apply two coats of clear gel top coat (opens in new tab) to help keep the design from scratching off.

Try: SeedBeadExplosion Seed Beads, $5
SHOP IT (opens in new tab)
The Look: Pure Chromatics
How to Get It
Fine, there's no real design aspect to this look, but the chrome is so intense that it stands alone as a design in itself. Just paint two opaque coats of silver nail polish over a base coat, apply a mega-shine top coat (opens in new tab), and take a selfie.
Try: Essie Metallics Nail Polish in No Place Like Chrome, $9
SHOP IT (opens in new tab)
The Look: Fruit Slices
How to Get It
It'll take some practice to master this look, but what else are you doing with your lazy summer Saturday? To recreate, say, the watermelon design, cover the tips of your nails with tape (any kind of tape will do), leaving just your half-moons exposed. Paint the moons red—i.e. the main color of the fruit—and let them dry. Then line your cuticle with green, using a nail-polish pen, and, once it dries, line the green with a rim of white. Add a few black dots and finish with a clear polish over your entire nail.
Try: StillCool Nail Art Pens , $15 for a pack of 6
SHOP IT (opens in new tab)
The Look: Striped Stripes
How to Get It
Tape is clearly your new BFF when it comes to this summer's nail designs. To get this striped look, place two horizontal strips of tape over your nail, leaving just a slivered gap between them, then paint the gap with a pale shade. After the stripes fully dry, place another piece of tape diagonally across half of the strip, and paint the rest of it with a darker shade to get the two-tone look.
Try: Sephora Line Up Tape, $6

SHOP IT (opens in new tab)

For more stories like this, including celebrity news, beauty and fashion advice, savvy political commentary, and fascinating features, sign up for the Marie Claire newsletter.
SUBSCRIBE HERE (opens in new tab)
RELATED STORIES
RELATED STORIES
RELATED STORIES