This Under-$10 Product Will Transform Your Skin into Silky Smooth Amazingness
You need this in your life.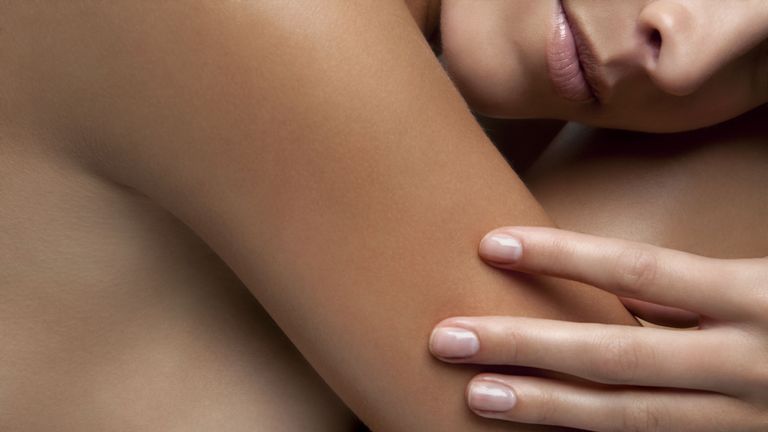 (Image credit: archive)
Lotion. Probably one of the least sexy topics to talk about. And honestly the process for most people is like: Buy whatever's on sale ("Watermelon-scented? Whatever it's $7"), put it in your bathroom, swipe some on now and then, and call it a day.
In fact, I'm one of those women who never really *used* lotion on a daily basis until recently. (Don't judge me.) My skin was always pretty soft—many an awkward comment has been made when I shake people's hands—until it turned on me. And now, it changes its mind like an indecisive person at Baskin-Robbins. Usually this happens right around the time the days get shorter, the snow starts piling up, and my skin is just like "What the hell is happening here?"
But my skin doesn't just get dry—it actually cracks. It itches. It's like someone's covered my entire body in a giant scratchy sweater I can never take off and it is the worst.
This is about the time I slather on anything I can find that will a) help me stop clawing at myself all day every day and b) you know, make my skin look good. But not all lotions—even the fancy ones—are created equal. Some just coat your skin in a white substance that will not absorb no matter how much you rub. Some seem to work until about an hour later when you're dying again. And some smell AWFUL but *kind of* provide relief? (Just don't leave home unless you want people looking around and wondering "What's that chemical-y, 105-year-old woman smell?" IT'S ME. IT'S ME, I'M SORRY.)
But, there is a solution. And it's available pretty much everywhere. And it's under $10. *Praise emoji.*
Meet your new best friend: Vaseline Healing Serum ($8, drugstore.com).
I'm not joking when I say that when I first got this, I ran around to everyone I could, squeezing some into their hands and yelling "TRY THIS." It's a miracle worker. It's like rubbing silk onto your body. It delves deep and leaves nothing behind but soft, soft skin. And it doesn't smell like your grandmother. (Love you, Mamaw.)
The line features three products: Deep Repair which really moisturizes (it's my favorite), Advanced Relief which calms skin and smells like vanilla and rose, and Radiance Restore which uses cocoa butter to get your skin looking good.
I'm sold. I have three bottles at home. I'm not sorry about it. I will keep shouting forever.
Try it. And if you don't like it? Guess what. It's $8. *All the praise emojis*
You should also check out:
You Know Those Awful Underground Pimples? I Found the Perfect Cure
Cactus Oil Is the New Beauty Fix That Will Completely Transform Your Skin