Saggy Pores Are a Thing and Here's How to Tell If You Have Them
*Grabs vanity mirror*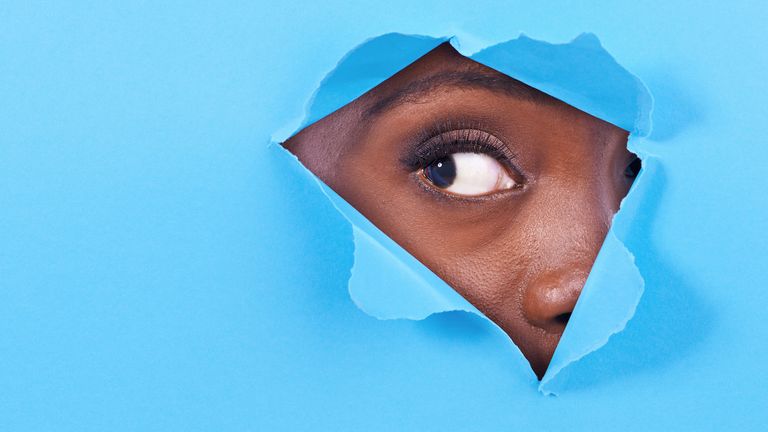 (Image credit: Getty Images)
This past weekend, I went to KCON—an annual K-Pop and K-beauty convention in NYC—and spent some time brushing up on my skincare prowess at the Glow Recipe booth. It was there that co-founder Christine Chang clued me into the fact that pores can, in fact, sag. Lovely, I thought, before running to the nearest mirror to asses the droopiness of my own.
"The direction of your pores are a giveaway," explained Chang. "As you age, the firmness and elasticity of the skin decreases and skin doesn't bounce back as easily, causing sagging. This can result in oblong, elongated pores that stretch in a downwards direction."
From what I could tell, I was in the clear. But like all matters of aging, I knew this satisfaction would only be temporary if I didn't clue myself in on what causes this phenomenon and learn how to deal with them if/when they appear.
What Causes Droopy Pores
The slower production of collagen and elastic in the skin i.e. getting older.
Sun exposure, which breaks down the collagen in the skin.
A build up of sebum and impurities that cause the pores to look more exaggerated and enlarged—especially when the sebum is oxidized and turns into a darker color.
Lack of hydration, which contributes to lackluster, dull, and uneven skin texture.
How to Prevent/Treat Saggy Pores
1) Treat with Active Ingredients: "Look to treatments that can help with skin elasticity and firmness," says Chang. "Tried-and-true firming ingredients such as peptides and antioxidants, as well as newer ingredients such as artichoke, can help the skin appear more supple, plump, and hydrated."
Since learning that artichoke is the new kale (at least for the face), I've been layering the Yuri Pibu Artichoke Power Essence ($38) underneath my moisturizer as it's formulated with 60% artichoke extract and works to tighten the appearance of pores. It's wonderful.

2) Deep Cleanse Daily: "While you can't physically shrink the size of your pores, you can take steps to make them less visible by double cleansing and exfoliating," she says.
You can double cleanse by massaging a cleansing oil, like Whamisa's Organic Flowers Cleansing Oil ($38), into the skin with small, circular motions. Then, use a gentle foaming cleanser, AKA one that's free of sodium lauryl/laureth sulfates like Whamisa's Organic Flowers Creamy Foam Cleanser ($35), to pick up whatever leftover debris there is. Doing this daily will keep your pores in check...and resistant to gravity.
Follow Marie Claire on Facebook for the latest celeb news, beauty tips, fascinating reads, livestream video, and more
I'm the associate web editor at Marie Claire. I love to while away the hours at coffee shops, hunt for vintage clothes, and bask in the rough-and-tumble beauty of NYC. I firmly believe that solitude can be a luxury if you've got the right soundtrack—that being the Rolling Stones, of course.