6 Ways to Nail the Blonde-Hair-Dark-Brow Look from Margot Robbie's Colorist
Don't so much as *think* about going for it until you've read this.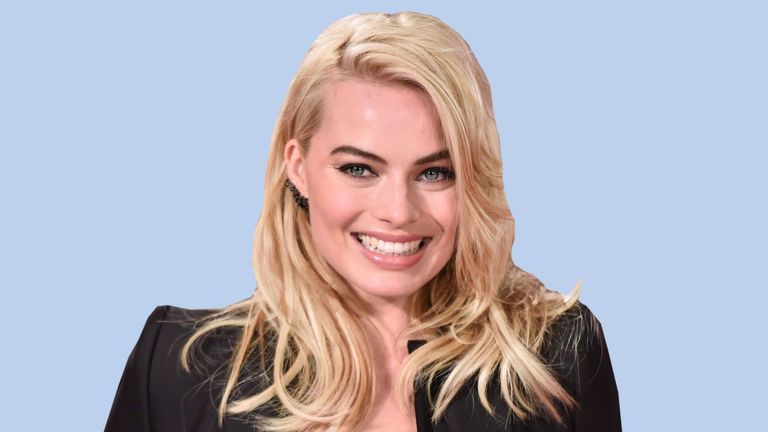 (Image credit: Design by Dana Tepper)
What was once thought to be only something Marilyn Monroe or Madonna (circa her Blonde Ambition tour) could pull off, the blonde-hair-dark-brow look has reached peak popularity. This, due in no small part to Margot Robbie and her latest role as Harley Quinn inSuicide Squad.
While, yes, Robbie can make literally anything look like a good idea, this striking combo is worth considering—but only if done right. So we got the low down from her colorist Matt Rez on how to do just that. In other words, here's what to tell your colorist because do not try this at home.
1. Make sure your brows complement your root color. For starters, your brow color (whether natural or not) should be as close to your natural hair color as possible. Or, within two levels of that color. "Matching it will give you a nicer, more graceful grow out before your next salon visit."
2. Choose your blonde according to skin tone. If you've got cool undertones (pink, red, or blue), you're better off going with a more neutral blonde. "If you go too gold, then it will bring out the pink tones," he says.
If you've got warm undertones (yellow, peach, gold), you can go more gold, but if you don't want to worry about your blondes in different kinds of light, err on the side of neutral. "If you've got olive skin, stay cooler on the ends," explains Rez. "If it's too warm it'll clash."
3. Pay attention to eye color. Yes, your eyes come into play too! As a rule of thumb, blue eyes will have a little more wiggle room when it comes to going super light all over. If you've got darker eyes, you should concentrate the lighter hues on the lower sections of the hair.
"The reason blue-eyed woman can typically go lighter at the root area is because naturally, their base color is going to be lighter," he says. "For brunettes, I think it looks best when they're super-light on the mids-to-ends."
4. Create dimension. To do this, colorists should be using glosses for a rooting/shadowing effect as the depth will flatter your natural coloring. "If you're lifting your natural base color, I wouldn't go any lighter than two levels," he says. "For highlights, it shouldn't be any higher than three to five levels."
As long as you have a shadowed root, you can get more playful with lightness. "You can add face-framing highlights, but you always want to keep a nice shadow through the top and interiors so that you have a pop to color," says Rez. "Otherwise it won't be as believable."
5. Avoid brassiness. For longtime bottle blondes, that sounds like mission impossible. But Rez has *the* solution. "Make sure your colorist lifts you to the lightest yellow before you're toned," he instructs. "If you're not there, they're toning you to cancel unwanted orange tones that will eventually fade out. Orange is a strong tone because it has red to it so it does come back up."
6. Make sure your hair is healthy. The color will look its best if its taken care of, Rez insists, so much so that he'll refuse clients if their hair isn't up to code. The secret to keeping colored hair healthy? Daily masking and Olaplex. "Both in-salon and at-home, it works miracles," he says of the latter. "Hair can go next level with it. You can push the blonde envelope."
Follow Marie Claire on Facebook for the latest celeb news, beauty tips, fascinating reads, livestream video, and more.
I'm the associate web editor at Marie Claire. I love to while away the hours at coffee shops, hunt for vintage clothes, and bask in the rough-and-tumble beauty of NYC. I firmly believe that solitude can be a luxury if you've got the right soundtrack—that being the Rolling Stones, of course.