5 "Skintertainment" Products You and Your Girlfriends Should Try Tonight
No new friends, just new masks.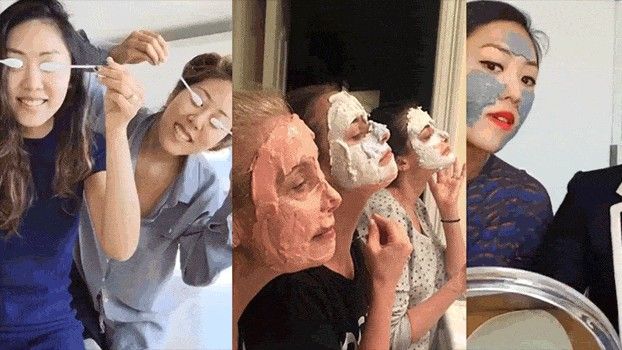 (Image credit: Limited Rights)
In the K-beauty world, it's not enough for a skincare product just to work. In order to really make its diehards swoon, it's got to be totally amusing in the process.
In fact, fun-to-play-with products have become such a phenomenon that Glow Recipe's Christine Chang has coined an official term for it: skin + entertainment = skintertainment.
"It's an emerging trend that positions skincare as an indulgent moment of pampering versus a daily chore," explains Chang about a movement we can really get behind. "It does this with sensorial, exciting textures like gel-to-oil, capsules, bouncy balms, and novel application methods. The experience of skincare is as much a part of skincare as the product is!"
And while these products are fun to play with on their own, we think they'd be even less of a beauty chore (and more double-tap worthy) with your ride-or-die skincare confidante. So next wine night, whip out one (or all) of the following, have your LuMee cases at the ready, and #treatyopores.
1. Rubber Masking
Rubber masks are a staple of Korean spas, and this at-home formula, housed in a ramen-noodle-style cup, goes from a powder to a soft gel texture that will make you look like a Freddy-Krueger-style freak show as you peel it away. But brighter, more nourished skin is on the other side 🙏.
Lindsay Modeling Rubber Mask, $6; glowrecipe.com.
2. Sea Kelping
Simply put, this sea kelp face mask will make you look exactly like the sea monster you feared as a kid—but beneath its leafy green exterior it's working on your glow. Each organic mask is submerged in fermented sea kelp and bamboo serum, which delivers intense hydration with smoothing, brightening, and anti-aging benefits.
Whamisa Organic Sea Kelp Facial Sheet Mask, $14; glowrecipe.com.
3. Bubble Peel Mask
Trust us when we tell you a peel has never been *this* cute. Just give it a little squish! The bubbly mesh mask consists of a pre-soaked sponge that contains daily-dose levels of Vitamin C and AHA (this is a major 🔑 for not overdoing it), which increases cell turnover, correct discoloration, and reducing the appearance of fine lines.
"Use the mesh-covered side to wipe away dead skin cells, then finish by turning the puff around and using the softer side to gently pat away moisture," instructs Chang.
Wish Formula Squish-and-Bubble Mesh Mask, $7; glowrecipe.com.
4. Aqua Peeling
"Aqua Peeling is a hot dermatologist treatment in Korea that involves simultaneously peeling away dead skin while infusing the skin with hydration," Chang explains. "While it's exclusively performed by professional dermatologists, this trickled into skincare in the shape of this fun, oversized cotton swabs infused with glycolic acid and hydrating botanicals. Precision exfoliate the skin with this swab for instant radiance!"
Oh, and foam-stick-style fight, anyone?
Yoon Dermaline Marine Aqua Peeler, $6; glowrecipe.com.
5. Capsule Cleaning
These magic cleansing beads are formulated with SLS-free cleansing agents that are hand-rolled into their bean-like shape. Crush one in your hand and add water, and watch it transform into a rich, creamy lather for a super-deep cleanse.
"Since cleansing beans are molded out of cleansing powder, they have the additional benefit of requiring fewer preservatives or binding agents in the formulation," explains Chang.
May Island Bubble Bean Cleanser, $30; glowrecipe.com.
Follow Marie Claire on Facebook for the latest celeb news, beauty tips, fascinating reads, livestream video, and more.
I'm the associate web editor at Marie Claire. I love to while away the hours at coffee shops, hunt for vintage clothes, and bask in the rough-and-tumble beauty of NYC. I firmly believe that solitude can be a luxury if you've got the right soundtrack—that being the Rolling Stones, of course.