14 Celebs Who Have *Majorly* Pared Down Their Beauty Routines
Nice to see actual skin under there!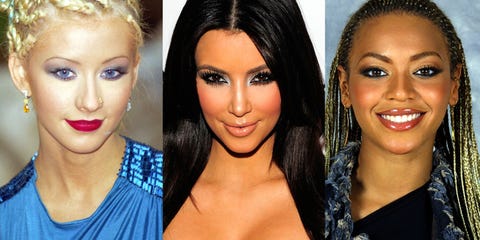 Sky-high lashes, ever-changing hair hues, contouring—in the world of celebrities, it can sometimes feel impossible to keep up with their latest beauty routines. But for some stars, it was time for a refresh. These stars have shed layers (upon layers) and put down their brushes in favor of more natural appearances, proving that sometimes less is definitely more.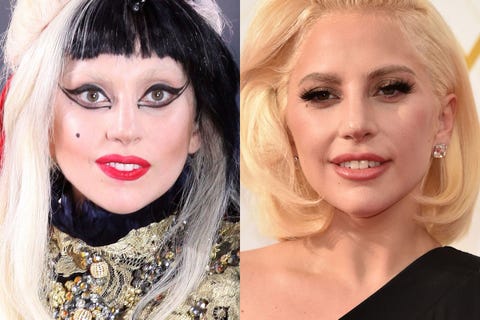 Lady Gaga
With a "colorful" history, no one's ever accused the pop diva of being understated. But she ditched the drama and became just that with her gorgeous Old Hollywood look at the 2015 Emmys.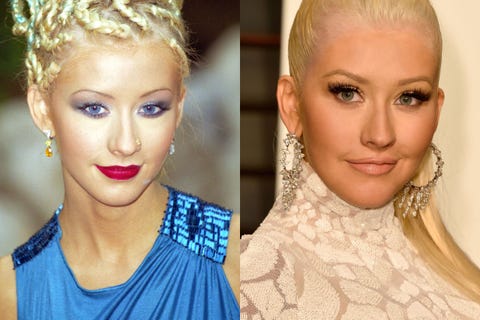 Christina Aguilera
Overly tanned, braids, all-of-the-makeup. Christina (or should we say, Xtina) went all out back in the day. Currently, she's rocking a decidedly more neutral look that's totally stripped...for now.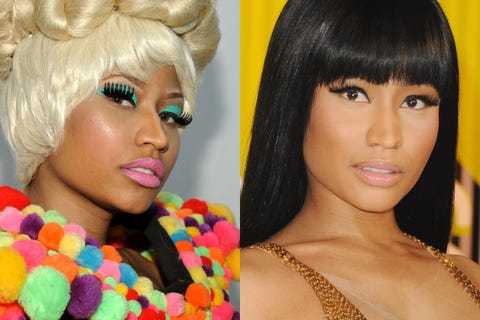 Nicki Minaj
When Nicki Minaj stepped onto the scene, it was all about the wigs and theatrical makeup. Recently, she's swapped a fake, almost Barbie-like look for a ladylike, elegant style.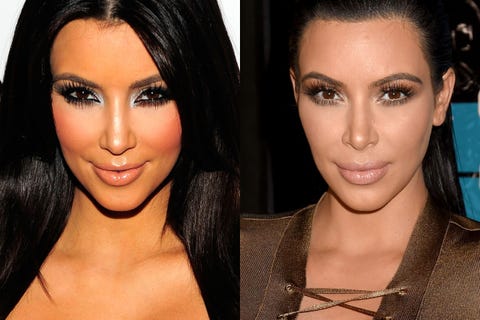 Kim Kardashian
Ok, hear us out. Yes, she's still a lover of a full look—she *is* the Queen of Contouring, after all—but over the years her look has become much more sophisticated. Think neutrals and definition vs bright and bold.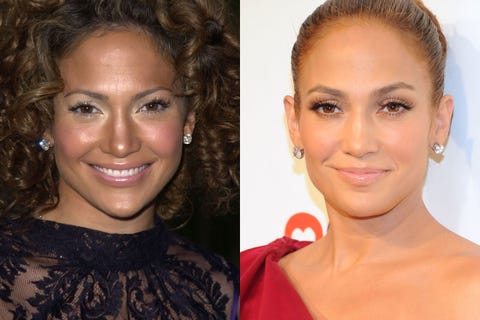 Jennifer Lopez
She's famously worn everything from mink eyelashes to a sky-high 'do to pretty much any shade of shadow. Now, she's made a nude lip her go-to, letting her lush lashes keep the attention (somewhat) at eye-level.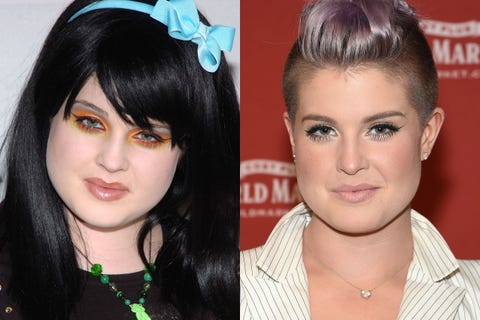 Kelly Osbourne
Her experimental teen days were fully documented on MTV's reality show about her family. Lately, she's been holding steady with a gorgeously unique shade of lavender-grey and a glam look that we're loving.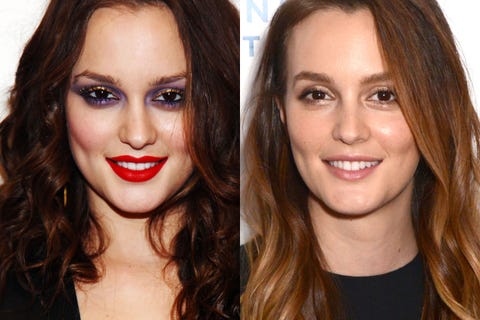 Leighton Meester
During the height of Gossip Girl (xoxo), Meester was not one for *subtle* makeup. But now the actress keeps it super casual and natural.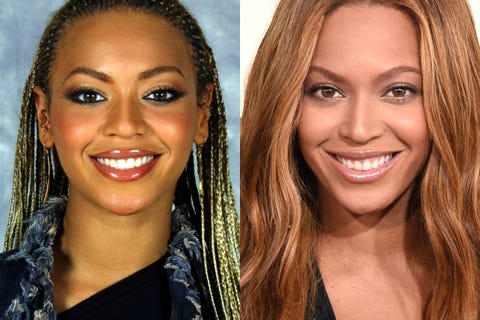 Beyoncé
She's had micro braids, big curls, bangs and updos—not to mention an affinity for colored shadows. Now an icon, Bey has completely transformed her look.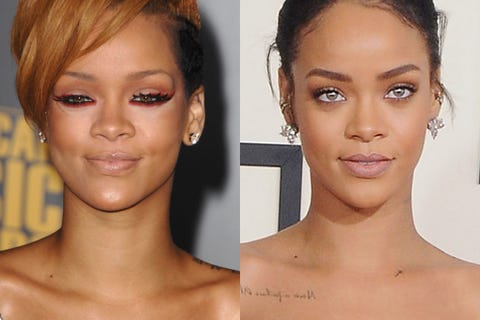 Rihanna
The good girl gone bad had a slew of notice-me haircuts and statement-making eyes before settling on a nude lip, pretty shadows, and black locks for her signature look.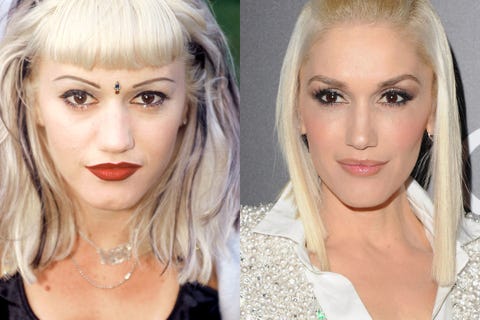 Gwen Stefani
The singer was just a girl who rocked skunky streaks, super pale skin, barely-there brows and rhinestones on her face. Now, Stefani has traded in her streaks for sleek locks and a polished look. (Though always with a hint of edge—she is still *Gwen Stefani*, after all.)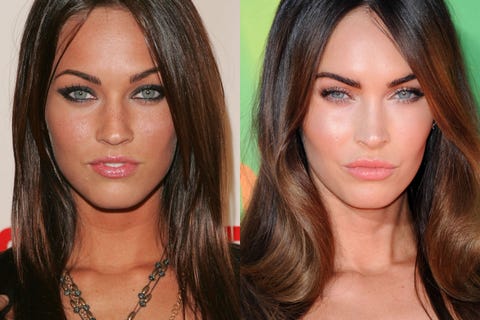 Megan Fox
Let's just say that years ago, the bombshell looked like she'd never met a tanning salon she didn't like. Her current appearance: totally grownup and ultra feminine.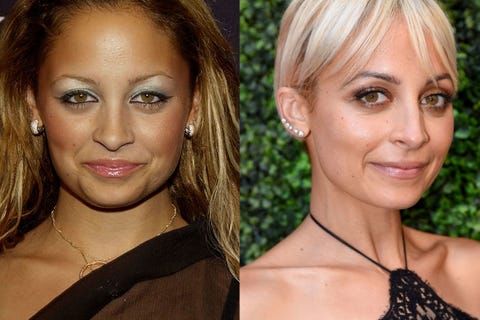 Nicole Richie
Remember The Simple Life? The jewelry designer and mom of two traded in her over-the-top style—think blue eye shadow, too thin brows, and super intense extensions—for a much, well, simpler appearance.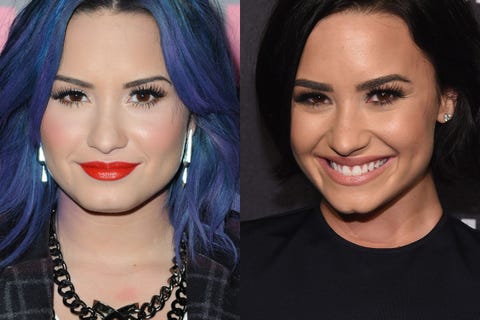 Demi Lovato
Then-Demi: crazy hair and wayyyy too much makeup. Now-Demi: perfectly bronzed pop goddess.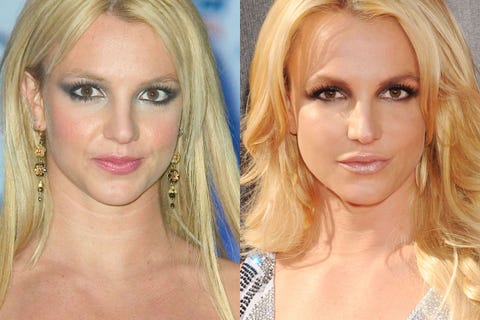 Britney Spears
It's Britney (with less makeup), Bitch. The pop princess has successfully traded in heavy blush, dark shadow, and a pink lip for an updated look. The outcome? She looks hotter than ever.
This content is created and maintained by a third party, and imported onto this page to help users provide their email addresses. You may be able to find more information about this and similar content at piano.io