Nicole Kidman Looks Completely Unrecognizable on the Set of Her New Film
The actress swapped her long blonde locks for a short brunette 'do.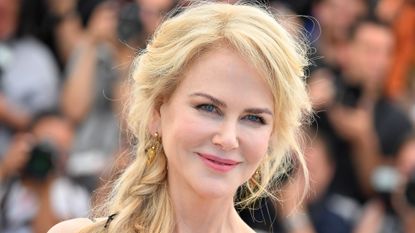 (Image credit: getty image)
Nicole Kidman is the latest actress to undergo a dramatic transformation for a role. The Australian star is currently filming scenes for Destroyer, in which she plays an undercover police detective.
Yesterday, the actress was spotted in Los Angeles sporting a choppy brunette bob, a loose black T-shirt, an oversize leather jacket, jeans, and boots. She also appeared to be wearing make-up that made her look tired and somewhat disheveled.
Destroyer is the latest film from Karyn Kusama, which tells the story of a police detective reconnecting with people that she once worked with during an undercover assignment. Kidman stars opposite Marvel's Sebastian Stan.
Just yesterday, it was announced that Kidman and Reese Witherspoon's hit television series Big Little Lies was up for a staggering six Golden Globe awards, including Best Miniseries or TV Film and Best Actress in that category for both Kidman and Witherspoon. After cleaning up at the Emmys earlier this year, it looks as if they're in with a good chance of doing it again.