Is This Where Meghan Markle and Prince Harry Will Honeymoon?
Travel + Leisure confirmed they are traveling to Namibia.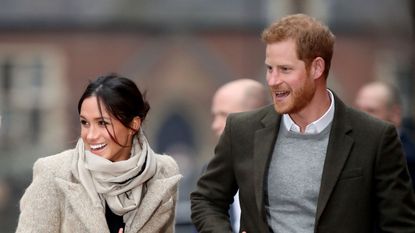 (Image credit: Getty Images)
Travel + Leisure (opens in new tab) recently confirmed, via an unnamed source, that Meghan Markle and Prince Harry have picked Namibia as their honeymoon destination. However, Kensington Palace has yet to officially announce that the royal newlyweds will travel to the southwestern African country after their May 19 wedding. Based on their favorite vacation destinations and the places other royal family members have honeymooned in the past, here are seven spots the two lovebirds might also consider.
Namibia
According to Travel + Leisure, Harry and Meghan will go to Namibia on their honeymoon. In fact, it's such a favorite pick that several outlets (opens in new tab) are reporting that Hoanib Valley Camp (opens in new tab) is the rumored spot that they've already booked for their post-nuptials vacation. While the luxury camp hasn't confirmed (opens in new tab) that they are expecting royal guests, it's easy to see why Harry and Meghan would pick this remote location in northwestern Namibia located between mountains, sand dunes and the desert to get away from it all.
Nevis
A Caribbean honeymoon sounds like an obvious choice for a romantic destination. But Nevis could also be a sentimental one for Prince Harry, who first visited the island (opens in new tab) in 1993 and stayed at Montpelier Plantation and Beach (opens in new tab) with his mother, Princess Diana. He visited again in 2016 as part of an official royal tour.
Botswana
For their third date, Harry and Meghan went camping (opens in new tab) "out under the stars in the African bush" at the Meno a Kwena (opens in new tab) tented camp in Botswana. That trip was so memorable for Harry that he sourced the center diamond in Meghan's engagement ring (opens in new tab) from Botswana, too. So, naturally it'd make a lot of sense for the couple to jet back to the place where they first fell in love.
A Royal Cruise
While everyone from Harry's own parents—Prince Charles and Princess Diana—to several of his aunts and uncles spent their honeymoons cruising the Atlantic Ocean and the Mediterranean Sea on the royal yacht Britannia, it was decommissioned in 1997 and docked in Edinburgh where it is used as a museum today (opens in new tab). So, while the royal family's own yacht isn't available for Harry and Meghan, there's nothing stopping them from following tradition and renting another private boat to spend their honeymoon cruising.
Azores Islands
Located in the Atlantic Ocean, Portugal's Azores Islands are becoming more and more popular these days with travelers in the know—not to mention that it's also where Harry's uncle Prince Andrew took Sarah Ferguson on their honeymoon back in 1986.
Seychelles
However, if Harry and Meghan do end up taking a cue from family members, they'll probably end up on a private island in the Seychelles just like where Kate Middleton and Prince William spent 10 days on their honeymoon back in 2011.
Italy
Meghan loves the Tuscan wine Tignanello (opens in new tab) so much she named her now-defunct lifestyle site, The Tig, after it. What better place for a wine lover like Meghan to relax post-wedding than at a villa in Tuscany? But not need to stop there. The royal newlyweds can also head off to the Amalfi Coast and return to the cliffside Le Sirenuse (opens in new tab) hotel in Positano that Meghan stayed at in 2016 (opens in new tab) during a personal vacation.
Lyndsey Matthews is the Destination News Editor for AFAR; previously she was a Lifestyle Editor across all of Hearst Digital Media's brands, and a digital editor at Martha Stewart Weddings and Travel + Leisure.