Prince Harry Is on a Royal Wedding Diet
He's adopted Meghan Markle's healthy-eating lifestyle.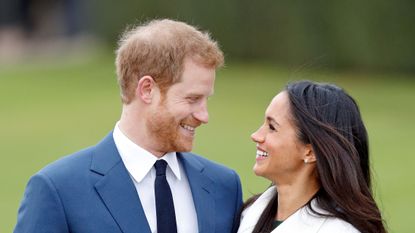 (Image credit: Getty Images)
Prince Harry and Meghan Markle's May 19th wedding (opens in new tab) is now less than three weeks away. The music (opens in new tab) has been chosen, the guest list (opens in new tab) has been confirmed, the best man (opens in new tab) has been announced, and Prince Harry has been focusing on his own wedding prep, which involves kale.
According to The Daily Mail (opens in new tab), Harry has been "following his fiancée's love of 'clean eating'" and has lost more than seven pounds as a result. According to a source, this includes swapping carbs and processed foods for "kale and quinoa" in his daily meal plan. "Meghan has completely changed Harry's diet," the source told Daily Mail. "She's got him juicing and he has lost at least half a stone, which is a lot for someone as skinny as he is."
"They have bought a top-of-the-range juicer and she has him on fruit and veg smoothies. She's also weaning him off meat," the source continued.

Back in November during a visit to a Chicago school with Michelle Obama (casual), Harry revealed (opens in new tab) to a group of students that he'd already given up one not-so-clean, very delicious item: pizza. "I don't even eat pizza anymore, but I had pizza last night," he told them."We had deep dish and thin crust."
No word on whether he's still eating popcorn, but as of September, he was still a fan:
The Daily Mail also reports that Harry has joined "an exclusive £575-a-month gym" (which comes out to roughly $790). Meghan Markle was also spotted leaving a workout (opens in new tab)a just a few weeks ago; the royal-to-be is a big yogi and, according to The Daily Mail, often runs in Kensington Gardens like Princess Diana used to do.
RELATED STORIES