Kanye West Says Slavery Was "A Choice" in New Interview
The rapper got candid on TMZ and Twitter reacted immediately.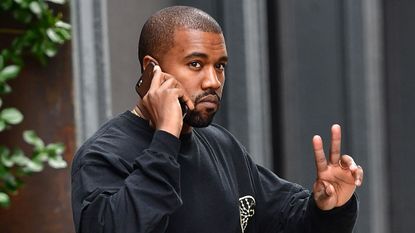 (Image credit: Getty Images)
Marie Claire Newsletter
Celebrity news, beauty, fashion advice, and fascinating features, delivered straight to your inbox!
Thank you for signing up to Marie Claire. You will receive a verification email shortly.
There was a problem. Please refresh the page and try again.
Kanye West decided to take his Twitter rants to the TMZ newsroom after publicly declaring his support for Donald Trump. West starts off the conversation with TMZ by once again referencing his love for the president, whom he calls "his boy:"
"I just love Trump, that's my boy. Trump is one of rap's favorite people. I'm in hip-hop, but I'm not just hip-hop. I'm part of a black community. People try to minimize me to artist, hip-hop, black community. I'm always going to represent that, but I also represent the world."
The conversation suddenly jumps to slavery.
"When you hear about slavery for 400 years... For 400 years? That sounds like a choice. You was there for 400 years and it's all y'all? It's like we're mentally in prison. I like the word "prison" because "slavery" goes too direct to the idea of blacks. Slavery, Holocaust, Holocaust, Jews, slavery is blacks. So prison is something that unites us as one race. Blacks and whites are one race—we're the human race."
The camera then flips back to the TMZ office after the interview is finished and Kanye shouts, "Do you feel that I'm being free and I'm thinking free?"
A TMZ staffer, hero, then stands up and replies to Kanye with this objectively very eloquent response:
"I actually don't think you're thinking anything. What you're doing right now is actually the absence of thought. And the reason why I feel like that is because, Kanye, you're entitled to your opinion, you're entitled to believe whatever you want, but there is fact and real-world, real-life consequences behind everything that you just said. While you are making music and being an artist and living the life that you've earned by being a genius, the rest of us in society have to deal with these threats to our lives. We have to deal with the marginalization that has come from the 400 years of slavery that you said, for our people, was 'a choice.' Frankly, I'm disappointed, I'm appalled, and brother, I am unbelievably hurt by the fact that you have morphed into something that, to me, that's not real. Bro, you gotta be responsible man."
Kanye runs over to the staffer: "Bro, I'm sorry I hurt you." Watch the full video for yourself below:
It seems that much of the Twitterverse, which wasted no time reacting to Kanye's controversial comments, is on Team TMZ staffer.
Kanye debating slavery on TMZ is the kind of wack shit you'd see playing on a television in the background during The Purge.May 1, 2018
See more
kanye thinks slavery was an unpaid internshipMay 1, 2018
See more
I miss the old Kanye, straight from the Go KanyeChop up the soul Kanye, set on his goals KanyeI hate the new Kanye, the bad mood KanyeThe always rude Kanye, spaz in the news KanyeThe "I think slavery was a choice" Kanye pic.twitter.com/ikUu8ZnrncMay 1, 2018
See more
Someone tell @kanyewest africans won't take his utterances on slavery lightyMay 1, 2018
See more
kanye has said a lot of bad stuff in the past but "slavery for 400 years? sounds like a choice" is definitely the worst..man..May 1, 2018
See more
RELATED STORIES
Celebrity news, beauty, fashion advice, and fascinating features, delivered straight to your inbox!