Ranking the Post-Show Careers of The O.C.'s Stars
Who's been on the run, driving in the sun, or looking out for number one?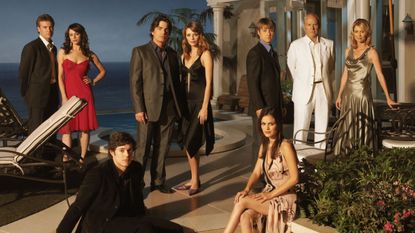 (Image credit: Gety Images)
It's been nine years since The OC came to a close after four seasons.
The sunny, aspirational drama made us wish we were part of a world where the main problems were what to wear for cotillion or what love triangle you were involved in that week.
While we're still hoping to find out what happened to Ryan, Seth and co someday, we can at the very least see what the large cast has been up to since, and who has benefited the most from their time in Orange County.
Since playing the character who singlehandedly ruined the show (admit it), musician Ryan has popped up in various TV movies and independent films, but nothing massively of note (unless you count Cabin Fever 3: Patient Zero).
We still get shivers even thinking about stalker Oliver. Taylor has since had recurring roles in the TV shows Vegas and Hidden Palms, as well as a leading role in 2006's The Texas Chainsaw Massacre: The Beginning.
Having been a promising child actress, Mischa hasn't quite capitalised on the success that playing Marissa Cooper in The OC brought. She has had various legal and health issues in the years following her character's death, but she has continued to act in a large amount of independent movies and one-off TV episodes, but nothing that you'll remember (except maybe a cameo in St Trinians). However, she did feature in this year's Dancing with the Stars, but was the second to be eliminated.
After playing Ryan's on-off girlfriend from the wrong side of the tracks, Navi landed a lead role in the crime series Numb3rs for six seasons, and has since appeared in a few low-budget films and one-off episodes of shows such as Grey's Anatomy and Castle.
Michael was a one-season wonder as Seth's love rival Zach in season two, and since then Michael has featured in forgotten TV shows such as Privileged and Men at Work, as well as various episodes of other dramas. However, he recently featured very briefly as (an unnamed) Jimmy Olsen in Batman vs Superman: Dawn of Justice, but was killed off almost instantly. Justice 4 Jimmy!
Since playing mummy Cohen, Kelly has mainly appeared in made-for-TV movies, but she had a lead role in the crime drama Perception for three years from 2012 opposite Will and Grace's Eric McCormack. We're also pretty sure she never ages.
If we didn't love Summer so much, we would have always wanted Seth to end up with lovely Anna. Since leaving the show, Samaire has had a few other TV hits, including Dirty Sexy Money, Entourage and The Mentalist, and had a main role in 2014's Resurrection. She most recently appeared in an episode of Agent Carter.
Shannon has consistently landed recurring roles in various TV shows since featuring as Ryan's girlfriend Lindsay in season two. These have included stints in Prison Break, True Blood and Grey's Anatomy, and one-off episodes in the likes of Once Upon a Time, Agents of SHIELD, Supernatural and NCIS.
Already a familiar face thanks to roles in American Beauty and While You Were Sleeping among others before playing TV's best ever dad, Peter has continued to pop up here and there. Roles since The OC have included How I Met Your Mother, New Girl (as Schmidt's dad, after actor Max Greenfield played a young Sandy once), Burlesque, Covert Affairs and The Good Wife.
She wasn't quite accepted by fans as Marissa's replacement, but Autumn has gone on to steadily appear in TV shows ever since - most notably as Lizzie Grant in Entourage. She's also had recurring roles in No Ordinary Family, Hawaii Five-0 and Last Resort. She also reunited with Rachel Bilson in an episode of Hart of Dixie.
After playing super-bitch Julie for four seasons, Melinda then played a fictionalised version of herself in a handful of Entourage episodes, and later recurred in Eli Stone, The Vampire Diaries and Dallas, reunited with Ben McKenzie in an episode of Gotham and was a co-lead in action series Nikita for three years.
We're still amazed that Adam hasn't become one of Hollywood's leading stars since playing everyone's favourite geek Seth Cohen. He has stuck around here and there, appearing in the likes of Jennifer's Body, Cop Out, Scream 4, Lovelace, and he played Jess's ex in New Girl. But, he will star opposite Martin Freeman in the new US series Start Up this year, so maybe a comeback is on the cards?
Soon after playing the ultimate bad boy in The OC, Cam landed a role as vampire James in Twilight, and made sure he got his six-pack out for Never Back Down, both in 2008. He has continued to have smaller roles in movies since then, including Easy A, Burlesque, and Priest. He will next have a roles in the much-anticipated Suicide Squad and The Magnificent Seven.
Amanda landed an even bigger TV role soon after the show wrapped, as main cast member Grace in The Mentalist for all six seasons from 2008 to 2015. She's also appeared in the movies Role Models and the Friday the 13th remake, and had a blink-and-you'll-miss-it role in Captain America: The First Avenger.
You might still know him best as Joshua from Friends, but Tate has continued to have an impressive career since playing disgraced-turned-wealthy-again Jimmy. He had regular appearances in Damages, Deception, Hostages and 24: Live Another Day, and also had a notable role in the Oscar-winning movie Argo.
It's easy to forget Alan was Jim from Neighbours. Since landing the role of mean businessman Caleb Nichol, Alan has appeared in EVERY TV SHOW EVER. These include: 24, NCIS, ER, The West Wing, The X-Files, Entourage and Once Upon a Time. He has also had minor roles in films such as Indiana Jones and the Kingdom of the Crystal Skull and The Girl with the Dragon Tattoo, as well as the London West End production of Spamalot.
Soon after playing the second incarnation of Marissa's younger sister, Willa had a recurring role in Gossip Girl, and since 2012 she has played the main role of Thea Queen in Arrow, a character she has also reprised in The Flash. She has also had film appearances in Straw Dogs and Legion.
We're still surprised Luke never returned after a one-episode cameo in season two. But Chris has since found an ever bigger personal TV success. He's had a leading role as Will Lexington in Nashville since 2013, and he's also popped up in Desperate Housewives, Smallville and NCIS.
Summer was only meant to appear in a couple of episodes, but she soon became the star of the show thanks to Rachel. After the show wrapped, she had movie roles in Zach Braff's The Last Kiss and met her now husband Hayden Christensen in Jumper. She soon returned to TV, having a recurring role in How I Met Your Mother and led the cast of Hart of Dixie from 2011 to 2015.
Logan remained relatively quiet after playing Ryan's bad boy brother Trey, but later landed TV roles in Traveler and Dark Blue. In 2012, he had a notable appearance in the hugely-anticipated-but-rather-underwhelming Prometheus, and next year he will feature prominently in Spider-Man: Homecoming as a villain.
A couple of years after The OC said goodbye to brooding lead Ryan, Ben landed a main role in the critically acclaimed cop show Southland until 2013. A year after that, he was cast as Jim Gordon in the Batman prequel TV series Gotham, which begins its third season in September.
Yep, you may have forgotten that a very young Shailene played the original Kaitlin Cooper in the first season. A few years later, she played the main character in The Secret Life of the American Teenager, and soon had critically acclaimed movie roles in The Descendants, The Spectacular Now and The Fault in Our Stars. She has also led the cast of the Divergent movie series.
After having the recurring role of Seth AND Marissa's girlfriend Alex in season two, Olivia has gone to big success on both the big and small screens. She played Dr Remy 'Thirteen' in House from 2007 to 2012, and HBO rock drama Vinyl this year. In film, she has had appearances in Tron: Legacy, Cowboys & Aliens, Her and Rush.
What, you forgot superhunk and Hollywood hero Chris Pratt was in The OC? Yep, he played the irritating weird hippy Che in season four. A couple of years after the show ended, he played doofus Andy in Parks and Recreation, but even then we couldn't have possibly imagined his career trajectory. He has since had huge movie successes with Guardians of the Galaxy and Jurassic World, and has also appeared in Wanted, Moneyball, Zero Dark Thirty, Her, The Lego Movie and will appear in The Magnificent Seven and several more Marvel movies. Not bad, Che. Not bad.
Celebrity news, beauty, fashion advice, and fascinating features, delivered straight to your inbox!