Courteney Cox Opens Up About Her Plastic Surgery Regrets
Let the record state: She's beautiful no matter what.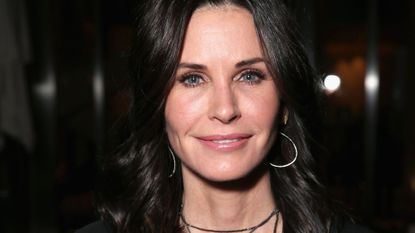 (Image credit: Getty Images)
Things got extremely intimate on Courteney Cox's episode of Running Wild with Bear Grylls on Monday—and not just because they were roughing it up in the woods.
While traveling through the Irish Highlands with Bear, the Friends star opened up about the pressures she faces as a woman in the entertainment industry, especially after playing a character as iconic as Monica Geller. In particular, she discussed her regrets about having too much work done to try and fight getting older.
"I think there's a pressure to maintain [your looks] not just because of fame, but just being a woman in this business," she said. "Getting older, I don't think that's the easiest thing. But I have learned lessons. I think I was trying to keep up with getting older and trying to chase that. It's something you can't keep up with."
"Sometimes you find yourself trying and then you look at a picture of yourself and you go, 'Oh God, I look horrible,'" she continued. "I have done things that I regret and luckily there are things that dissolve and go away. So that's good because it's not always been my best look."
Also in the episode, Courteney discussed her relationship with ex-husband David Arquette at length, calling their divorce "one of the better ones," but by no means easy.
"We found ourselves living separate lives and just coexisting and being great friends, but not having the intimacy that is so important in a relationship," she said, according to People. "I think you really need to work in a relationship, and I think that we tried. We're just really different, too. I'm the polar opposite of him. And that can be great for a lot of things, but I need this kind of real, one-on-one connection."
She also opened up about her current boyfriend Johnny McDaid, and how their relationship has changed since they called off their engagement last year, then got back together in March.
"I definitely have learned a lot, and no matter what, I will be a better person from that breakup, even though it was so brutal. Everything's new, and we have both really worked on ourselves on the parts that needed the most attention. And it feels really different."
Follow Marie Claire on Facebook for the latest celeb news, beauty tips, fascinating reads, livestream video, and more.
Gina Mei is a writer and editor based out of Los Angeles. When she isn't writing, reading, and lost in an Internet vortex, she can usually be found petting the nearest dog.