Watch Lisa Kudrow And Courteney Cox Totally Slay This 'Friends' Trivia Game
They still got it.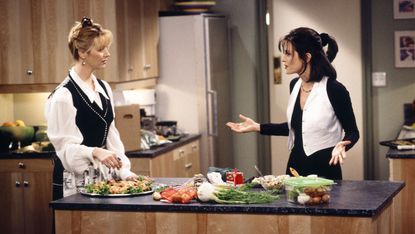 (Image credit: Getty Images)
It's been 12 years since Friends ended (I know, I know, I feel ancient too), but Monica and Phoebe still know their stuff. Lisa Kudrow and Courteney Cox will be competing against each other in the September 20th episode of Celebrity Name Game, and a minute-long clip shows them totally killing it in a lightning round of Friends trivia.
Now, granted, the questions are pretty easy, but they have to go so fast that it's easy to get flustered. There's also a moment where Lisa gets ugly naked guy's name wrong and, as a second choice to Courteney's prompt, says ROSS which is shady AF if you stop to think about it. If you want to join in on the fun, you can listen to the audio and guess along to see how many you can get right!
Follow Marie Claire on Facebook for the latest celeb news, beauty tips, fascinating reads, livestream video, and more.
My writing has regularly appeared in The New York Times, The Paris Review, Salon, VICE, Guernica, The New York Observer, BuzzFeed, Cosmopolitan, Seventeen, Esquire, Elle, Harper's Bazaar, and many more publications.

I was previously the Senior News Editor at Best Life Online and the Viral Content Editor in the Newsroom of Hearst Digital Media. My portfolio consists of a vast and diverse body of work that includes personal essays, lifestyle articles, breaking news posts, and viral content. My areas of expertise, however, are Russia, sex and relationships, and mental wellness.