Why Meghan Markle Likely Won't Meet President Trump During His State Visit to the U.K.
President Donald Trump has just been announced to make his first state visit to the U.K. from June 3 to June 5, with First Lady Melania Trump joining him. He will be visiting Queen Elizabeth—in addition to other royals, most likely—but the big question on fans' minds is: Will Meghan Markle be there?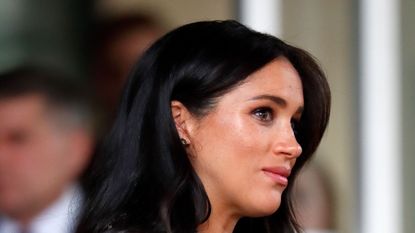 (Image credit: Max Mumby/Indigo)
President Donald Trump will make his first state visit to the U.K. between June 3 and June 5, with First Lady Melania Trump joining him. He will be visiting Queen Elizabeth—in addition to other royals, most likely—but the big question on fans' minds is: Will American-born Meghan Markle be there?
Royal reporter Rebecca English, who usually has good insight into the protocol for visits such as these, speculated about which royals will show up for the visit. Meghan actively campaigned against Trump as a private citizen, calling him "divisive" and a "misogynist," but the British royals (and any royals, really) do sometimes have to meet with people who differ with them on politics. This might be the first time that the Duke and Duchess take part in a state visit—and we may, in fact, see Prince Harry at some point during the visit.
More importantly, though, Meghan will likely be on maternity leave when Trump arrives. If she has the baby at the end of April or beginning of May as anticipated, and thinking about a traditional three-month maternity leave, that would mean she wouldn't be back to work in any official capacity until the end of July or beginning of August. Now, please note, I'm not suggesting that I know Meghan's plans, or that she can't take less or more time off. Meghan's a real go-getter and always has been, but I'm sure leave would be lovely and welcome as it is with any new mom. But early June is, very likely, awfully early into her leave for her to be making an appearance regardless.
Rebecca English also speculated about what the visit might include, pending further official updates from Buckingham Palace: "Donald Trump should expect a formal welcome at The Mall (including a carriage drive), lunch with the Queen & senior royals, a display of Anglo-US historical artefacts and a state banquet (at the very least)." Stay tuned—more to come.
Update, 6/3: Since giving birth to the littlest royal Master Archie Harrison in early May, Meghan has remained mostly out of the public eye, focusing on spending time with her son during the first few weeks of her maternity leave. She did appear with proud papa Harry shortly after Archie's birth for a super stylish royal photo call, but since then, Meghan has been out of sight on mommy-duty. The Duchess of Sussex has been visited by a variety of different well-wishers, including her bestie Priyanka Chopra and husband Nick Jonas, but it looks like Trump won't get the chance to offer his congratulations in person.
Given that she's not taking on any official royal engagements because of her maternity leave, it makes sense that Meghan won't be receiving the president during his trip to the UK, but Archie is probably not the only reason for Meghan to opt-out of of the Trump visit. In a recent interview with the British tabloid The Sun, Trump called the Duchess "nasty" after learning that she had been very vocal about her disapproval of him and his problematic politics during the turbulent 2016 presidential election. Just yesterday, the president backtracked on his comments in typical fashion (via Twitter), shifting the blame to the "fake news media," but to no avail—the entire exchange was recorded and made public for the world to hear.
Trump has had some choice words for other notable UK political figures, including London mayor Sadiq Khan. The mayor questioned why the Trump was being given the red carpet treatment in spite of his bad politics, and Trump fired back in a particularly mean-spirited way. "@SadiqKhan, who by all accounts has done a terrible job as Mayor of London, has been foolishly "nasty" to the visiting President of the United States, by far the most important ally of the United Kingdom, " the president tweeted earlier this morning. "He is a stone cold loser who should focus on crime in London, not me......" Yikes.
So far, President Trump and his wife Melania have already met with Queen Elizabeth; Her Royal Highness gifted the president with a first edition of Sir Winston Churchill's book The Second World War and gave the couple a tour of Westminster Abbey. Trump has yet to meet Prince Harry on this visit, but they will definitely cross paths over the next few days, and we're guessing that their conversation will be tense, to say the least.
For more stories like this, including celebrity news, beauty and fashion advice, savvy political commentary, and fascinating features, sign up for the Marie Claire newsletter.
RELATED STORIES
Katherine's a Boston-based contributor at Marie Claire who covers fashion, culture, and lifestyle—from "Clueless" to Everlane to news about Lizzo. She's been a freelancer for 11 years and has had roles with Cosmopolitan and Bustle, with bylines in Parents, Seventeen, and elsewhere. It's "I go to dinner," not "Her huge ego," but she responds to both.