Are Demi Lovato and Mike Johnson Dating? Everything You Need to Know About Their Ongoing Flirtation
Demi Lovato and Bachelorette contestant Mike Johnson have been flirting since his elimination and here's what you need to know about their relationship status.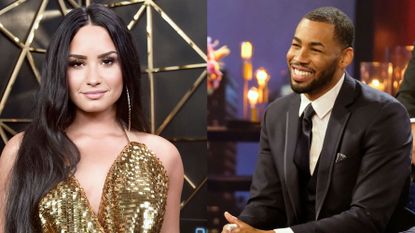 (Image credit: Getty Images)
Marie Claire Newsletter
Celebrity news, beauty, fashion advice, and fascinating features, delivered straight to your inbox!
Thank you for signing up to Marie Claire. You will receive a verification email shortly.
There was a problem. Please refresh the page and try again.
Update: 10/1: Johnson has totally given us all the deets of his and Demi's relationship—I want minute-by-minute updates!—and it's still going great, thanks very much for asking. Ben Higgins and Ashley Iaconetti on the Almost Famous podcast were very interested in hearing more and asked Johnson all the right questions.
"We've gone on more than one date," Johnson replied when Iaconetti asked. "I like her tattoos—we both have a lot of tattoos. Demi has more than me."
"And, uh, she kisses really well," he added. (cue my delighted screaming—Mike deserves every good thing in the world.)
Regarding where their relationship is headed, Johnson explained, "I'm getting to know her for her...For one, I'm all about her, too. She definitely was the aggressor, you know, I find it incredibly sexy. I love that like, 'come at me. You want me, come at me.' I want you, I'm [going to] come at you. I'm coming at her as well."
Meanwhile, Lovato changed her hair pink and captioned the pic with a heart emoji—maybe it's a sign of how happy she is? (FULLY projecting here but still.)
She's also been liking a bunch of his photos (same, girl), so she's still totally into it too.
Update: 9/22: In an interview with E! this weekend, Mike took things a step further and confirmed that Demi Lovato is officially the only woman he's talking to at the moment.
"It's just Demi," he confirmed when asked if he's talking to multiple people right now. "That's the only person I'm talking to."
That said, Mike doesn't want to put too much pressure on the budding relationship.
"I'm just getting to know Demi," he said. "I think she's absolutely fantastic and I don't want no pressure on her, no pressure on me, we're just trying to get to know each other. That's all."
Update: 9/21: Mike Johnson has officially gone on the record about Demi Lovato following their date. In an exclusive interview with Us Weekly during the 2019 iHeart Radio Musical Festival (where there was an official Bachelor Podcast Suite, NBD), the Bachelor alum straight up gushed about the "Sorry Not Sorry" singer.
Of what he and Lovato have in common, Mike said:
"She's a gorgeous superstar and I'm just a regular guy, right? We definitely don't have that part in common. What we have in common is that, once you get to know Demi and you really talk to her, she is literally such a down-to-earth person. We're both from Texas. We love getting tattoos, we love laughing. We're goofy. We both love music. I'm just not blessed in that regard, but with the right music, I'm just happy."
Then he dug deeper, revealing what won him over about Lovato the first time they hung out in person.
"We do have serious conversations," he said. "I haven't said this before, but the No. 1 thing I like about Demi is that when we had our first real conversation, she said, 'Hey, this is how it is. Take it or leave it.' For her to be that strong, powerful and upfront — wow! She was real. She's the real sh*t. I love it."
As for their relationship status, Johnson was more coy.

"I mean, I'm enjoying getting to know her, and I hope she's enjoying getting to know me," he said. When asked what he and Demi actually do when they're together, he playfully answered, "That's for us to know, and don't you wish you could find out?"
Does this mean Mike has found his final Queen? FINGERS CROSSED.
Update: 9/15: WE HAVE A DATE, PEOPLE. THIS IS NOT A DRILL.
According to a new report from E! Online, Demi and Mike have taken their flirtation off Twitter and Instagram and into the real world. As in they have gone on an actual date. In person. With each other. YES. TO. THIS.
Try to regain any chill possible, though, because, according to a source close to the hopefully-soon-to-be-couple, they're taking things slow.
"They did go on a date and it's been going well," the insider told E! Online. "They seem to have a lot in common and are just enjoying getting to know each other."
Next up: We want a double date with Demi, Mike, Wells Adams and Sarah Hyland, please.
Update 9/13: Just in case there was any doubt, in the world, at all, Demi is fully in on Mike. She just liked a very sexy photo of Mike, perched atop a motorcycle. Good choice, Demi.
Oh and that's not the only picture of his she's liked recently:
I am so here for this relationship, it's crazy. Considering recent news about The Bachelor (spoilers at that link), let me just say—Demi, go for it. Go for it right now. Do it for us all, please.
Also interesting and potentially? Mike's comments on one of Tyler Cameron's shirtless posts last week. Here's the post (you're welcome):
And underneath, Mike writes, "So if we do this dbl date, your shirt stays on. No negotiation." Soooo there's a double date in store for Tyler-Gigi and Mike-Demi? Is that what this means?? Last month, he said they'd never met in person, buuuuut have things changed since then or might be about to change?
I need pics RIGHT AWAY if this magical event should happen.
Update 9/8: After his elimination from Bachelor in Paradise, Mike and Demi immediately resumed their online flirtation, taking, appropriately, to the place where their (hopefully future) love story started: Instagram.
On Friday, Demi took to Instagram to share an un-retouched photo of herself in a bikini, cellulite and all.
"This is my biggest fear," she wrote in the photo's raw, honest caption. "A photo of me in a bikini unedited. And guess what, it's CELLULIT!!!! I'm just literally sooooo tired of being ashamed of my body, editing it (yes the other bikini pics were edited - and I hate that I did that but it's the truth) so that others think I'm THEIR idea of what beautiful is, but it's just not me. This is what I got. I want this new chapter in my life to be about being authentic to who I am rather than trying to meet someone else's standards."
Naturally, the photo's comments exploded with words of love and support from her fans—including Mike.
"Look at me like that again 😏 love yaself 🙌🏽," he wrote.
Receipts below:
Offer her a rose, Mike. She's already promised to accept it.

Original post: Members of Bachelor Nation crush on contestants all the time. That's nothing new. Declaring those crush feels on Instagram? Also nothing new. But for a famous fan of the franchise to express their Bachelor Nation thirst on social media? Now, that's a little less common.
That's what happened recently though, when Demi Lovato kicked off a very public flirtation with Bachelorette hopeful Mike Johnson. Here's everything you need to know about Demi Lovato and Mike Johnson's "romance."
Demi has been a Mike supporter since day one.
Demi has been religiously watching Hannah Brown's season of The Bachelorette and she's been Team Mike since the beginning. Demi first declared her support for Mike during the season's second episode, on May 20. In her Instagram Story, Demi told followers "he should win," when Mike came on the screen and posted a story about Mike captioned, "He's my pick...Jussssayin'" during the episode.
Demi cheered Mike on while he was trying to woo Hannah Brown.
It's impossible to say exactly when Demi's support turned into a full-blown crush, but she proved she's in it for the right reasons (aka Mike's happiness) when she shared her support for him winning the group date rose during the May 27th episode of The Bachelorette.
"Yes, boo boo!" she called out in a video on her Instagram Story that night.

Demi declared her crush pretty much the second Mike was eliminated on The Bachelorette.
Even though Demi "Here for the Right Reasons" Lovato was nothing but supportive of a Mike/Hannah union while he was in the game, she was ready to steal Mike for a second as soon as Hannah eliminated him on The Bachelorette on July 1.
"Swing me, kiss me! Boo boo," Demi said in a video she posted to her Insta Story after Mike's elimination. She captioned the post: "Mike I accept your rose."
Mike posted a call out for his future wife right after he was eliminated...
Demi Lovato via Instagram Story. "Mike eu aceito sua rosa 🌹" pic.twitter.com/IJgOweSWuZJuly 2, 2019
See more
Mike wasted no time posting a message to his future wife on Twitter after his elimination episode aired. "Jus saying, my future wife though, girl you ready for smiles, adventure, comfort, growth, honesty, laughter, me falling using my inhaler and kissing your stretch marks and imperfections. Where u hiding," he tweeted.
Jus saying, my future wife though🌹girl you ready for smiles, adventure, comfort, growth, honesty, laughter, me falling using my inhaler and kissing your stretch marks and imperfections. Where u hiding👀July 2, 2019
See more
...And Demi replied to Mike's future wife tweet.
When a fan tagged Demi in a screenshot of Mike's future wife tweet on Instagram, she actually took to the comments to reply, writing, "I'M RIGHT HERE MIKE I'M RIGHT HERE BOO MY MOM ALREADY LOVES YOU TOO."
Mike is "100 percent" flirting back with Demi.
At The Bachelorette's Men Tell All taping, reporters asked Mike about Demi's flirty 'grams and he confirmed that he is HERE for it.
"I'm flirting with her too. Tell her, 'What's up, baby?'" he told Us Weekly. "I would definitely take her out for an initial date, yeah. 100 percent not scared about it at all. I would be like, 'Oh my God! Girl, come here.'"
And hey, celebrity/Bachelor Nation romances can really work—just ask Sarah Hyland and Wells Adams.
For more stories like this, including celebrity news, beauty and fashion advice, savvy political commentary, and fascinating features, sign up for the Marie Claire newsletter.
[editoriallinks id='abf0719a-1b92-472b-8c95-7fdc8739ac2a'][/editoriallinks]
RELATED STORIES
Celebrity news, beauty, fashion advice, and fascinating features, delivered straight to your inbox!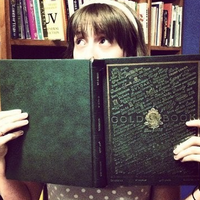 Kayleigh Roberts is a freelance writer and editor with more than 10 years of professional experience. Her byline has appeared in Marie Claire, Cosmopolitan, ELLE, Harper's Bazaar, The Atlantic, Allure, Entertainment Weekly, MTV, Bustle, Refinery29, Girls' Life Magazine, Just Jared, and Tiger Beat, among other publications. She's a graduate of the Medill School of Journalism at Northwestern University.